News Briefs: SF to hold concert for Notre Dame Cathedral
Wednesday Apr 24, 2019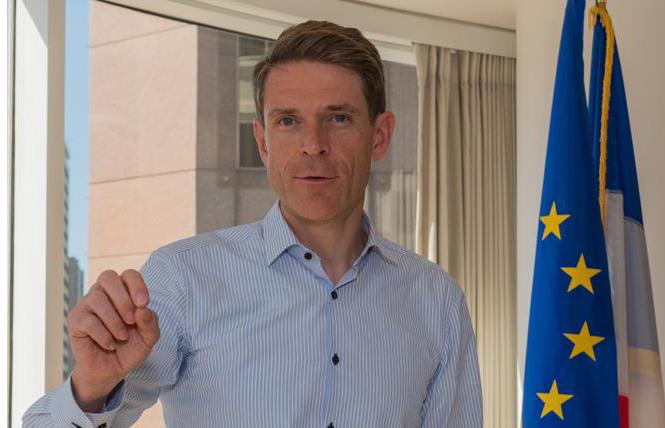 San Francisco will hold a solidarity concert for Notre Dame Cathedral Monday, April 29, at 6 p.m. at Grace Cathedral, 1100 California Street.
The concert is free and open to the public.
Norte Dame, a centuries-old gothic cathedral in Paris, suffered major damage in a fire last week; Paris and San Francisco are sister cities.
The concert will include performances by the San Francisco Symphony; San Francisco Opera; American Bach Soloists; Johann Vexo, the organist from Norte Dame; and others.
"Watching Notre Dame de Paris engulfed in flames was a shock for all Paris lovers," said Emmanuel Lebrun-Damiens, a gay man who is consul general of the French Consulate of the Northwest and based in San Francisco. "Beyond a monument and an architectural masterpiece, it is a part of the world history of art and our common identity that was being damaged."
Mayor London Breed said San Francisco is proud to stand with its sister city.
"Watching Notre Dame burn was devastating, just as it was also horrible to witness a series of historic Louisiana churches burnt in recent arson attacks," Breed said in a statement. "Our houses of worship hold a special place for our cities and our people, and we are proud to support the people of Paris as they begin the work to rebuild the iconic monument in the heart of their city."
According to media reports, a cause of the massive blaze has not been determined. French President Emmanuel Macron has vowed to have the cathedral rebuilt in five years. Already, French business and fashion leaders have donated millions of dollars for the effort.
Rainbow World Fund benefit party for Cuba
The Rainbow World Fund will soon have a delegation heading to Cuba and will hold a benefit party Sunday, April 28, from 3 to 6 p.m. at 2004 Gough Street in San Francisco.
Hosts include gay AIDS activist Cleve Jones, who is going on the trip and will be honored in Cuba, and Dr. John Newmeyer, a gay man and former epidemiologist.
The benefit will feature a Cuban band, three-hour hosted bar with Cuban cocktails, and hors d'oeuvres. There will also be a silent auction featuring wine, spirits, restaurant certificates, massages, and more.
RWF is funding $25,000 in scholarships that will enable hundreds of LGBTQ activists from the country's 16 provinces to travel to Havana to attend Pride, network, organize, and attend a week of training.
Tickets range from $50 to $500.
To purchase tickets, or for more information, visit https://rainbowfund.networkforgood.com/events/12442-party-help-fund-lgbtq-pride-in-cuba.
SF Eagle to hold anniversary party
SF Eagle bar will hold its sixth anniversary party and fundraise for the Eagle Plaza project Sunday, April 28, from 3 to 6 p.m. at 398 12th Street.
The beer bust will feature food, performances, and door prizes. The event supports the world's first public plaza dedicated to the living commemoration of leather heritage.
Earlier this year, the San Francisco Board of Supervisors unanimously approved a street encroachment permit so the plaza project can get started.
Local development firm Build Inc. will construct the plaza as part of a $1.5 million in-kind agreement with the city for approval of its mixed-use development across the street from the Eagle bar on what was a surface parking lot. Construction began last summer at 1532 Harrison Street on three seven-story buildings consisting of 136 rental homes.
Place Lab, started by Build and now part of the nonprofit San Francisco Parks Alliance, is overseeing the design of, and permits for, Eagle Plaza. It will be approximately 12,500 square feet in size.
The parklet's estimated cost is $1.85 million. In addition to Build's contribution, the city awarded $200,000 in grant money to the plaza. The Friends of Eagle Plaza is aiming to raise $150,000. So far, about $62,000 has been raised, according to the website.
For more information, and to donate, visit http://www.eagleplaza.org/.
Give OUT Day raises over $1.1 million
Give OUT Day, the national day of giving for the LGBTQ community, raised over $1.1 million for more than 475 nonprofits, organizers said.
The online giving day was held April 18 and raised funds for nonprofits in all 50 states, the District of Columbia, and, for the first time, Puerto Rico.
Give OUT Day also broke its previous record for number of donations made through the campaign: nearly 14,000.
San Francisco-based Horizons Foundation organized the event.
"The record-breaking success of Give OUT Day demonstrates the incredible power of our communities when we come together," Horizons President Roger Doughty said in a statement.
In addition to the funds raised by individuals, Horizons, with support from other foundation partners, awarded leaderboard prizes worth nearly $100,000 to nonprofits that raised funds from the greatest number of individual donors in multiple categories.
AHF pharmacy open house
Los Angeles-based AIDS Healthcare Foundation is embroiled in a fight with gay state Senator Scott Wiener (D-San Francisco) over his housing legislation, Senate Bill 50 [see related story], but its pharmacy in the Castro will have an open house Friday, May 3, for tips on living a healthy lifestyle.
The event, from 10 a.m. to 4 p.m. at 518-A Castro Street, will include a free lunch, raffles, and health tips. AHF will provide information on blood pressure, diabetes screening, HIV testing, and holistic nutrition.
For more information, call (415) 255-2720.
Comments on Facebook