North Bay recovers from floods, readies for Pride
Wednesday Apr 17, 2019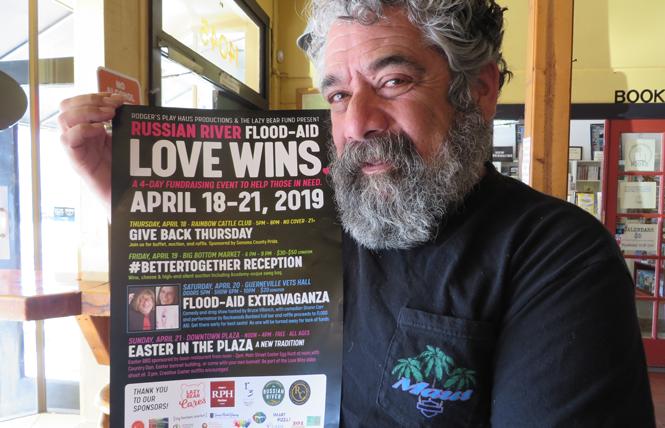 There are fundraising — and just plain fun — events taking place in Sonoma County as residents in Guerneville work to recover from the February floods and get ready for Pride events.
Russian River flood aid
First up this weekend is Love Wins-Russian River Flood-Aid, a four-part fundraiser from Thursday, April 18, to Sunday, April 21, presented by the Lazy Bear Fund and Rodger's Play Haus Productions. Funds raised will be split equally between West County Community Services and a nonprofit run by the Russian River Chamber of Commerce. Its Small Business Flood Relief Fund will use the money to help small businesses affected by the flood, according to organizer Rodger Jensen.
West County Health Centers spokeswoman Jennifer Neeley said the agency incurred an estimated $200,000 in operational losses from the flooding, including $25,000 to replace a furnace for offices, which had more than four feet of water.
According to Jensen, all fundraising events have been underwritten by either Sonoma County Pride or Guerneville businesses including Big Bottom Market, boon restaurant, or the under-renovation R3 Hotel; each will provide volunteers to run the benefits.
Action starts at the Rainbow Cattle Company, which will host "Give Back Thursday" including a buffet, auction, and raffle from 5 to 8 p.m. with no cover, sponsored by Sonoma County Pride and Santa Rosa Gaydar.
Jensen said they had a matching pledge for the first $5,000 raised, from the owners of the Rainbow Cattle Company and the Edge and Midnight Sun bars in San Francisco. He also announced that a $5,000 grant from a foundation run by Laura Richardson means Love Wins already has raised $10,000.
Big Bottom Market is hosting the Friday night #BetterTogether reception, with a requested $30 to $50 donation. The event will include wine, cheese, and a high-end silent auction including an "Academy-esque swag bag." Seven Sonoma County wineries are participating and Jensen promised "unlimited tastings."
Gay comedian Bruce Vilanch will host the Flood Aid Extravaganza Saturday night at the Guerneville Veterans Hall with a suggested donation of $20. The party will include comedy and a drag show, with comedian Shann Carr and a performance by the Backwoods Barbies.
Bar and raffle proceeds will entirely go to flood relief, and Jensen emphasized that no one will be turned away for lack of funds. That evening has been underwritten by Young's Market Company, a beverage distributer that serves the Bay Area.
On Sunday, Easter in the Plaza initiates what Jensen said he hopes will be a "new tradition" held at Guerneville's downtown plaza starting at noon. That event will include a Main Street Easter egg hunt, an Easter barbecue sponsored by boon restaurant (adults $10), Easter bonnet building, and outdoor karaoke with Country Dan.
Jensen said a video of Carrie Underwood's hit song "Love Wins" will be professionally shot starting at 3 p.m.; a short tribute to Sonoma County Supervisor Lynda Hopkins is also planned, to thank her and the county for help recovering from the floods. Organizers said "creative Easter outfits" are encouraged.
Jensen hopes Easter on the Plaza will become as beloved as Easter in San Francisco's Mission Dolores Park and underlined that the "money will stay here in West County."
Advance tickets for Friday's reception and Saturday's Flood-Aid Extravaganza can be purchased via Brown Paper tickets (www.brownpapertickets.com). Advance ticket buyers will get the best seating for both shows.
Flood recovery continues
Even as fundraiser planning was underway, two businesses profiled in the March 7 Bay Area Reporter continued to recover in Guerneville.
According to the R3 Hotel's general manager Jeff Bridges, "Most of the demolition has been completed, and we are approaching the rebuild phase." He said he hopes to announce the R3 open date by May 1 and revealed, "We are tentatively shooting for the Memorial Day weekend."
Bridges, who is gay, also echoed what the Russian River Chamber of Commerce has been saying for weeks, "Our Main Street merchants were not affected by the flood and are open." Bridges, 58, is the Chamber president.
Berlin Fisher's West Sonoma Style Bar hair salon suffered severe flood damage as well, but it has reopened in its original, ground-floor location on Third Street in Guerneville, only five weeks after being forced to relocate.
"Sonoma County was good at working with people who were impacted by the flood," Fisher, who is gay, said. "Permits [to renovate] were processed the same day, across the street at their relief center."
Using GoFundMe, Fisher, 52, raised over $10,000 to cover his uninsured renovation costs.
"I was able to give out five grants for about $4,000 total because I needed only $6,000 for my repairs," he said. "I felt like the community raised the money."
Pink Sonoma Saturday
Next up, in just two weeks, is the first part of the 2019 edition of the Gay Wine Weekend produced by Out in the Vineyards (www.outinthevineyard.com), founded by gay Sonoma resident Gary Saperstein.
With a long background in the hospitality business, Saperstein leveraged his time in local institutions like the Auberge du Soleil and the Girl and the Fig to start Out in the Vineyard 11 years ago.
"My events are all about hospitality and giving people an experience," he said.
This year, for the first time, he's organized a one-day event called Pink Sonoma Saturday.
"I've been thinking about it ever since Pink Saturday in the Castro was canceled four years ago," he said. "With the rise in people drinking rose wine, I thought we could do that Sonoma-style, and offer an afternoon celebration of everything pink."
The event will be held Saturday, May 4, from 11 a.m. to 3 p.m. at the General's Daughter restaurant in the town of Sonoma. It will feature over 20 wineries pouring their current rose, a DJ, light bites, and an auction to benefit Positive Images, which provides support and advocacy for LGBTQ youth in Sonoma County.
"This cause has become so important to me," Saperstein said, "because they are going to be carrying the torch."
Young people served by Positive Images will be staffing the silent auction, featuring items donated by wineries. The restaurant also donated the space for the event.
Tickets are $65, with $5 from every ticket going to Positive Images.
Sonoma County Pride
Just a few weeks later, from Friday, May 31, to Sunday, June 2, Sonoma County Pride has organized the second Pride weekend to be held in Santa Rosa, after it switched from its Guerneville location. Last year's location attracted thousands more attendees than previous West County Pride celebrations.
Pride weekend starts with a kickoff party titled "Neon Love" Friday evening at the Casa del Mar, presented by the Letter People, an association of LGBTQ+ professionals in Sonoma County.
On Saturday, June 1, the Sonoma County Pride parade will start moving at 11 a.m.; this year's theme is "Stonewall to Sonoma, a Heritage of Love," in recognition of the 50th anniversary of the Stonewall riots in New York City. The Parade is followed at noon by "Love in the Square," the Pride festival at Santa Rosa's Courthouse Square.
From 9 p.m. to 2 a.m., the official Pride after-party will be rocking at the Lounge at La Rosa in Santa Rosa.
Pride weekend concludes Sunday with Peace, Love & Wine presented by Gay Entertainment Directory magazine, at 1 p.m. and Pride in the Park at noon in Julliard Park in Santa Rosa. The Transgender Youth and Family Picnic starts at 1 p.m. in Juilliard Park.
Sonoma County Pride is an all-volunteer nonprofit "dedicated to enhancing the lives and well-being of the LGBT community and allies throughout Sonoma County." For more information, visit www.sonomacountypride.org.
Gay Wine Weekend
Saperstein's Out in the Vineyards is producing its 11th annual Gay Wine Weekend, from Thursday, July 18, to Sunday, July 21. The weekend's partner hotel is the Lodge at Sonoma.
Events include a comedy show, business expo and wine tasting, a winemaker dinner, winery tours, and more.
A new event Sunday will be a drag queen brunch hosted by Ruby Red Munroe & Friends, and a wine auction with all proceeds going to Sonoma County's Face to Face, dedicated to ending HIV in Sonoma County and supporting the health of people living with HIV/AIDS. Saperstein boasted that over the years the charity auctions have raised $350,000.
Admission to events requires either the VIP All Access Party Pass ($495) or single tickets ranging in price from $20 to $165.
Participants are 85 percent gay men, but Saperstein said the weekend is open to "all LGBTQ people and our allies." Most attendees are from the Bay Area.
Russian River Pride
And finally, coming up on Sunday, August 25, is the second annual Russian River Pride in Guerneville; the parade will start at 11 a.m. After a rocky start last year, organizer Jensen promised a smoother experience this time around.
"I am handling the permits myself," he said, a reference to last year's snafu that saw the parade and street fair canceled.
Updated, 4/23/19: This article has been updated to include the correct beneficiaries for the Flood-Aid benefit.
Comments on Facebook