LGBTs say no to Chick-fil-A at SJ airport
Wednesday Apr 10, 2019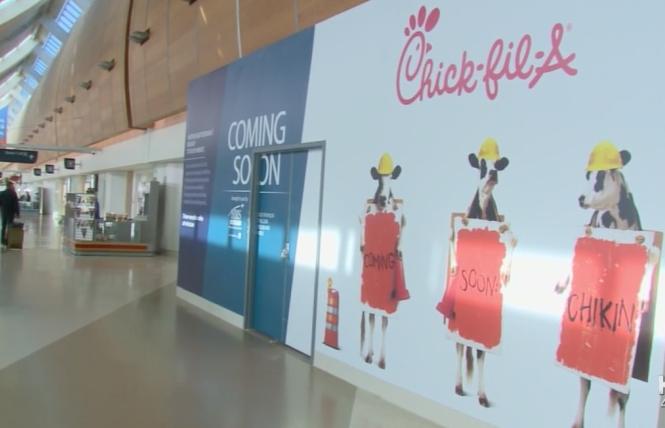 San Jose LGBT advocates have voiced their strong disappointment and are asking the City Council and Mayor Sam Liccardo to stop a Chick-fil-A restaurant from operating at Norman Y. Mineta San Jose International Airport.

The plans for the eatery, set to open in June, came as a surprise to many. The national chain has for years sparked outrage for its owners' anti-LGBT views and the company foundation's financial support of organizations whose mission is to undermine LGBT rights.

A coalition that includes the Bay Area Municipal Elections Committee, Billy DeFrank LGBTQ+ Community Center, LGBTQ Youth Space, Silicon Valley Stonewall Democrats, Silicon Valley Pride, and the Rainbow Chamber of Silicon Valley wrote a letter April 8 to the mayor and City Council expressing their concerns and asked that a public meeting be held with airport officials to discuss the situation.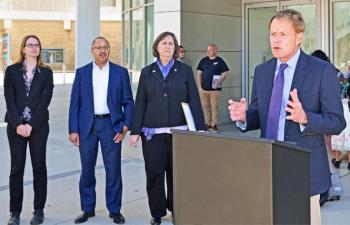 "To millions of visitors every year, Norman Y. Mineta International Airport is their front door to this city, and we want all of them to feel welcome. Chick-fil-A does not represent San Jose's values," states the letter posted on BAYMEC's Facebook page. "It is not worthy of being the company that visitors first see, and it does not make for a more inclusive environment. ...We further request that, at the earliest legal opportunity, Chick-fil-A leave Mineta San Jose International Airport and be replaced with an organization that shares our values of inclusivity and diversity, and that welcomes all visitors to San Jose."

According to the letter, in March 2018, the San Jose City Council extended its contract with Host International Inc., the airport's provider of food and beverage companies, to 2026. The contract included a "refresh" to its food program, which included partnering with Chick-fil-A.

"I was saddened last week when I was at the airport and saw the logo for Chick-fil-A on a construction wall," Ken Yeager, a gay man who is a former San Jose councilman and county supervisor, said in a BAYMEC news release issued Tuesday, April 9. "It sends a signal to visitors that San Jose supports businesses that actively work against equal rights for the LGBTQ community."

Yeager is now the executive director of the nonprofit BAYMEC Community Foundation.

Advocates held a news conference at San Jose City Hall Tuesday afternoon to address the community's concerns regarding the fast food restaurant's opening.

"This is a question of public property that taxpayer dollars created and continue to support," BAYMEC President Paul Escobar said in the release. "We would expect that the businesses that open in such public spaces to be reflective of our community and values."

Chick-fil-A is owned by a Southern Baptist family and is based in Atlanta. Its CEO is Dan Cathy, a relative of the founder. For years, the company, through its foundation, has funneled millions of dollars to organizations fighting same-sex marriage, as well as supporting conversion therapy, which is aimed at changing people's sexual orientation. Fifteen states, including California, and Washington, D.C. have banned conversion therapy for youth.

The coalition's letter stated that the restaurant, which has over 2,000 locations nationwide and 13 in San Jose, "has become a symbol of intolerance for our community."

Chick-fil-A Inc. told the B.A.R. in an emailed response that it embraces all customers.

"Our licensee partners and local Chick-fil-A representatives are in continued conversations to clarify misperceptions about our company, and we look forward to serving all travelers who pass through the airport," the statement read. "Our 13 San Jose-area restaurants and nearly 1,000 local team members have embraced customers from all walks of life in the community for the past seven years."

The company also stated, "Recent coverage about Chick-fil-A continues to drive an inaccurate narrative about our brand. We want to make it clear that our sole focus is on providing delicious food and welcoming everyone — not being a part of a national political conversation. We do not have a political or social agenda. More than 145,000 people from different backgrounds and beliefs represent the Chick-fil-A brand, including members of the LGBTQ community. We embrace all people, regardless of religion, race, gender, ethnicity, sexual orientation or gender identity."

Think Progress, a progressive advocacy group, reported recently that the Chick-fil-A Foundation donated more than $1.8 million to three groups with a history of anti-LGBTQ discrimination in 2017, according to recently released tax filings it analyzed.

Liccardo, Host International Inc., and multiple members of the city council did not return messages from the B.A.R. seeking comment.
Comments on Facebook