Mayor criticized over gay SF rent board pick
Wednesday Apr 3, 2019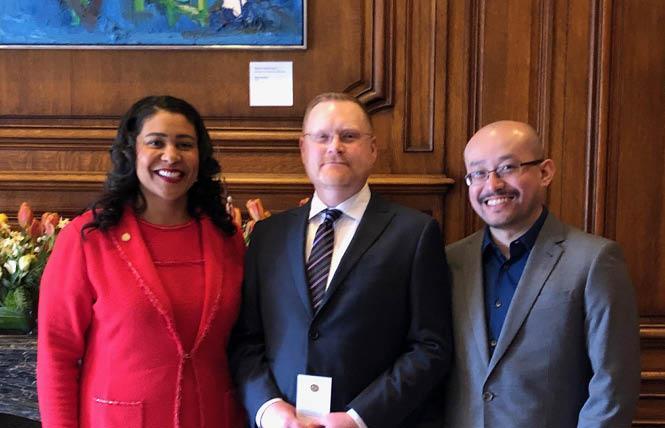 Tenants rights activists have called into question the appointment of well-known gay Democratic Party activist Reese Aaron Isbell to the city's rent board, and a supervisor plans to hold a hearing on his selection that could lead to his removal.
As the Bay Area Reporter disclosed in an online story Friday, Mayor London Breed swore Isbell into one of the two tenant seats on the five-person board during a private ceremony at her City Hall office that afternoon. His first meeting will be Tuesday, April 9.
The rent board approves the yearly rent hike for rent-controlled units as well as hears cases brought forward by tenants against their landlords. Isbell replaced longtime rent board commissioner Polly Marshall, whose latest term expired last fall but had remained serving on the oversight body.
She told the B.A.R. Tuesday that she learned about the mayor's decision not to re-nominate her from the paper's story. Marshall, who had left town last week for vacation in the Sierra, said she was "just completely floored and really quite crushed" by how Breed's office handled the appointment.
"Personally, I am devastated that after 35 years on the rent board, having been appointed by five or six mayors going back to Dianne Feinstein, that the mayor's office wouldn't give me the courtesy of telling me about this," said Marshall. "I feel totally disrespected."
Breed's spokesman Jeff Cretan told the B.A.R. that her office did call Marshall prior to the publication of the story but could not reach her and left her a message. He defended the mayor's choice to name Isbell to the rent board seat in response to the B.A.R.'s request for comment about the criticisms it has elicited.
"Mayor Breed, a tenant herself who grew up in public housing, works every day with people advancing policies to protect renters, and she is confident that Reese can work with the entire community to advance and protect tenants' rights as a member of the rent board," stated Cretan.
District 9 Supervisor Hillary Ronen, who chairs the Board of Supervisors' rules committee that weighs in on appointments to various oversight bodies, on Tuesday called for a hearing on Isbell's selection. Although the board can't force Breed to reappoint Marshall, it can reject Isbell with a super-majority vote of eight supervisors.
"San Francisco renters face a nearly constant struggle to remain in their homes. With enormous pressure from no-fault evictions and rent increases, they rely on our rent board for protection. I was shocked to hear that — without consultation or explicit justification — Mayor Breed declined to reappoint a long-standing tenant member, a person of tremendous dedication and experience," stated Ronen to the B.A.R. "This is an extremely technical adjudicative role that demands a high level of expertise. It is incumbent on the board to review the proposed replacement, to carefully examine and scrutinize his qualifications, and to determine whether he is an appropriate appointee for this critically important role."
Cretan pointed out that the mayor has the prerogative under the city charter to name whomever she wants to the rent board and has full confidence that Isbell is up to the task.
"Mayor Breed appointed Reese because of his history of policy work and advocacy on tenant issues at the local and state level, as well as his personal experience living in a rent-controlled apartment in San Francisco for the past 20 years," stated Cretan. "He has dealt with challenges with his own landlord, and he is committed to working to support all tenants, including the LGBT community and those living with HIV/AIDS who are struggling to stay in the city."
The supervisors, added Cretan, "will see at the hearing that Reese will be a leader on the rent board with a unique perspective grounded in his experience."
Over the weekend Isbell had emailed all 11 supervisors requesting to meet with them to discuss their concerns about rental issues in their district and his goals for being on the rent board. He met with the rent board's staff Tuesday and remains confident in his qualifications to serve.
"I will just present myself as who I am, my background as a renter, and my story as a renter and the concerns that I have had and the fights I have done over the years for tenants and tenants rights," said Isbell, who noted he has a master's degree in public policy from Rutgers University and has been working in the public policy arena for three decades. "I have a breadth of experience in these areas. I don't know the woman I am replacing and wasn't involved in those decisions. I have been sworn in; I will do the best job that I can for as long as I could."
The mayor's office had told the B.A.R. it believed Isbell was the first openly gay man to serve on the commission. But several people who follow the rent board and its proceedings have since told the B.A.R. that there have been at least four gay men who have previously served on the rent board dating back decades. It remains unclear if their being members of the LGBT community was highlighted by the mayor's office when they were appointed or reported on by the media at the time.
Struggle to stay in SF
Isbell, 48, has struggled to afford to live in the city since arriving 20 years ago. He and his husband, Sheng "Bruce" Yang, live together in a studio apartment that is rent-controlled in the city's Lower Nob Hill neighborhood and had to fight their landlord when she tried to raise their rent after Yang moved in three years ago.
During the mayor's transition period last summer following her victory in the special June election, Isbell served on Breed's Transition Policy Team and focused on transportation issues. A former co-chair of the Alice B. Toklas LGBT Democratic Club, he continues to serve on its board as well as the board of the Friends of the San Francisco Public Library.
Last fall, lsbell left his position overseeing government affairs for the California Life Sciences Association to campaign for Democrats running in Missouri and Kansas. He is currently seeking work and told the B.A.R. he looks forward to adjudicating cases on the rent board.
"I look forward to being part of those discussions and dealing with the realities in San Francisco for renters," said Isbell.
Tenant activists, however, question if Isbell has the qualifications to serve on the commission. They also fault the mayor's office for not consulting with them about the appointment. The mayor appoints all five of the commission members, and in years past, tenants groups say they have been consulted on the picks for the tenant seats on the panel, which also includes seats for landlords and a neutral representative.
This time they didn't learn about Isbell's swearing-in ceremony, they said, until reading the B.A.R.'s story.
"The main issue here is that Polly Marshall, a longtime fighter for tenants rights who has been on the board for 30 years and who has so much experience with the rent ordinance, is not being reappointed — and the tenants community was not consulted, as it has been in the past," Tommi Avicolli Mecca, a queer activist who works for the Housing Rights Committee of San Francisco, told the B.A.R.
Longtime tenants rights advocate Mitchell Omerberg was also critical of the mayor's choice of Isbell for the seat. He and Marshall have been partners for nearly 40 years and the couple have two adult children.
"I think it is very safe to say Reese's appointment came as a surprise," said Omerberg, who is involved in both the Anti-Displacement Coalition and the Affordable Housing Alliance of San Francisco. "I knew Reese was a campaign operative. He hasn't had any contact with organized tenant rights groups or any history in that regard that I am aware of."
Marshall said she first learned that the mayor's office was looking at appointing someone else to her seat last Tuesday. She was informed that a mayoral aide had seen her name listed as a co-owner of the home she shares with Omerberg, which would disqualify her from serving as a tenant representative on the rent board.
While Omerberg bought the home in 1986, the same year she moved in, Marshall insisted she does not co-own the property and meets the definition of a renter as specified under the city's rent ordinance. Because the couple is not married or domestic partners, Marshall said she does not have any ownership rights to the house.
Her anger at the implication that she had misrepresented her status as a renter over the last 33 years while serving on the commission was evident in a March 27 letter she sent the mayor's office and shared with the B.A.R.
"As a female commissioner in the city for over three decades, I am hurt and disappointed that the Mayor's Office may be judging my fitness for office not by what I myself have accomplished and intend to continue accomplishing, but instead by the presence on a deed of the name of a husband that I do not have," wrote Marshall. "I am hopeful it is not too late to remedy this situation, now that I have corrected the misinformation received by the Mayor's office."
Comments on Facebook