Soak up the sun and have fun in LA
Wednesday Apr 3, 2019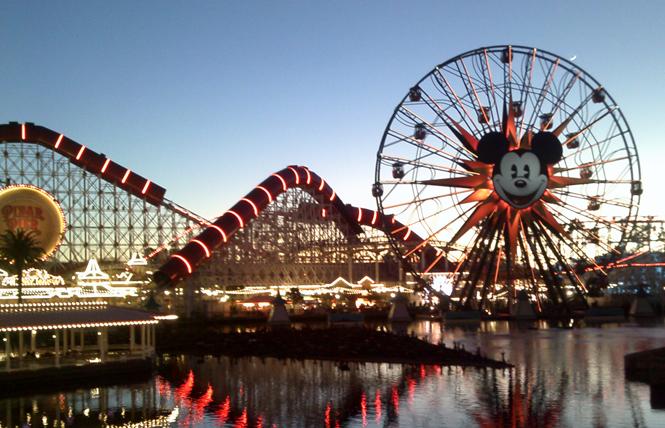 Hollywood's best-known landmark wouldn't have happened if it weren't for a closeted gay man from San Francisco. Sid Grauman and his dad ran a thriving theater business in San Francisco but decided to sell their theater interests in 1917 and try their luck in Los Angeles. By then it was clear that LA was emerging as the center of the moving pictures business.

Grauman opened the world-famous Egyptian and Chinese Theaters on Hollywood Boulevard in 1922 and 1927, respectively. He came up with the idea of putting foot and handprints in the cement in front of the Chinese Theater, which he said was started as an accident when he stepped into the cement. In 1929, Grauman lost his theaters as a result of the stock market crash and was given work as an usher and ticket taker in the Chinese Theater he once owned.

Grauman's story — and many others that made up the underground LGBT history of Hollywood — is told in both guided and self-guided tours by Lavender Effect (http://www.thelavendereffect.org/). The nonprofit offers a free app that takes you on a walk through the LGBT history that would otherwise be forgotten. It also offers a guided tour and brunch on Sundays, as well as LGBT-oriented tours of West Hollywood. The tours make the LGBT history of LA come alive and are a must-do for any LGBT visitor to LA.

West Hollywood promotes itself as California's most walkable city. At a little under two square miles, it is compact enough to get around without a car. The city has a docking bike share program called WeHo Pedals (http://wehopedals.com/). It is similar to San Francisco's Ford Bikes. Dockless scooter sharing is also gaining popularity in WeHo. The city offers a free weekend shuttle bus, called WeHo Pickup (https://wehopickup.com/), making it easy and safer to bar hop.

WeHo is also a good home base to explore the greater Los Angeles area. Beverly Hills, Santa Monica, and the beaches are to the west. Hollywood is part of the city of Los Angeles, just to the east. The city's subway system does not run through WeHo but a number of bus lines do.

West Hollywood is one of the gayest cities in the country in part because it is just outside of the LA city limits. Before it became its own city in 1984, the Los Angeles County Sheriff's Department, not the then-notoriously anti-gay Los Angeles Police Department, policed West Hollywood. Without interference from LA, gay WeHo thrived and eventually gentrified into one of Los Angeles County's most desirable and expensive places to live.

The sights
West Hollywood is home to one of the best tour companies in southern California. Bikes and Hikes LA (https://bikesandhikesla.com/) offers bicycle and hiking tours. A six-hour bicycle tour includes Beverly Hills, Santa Monica, and Venice. If that sounds a little daunting, check out one of its easy hikes in the Hollywood Hills or one of its shorter bicycle tours.

Another good option is Starline Tours (https://www.starlinetours.com/). It has a large menu of tours available and its hop-on, hop-off bus includes a free VIP tour of the Chinese Theater. Starline's most popular red-line route makes stops in West Hollywood and runs every 30 minutes. You can download Starline's app to check when the next bus is coming.

Warner, Sony, and Paramount offer studio tours. Universal Studios has evolved into a theme park with a studio tour. The tour includes a simulated earthquake in what is designed to look like a BART station. The city's Metro red line subway has a stop right across the street from Universal. The park's newest big attraction, The Wizarding World of Harry Potter, is celebrating its third anniversary this month.

The first stage of Disneyland's (www.disneyland.com) newest attraction opens May 31 — Star Wars: Galaxy's Edge, a 14-acre extension to the park that once included Big Thunder Ranch. Disneyland is about an hour's drive from West Hollywood but Starline offers bus service that will pick you up at select hotels, including hotels in West Hollywood, for $55 round-trip. It costs $25 to park at Disneyland, so it's cheaper than renting a car to get there if you are traveling solo. The only drawback is that the Starline bus leaves Disneyland at 7 p.m., so you will miss any evening fireworks or light shows. If you don't want to deal with the Star Wars crowds, be sure to check Disneyland's sister park, Disney California Adventure Park. If you get homesick, California Adventure has a Boudin Bakery tour and a nearby row of colorfully painted Victorian homes.

LA's unofficial gay beach is about a 25-minute drive from WeHo. It is a section of Will Rogers State Beach opposite Entrada Drive and West Channel Road. Locals affectionately call it Ginger Rogers Beach. If you are driving, take Sunset Boulevard west to the Pacific Coast Highway. Make a left on PCH and then turn left onto either Entrada Drive or West Channel Road. There is usually free street parking available. There are a couple of pay parking lots nearby, including a public parking lot at the beach. The best address to plug into your GPS is 14801 Pacific Coast Highway, Santa Monica. It is about an hour if you take the bus. You can take the #4 or #704 bus to Broadway and 4th streets in Santa Monica, then transfer to #9 Pacific Palisades bus to Entrada and PCH.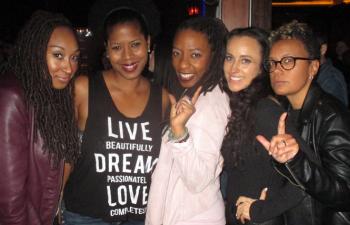 Nightlife
Most of the LGBT nightlife in LA is centered in West Hollywood or the Silver Lake section of LA, about six miles east of WeHo and just east of Hollywood.

Mainstays in WeHo include Mickey's, Revolver, Rage, Trunks, and Fiesta Cantina. The Mother Lode is a popular, fun dive bar that looks less divish since they remodeled it about a year ago to open up the front of the bar to give it a more airy feel. WeHo's most famous bar, The Abbey, is around the corner from the Mother Lode and draws a good crowd seven nights a week. Since the Palms closed years ago, there are no longer any full-time lesbian bars in the city but the Abbey's Chapel section has an "AltarGirl" women's night every Wednesday (https://girlbar.com/). And just across the street from the Abbey at the Robertson nightclub space, Fridays are lesbian nights with its Fantasy Friday venue.

In Silver Lake, popular nightspots include Akbar, Faultline, and the Eagle LA. While you are in Silver Lake, be sure to check out the Black Cat Restaurant. It used to be the Black Cat Tavern. A plaque commemorates an LGBT rights demonstration that was held in 1967 to protest a raid of the club for the unpardonable offense of allowing people of the same sex to kiss. The raid and protest inspired the publication of the Advocate.

The New Jalisco Bar is in downtown LA just a couple of blocks from City Hall. As its name implies, the bar caters to the Latino LGBT community. You can't miss it — look for the Mexican flag out front and the large sign that says "Not Our President."

Jewel's Catch One on W. Pico Boulevard has been going strong since 1973. Jewel Thais-Williams, who said that as a black female, she felt she was being discriminated against by the gay clubs in West Hollywood, started the historic bar. The club is the subject of a 2016 documentary of the same name.

Accommodations
There are no longer any exclusively gay hotels in LA since the Coral Sands went mainstream years ago and the formerly gay San Vicente Inn is now a luxury restaurant and boutique hotel, but there are still plenty of good, albeit mainstream, options.

Ramada Plaza Hotel and Suites West Hollywood (http://www.ramadaweho.com/) is a moderately priced hotel in a perfect location in the heart of gay WeHo, on Santa Monica Boulevard, just across the street from 24 Hour Fitness. Amenities include a gym and swimming pool. Rates start at about $139.

If you prefer to stay in Silver Lake, check out the gay-owned Sanborn Guest House (http://sanbornhouse.com/). The two-unit inn includes parking and is only a half-mile from Akbar. Rates start at $93, which is a great deal considering parking is included.

One of the newest hotels in West Hollywood is also one of the best. The Kimpton La Peer Hotel (https://www.lapeerhotel.com/) is just two blocks from The Abbey. It's not for the faint of wallet. Rates start at over $300.

On the other end of the budget scale, Banana Bungalow (http://www.bananabungalows.com) has sites in West Hollywood and Hollywood with rates for a private room starting at $83 and a bed in a dorm room for as little as $21. Free parking and free breakfast are included.

Airbnb and other home sharing services, including the gay Misterb&b, are permitted in West Hollywood but only property owners, not renters, are allowed to rent out rooms and the property owner has to be on the property at least four hours a day. The rules in the city of Los Angeles are similar. LA allows home sharing only if the room being rented out is the primary residence of the property owner and it bans renters from using the service if their apartments are rent-controlled.

Getting there
If you are driving, keep in mind that most hotels charge extra to park. For example, Ramada Plaza WeHo charges $35 per night for guest parking. As mentioned, Banana Bungalows has free parking but only on a first come, first served basis. If you are flying, busing, or taking the train to LA and are staying in West Hollywood, you are better off without a car.

The newest way to get to LA from the Bay Area is on Flixbus (https://www.flixbus.com/). The service has been popular in Europe for years and is establishing itself in the U.S. It is a direct competitor to Megabus. Both services take about eight hours to get to LA from San Francisco; they both have free Wi-Fi and power outlets. You can catch the buses in San Francisco, Oakland, and San Jose. If you book very early, you can find seats on the bus for as little as $5. The fare will be as much as $50 each way if you book late or are traveling during a busy time.

Airfares are very competitive to LA. You can find a round-trip flight for as little as $100. Unless you are a train enthusiastic, Amtrak is not worth it. It takes about 13 hours to get from San Francisco to Union Station and it costs about $100 one-way.
Comments on Facebook