Disco Coalition offers parties for good causes
Wednesday Mar 20, 2019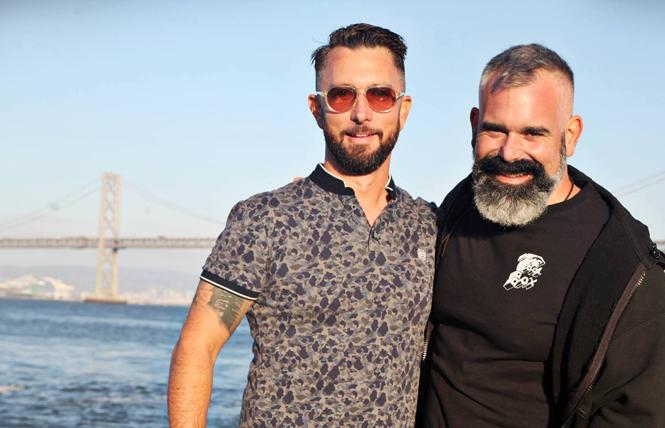 Bringing attention to issues that impact the queer community, fundraising event series Disco Coalition begins giving nightlife a humanitarian twist next week.
Starting March 29, Lookout bar will host the coalition on Fridays from 5 to 8 p.m. donating 100 percent of happy hour proceeds to queer nonprofits.
With many worthy organizations to choose from and only 13 event dates planned so far, co-founders and gay men Aaron Wessels and Chris Hastings soon realized they needed filters to select beneficiaries. Leaning toward organizations that sustain queer culture by supporting mental health, housing, community building, and preservation of LGBTQ legacy, they decided on the first round of recipients.
Occurring weekly through June 17, the events will benefit organizations like the Castro Country Club, Immigration Equality, Queens of the Castro, Queer Land Trust, San Francisco AIDS Foundation, Larkin Street Youth Services, and more.
"Think of the Disco Coalition as a bat signal for queerkind," Wessels, a Diamond Heights resident, said in a Disco Coalition news release. "Instead of five promoters throwing parties across town for the same cause, [we] will shoot up a flare to combine forces and drive people to one event or a series of events."
Each week, the Disco Coalition Happy Hour project will feature a beneficiary, musical talent, a host, and a queer hero to be honored.
Drag queen Juanita MORE! will host the premiere event, which honors the GLBT Historical Society, and Go BANG! will offer the music. Tito's vodka will match up to $1,000 of the funds raised during each of the happy hours.
At the heart of what the coalition's founders are hoping to accomplish is not just blasting out information on social media, but rather, actually connecting with people in person.
"There is great power in standing side by side, shaking a stranger's hand, finding common interests and what is important to our community overall," the 44-year-old co-founders wrote in a joint email to the Bay Area Reporter.
The concept of Disco Coalition emerged when Wessels and Hastings realized they could be more successful in fundraising and creating awareness by bringing the community together in a way that moves toward a common goal.
"We started circulating ideas with activists and organizers in and out of the Bay Area," they wrote in the email. "We settled on a concept that would raise money for queer nonprofits and also honor our LGBTQ legacy."
Lookout's offer to donate happy hour proceeds sparked a bigger conversation between the duo around forming a "guerrilla network of nightlife superheroes" that could quickly pull together parties and campaigns whenever necessary.
Other talents who will participate over the coming weeks include the San Francisco Gay Men's Chorus, the men of PRC's Bare Chest Calendar, arts nonprofit Comfort and Joy, event series Dudes and Disco, San Francisco Fog Rugby, Gay Asian Pacific Alliance, Grace Towers, and Sister Roma and the Sisters of Perpetual Indulgence, among many others.
"Historically, gay bars in this country have acted as a keystone for the community, whether that be for celebrating, socializing, or activating," said Hastings, a Mission resident, in the release. "I wanted to honor that legacy and simultaneously build upon it with something that could live beyond a single charity event at a gay bar."
Known as "Queeros," the coalition's honorees have driven and inspired positive change through their vision, sacrifices, dedication and LGBTQ activism. So far, queeros include Dennis Peron, Diane Jones, Glamamore!, Jose Sarria, Mark Bingham, Leigh Bowery, Paul Dillinger, and Sylvester.
News of Disco Coalition has spread mostly via word-of-mouth, said the co-founders, and they think it will continue to grow organically in that way.
"We are setting out to build and mobilize in an old fashioned way, reaching out directly by phone and email," Wessels and Hastings wrote. "While social media isn't going away anytime soon, and can be a useful tool for some things, it isn't the only means to reach our community."
Over 30 hosts and DJs have signed on to the project so far, the men said.
Wessels and Hastings, who said they are both active in the community, recognize that there are lots of local people doing great things that they don't yet know; and to create a successful coalition, they'll need to include them.
"We are thinking of this organization as a networking tool and also a community experiment that we will continue to learn, grow and evolve from, especially as we embark on this first project," they added. "The lessons we learn during the upcoming happy hours will help us shape upcoming events and activities."
To learn more and get involved, visit http://www.discocoalition.org.
Comments on Facebook