Online Extra: LGBTQ Update: Louisville doctor fired from medical journal over anti-gay comments
Tuesday Mar 19, 2019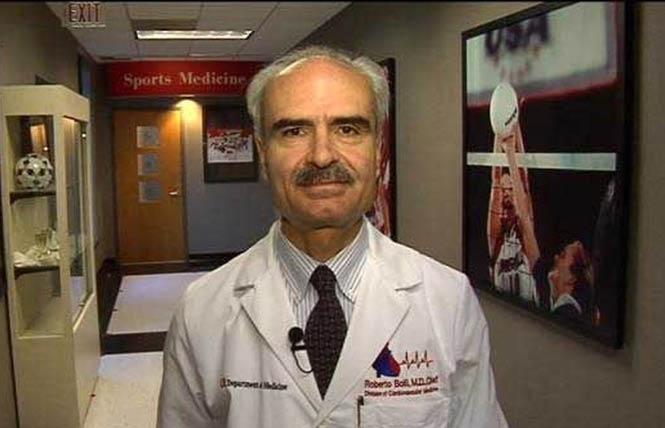 After calling the Louisville Ballet "evil" and "minions of Satan" for staging "Human Abstract," a love story between two men, Dr. Roberto Bolli has been fired from his editor in chief position with the American Heart Association's journal, Circulation Research.
The AHA called Bolli's email alleged hate speech in a comment sent to the Bay Area Reporter. The association's action was first reported by Medscape.
"Dr. Bolli has become the subject of public scrutiny in light of public comments he has made that have been alleged to be hate speech," said an email from an AHA spokesperson. "The American Heart Association has a zero tolerance policy with respect to personal conduct that conflicts with AHA's guiding values and commitment to an environment that embraces diversity and inclusion and values cultural, racial, gender, and other differences to help the organization succeed in achieving its mission and goals. Additionally, the association leadership stands steadfast to its commitment to ensure that the editorial integrity of the AHA's scientific journals remains unimpeachable and unbiased."
Bolli, who works at the University of Louisville Hospital as a cardiovascular physician, responded last year to an email advertisement sent by the ballet announcing its upcoming season, including "Human Abstract," which featured two men in ballet tights holding hands. Bolli's email caught the attention of a local blog, Arts Writing is Dead, which broke the story and published the email in its entirety.
The physician's email read, "I am shocked and profoundly offended by the brochure that the Louisville Ballet sent me on March 3, 2018 (I return it to you). You have reached a new low. Your company is now promoting sodomy and homosexuality."
It continued, "Stop sending this filth to my house! I don't want my house to be sullied by this lurid sewage. You should be ashamed of promoting perversion, immorality, and filth." He goes on to call the organization "evil" and "minions of Satan, polluting our culture with your repugnant ideology and peddling perversion and immorality."
The University of Louisville declined to comment about Bolli's recent firing from the medical journal, saying it had "nothing to do with the university," but sent the B.A.R. a copy of a letter it circulated to its campus last week signed by Beth A. Boehm, Ph.D., the executive vice president and university provost, and Dr. Toni Ganzel, dean of the School of Medicine at the university.
"We have been made aware of an inflammatory email from one of our faculty members to the Louisville Ballet about his concerns regarding a recent performance. The message appears to be a personal one; the faculty member did not mention the university or use his title in the email. Still, his words have proven hurtful to many of our faculty, staff and students, particularly those in the LGBT community," states the letter. "These comments are disheartening. They do not represent the values we hold dear at the University of Louisville. We encourage all members of our campus community to continue to respect and honor our differences and to learn from one another. By sharing our unique abilities, perspectives and life experiences, we build a stronger community for us all."
Bolli has not responded to the B.A.R.'s multiple requests for comment. The last time he was published speaking about the incident was to the Arts Writing is Dead blog March 1. He tried to say his words had been "distorted and misrepresented" and said that his religious views had nothing to do with the way he treats his LGBTQ patients.
"As doctors, we have a duty to care for all patients to the best of our abilities irrespective of their lifestyle or actions or other considerations. I treat ALL PATIENTS, including queer patients, with the utmost compassion and respect," Bolli wrote in his response to the blog. "There are many different types of lifestyles or actions that physicians may find objectionable, yet we do not let these considerations affect our care of patients."
He also seemed to clarify some of his language used in his original email.
"I certainly do not hate queer people; as a Christian, I love them. And I certainly do not think queer people are minions of Satan," Bolli wrote.
The ballet had also received hate-filled, homophobic messages on its social media pages after promoting "Human Abstract," but said the amount of support for the show outweighed the negative messages. The ballet declined to comment regarding Bolli's firing.
School district sued for censoring students' yearbook quotes
A northern California school district is being sued after two LGBT students' yearbook quotes about LGBT equality were censored by Minarets High School administrators, who called the comments "politically divisive."
Being represented by the American Civil Liberties Union of Northern California, the students, Steven Madrid, 18, and Mikayla Garaffa, 17, are suing the Chawanakee Unified School District in O'Neals, California (Madera County) and the involved high school administrators over their free speech rights.
According to an ACLU news release, Madrid's quote submitted for the yearbook was, "I think that the best day will be when we no longer talk about being gay or straight — it's not a 'gay wedding,' it's just a 'wedding'. It's not a 'gay marriage,' it's just 'a marriage.'"
Garaffa's read, "If Harry Potter has taught us anything, it's that no one deserves to live in a closet. What they don't know can't hurt them."
Both of the students received an email from their school's yearbook adviser, Juan Ortiz, rejecting the quotes, according to the suit. It stated that, aside from being "politically divisive," the quotes were removed because "[s]exuality can be a divisive topic in school as well as the community."
The students then sent the district, the yearbook adviser, and their high school principal a letter, published on the ACLU's website, that explains that anti-LGBT censorship by public schools violates students' constitutional free speech rights. All parties that received the letter ignored it, and the ACLU then filed the lawsuit March 6 against the district, Ortiz, and Daniel Ching, principal of Minarets High School, in Madera County Superior Court.
"There is nothing controversial about supporting equality for LGBTQ people," said Abre' Conner, ACLU staff attorney, in a news release. "School officials can't censor students' speech because they are uncomfortable with it."
The suit also claims that the district did not have a formal policy for yearbook quotes and that there was only a form indicating that submitted quotes could be removed if they were found "inappropriate."
Garaffa, who identifies as LGBT, is the president of her Genders & Sexualities Alliance Network club. She said she wanted to speak up for other students.
"I was proud to share this quote about who I am and what I believe and to speak up for other students who may not feel comfortable sharing their story," said Garaffa in a news release. "Our school administration has a responsibility to work toward ensuring a safe, encouraging environment for all students."
Madrid, who identifies as gay, said in the release, "I believe my existence should not be looked at differently because of who I may love. I wanted to express something about myself in the same way that other students express essential things about themselves on their yearbook pages. There is no excuse for discriminating against students based on our personal views."
Since the lawsuit, the superintendent of the district, Darren Sylvia, told the B.A.R. that the students' quotes will remain as they were initially published. He did not comment directly on the lawsuit, saying the district had not yet received any pending litigation.
"Chawanakee Unified School District continues to work with our students and the ACLU representatives in a collaborative manner," he said. "Currently, the students' yearbook statement/quotes has been resolved and will appear as presented in the 2018-19 school yearbook."
LGBT Asians speak out in favor of California's sanctuary laws
The National Queer Asian Pacific Islander Alliance submitted an amicus, or friend of the court, brief that highlights the special concerns of LGBT Asian American immigrants in response to a lawsuit filed by President Donald Trump in 2018 against the state of California and its attorney general, Xavier Becerra, for the state's immigration laws.
Last week, the 9th U.S. Circuit Court Appeals heard oral arguments in U.S. v. California, which attempts to block three laws signed by former California Governor Jerry Brown. The first is Assembly Bill 450, the Immigrant Worker Protection Act, which prohibits private employers from voluntarily cooperating with Immigration Customs Enforcement and requires businesses to notify workers in advance of an immigration raid.
Senate Bill 54, the California Values Act, restricts state and local law enforcement from sharing information with ICE about the release of undocumented people in their custody. It bars the automatic transfer of undocumented persons into federal custody upon release.
AB 103, Public Safety Omnibus, authorizes state inspections of immigration detention facilities to ensure compliance with California human rights laws.
According to a NQAPIA news release, Asian Pacific Islanders are the fastest racial group in the U.S. and largest segment of new immigrants.
"The laws have a significant impact on the LGBTQ community because so many of us are immigrants. California rightly decided to protect its residents from Trump's overly aggressive immigration enforcement, and such laws should be upheld," said Glenn D. Magpantay, NQAPIA executive director.
LGBTQ Update is a weekly online column addressing issues affecting the community. It runs weekly. Please submit comments or column ideas to Alex Madison at (415) 875-9986 or a.madison@ebar.com.
Comments on Facebook