News Briefs: Castro Merchants issue artists call for Milk windows
Wednesday Mar 13, 2019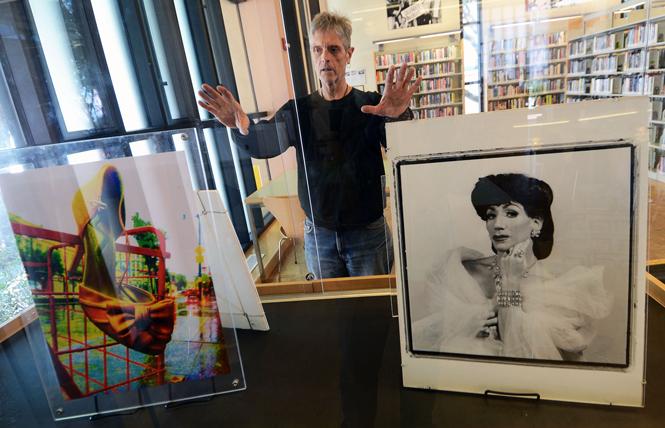 Castro businesses are planning this year's "Windows for Harvey" display, timed for May 17-26, to honor the birthday of slain supervisor Harvey Milk, and interested artists can still sign up, the Castro Merchants organization said in its recent newsletter and at its March 7 meeting.
Windows for Harvey involves artists partnering with businesses to install Milk-related art in their windows. Plans can be arranged by businesses themselves or have an artist matched to them through the Windows for Harvey website.
Last year, more than two-dozen businesses participated and organizers hope to have 30 or more windows this year.
This year the theme for the artworks is "Soapbox," a reference to the crate Milk would stand on during rallies in the neighborhood, often speaking through a bullhorn. It was chosen, said co-organizer John Bellemore, for being "both a visual and literal call to activism."
This year the business association plans to hand out awards for the best windows, one voted on by the public and one decided by organizers, as a way to not only attract a larger audience but also to prompt more social media discussion about the artworks.
Sponsors willing to pay $2,500 are also being sought in order to offer the selected artists a stipend to cover the cost of their installations and their time they devote to creating their artwork.
Interested artists should turn in a submission by March 25 at midnight (Pacific Time). The submission does not need to be the final piece, however, artists should indicate their design intent through work samples or sketches.
Installation is expected to occur between May 13-16. Milk's birthday was May 22, which is now recognized as Harvey Milk Day in California.
For more information, visit https://www.windowsforharvey.com/.
St. Patrick's Day party in Oakland
Slainte, the lesbian-owned Irish pub at 131 Broadway near Oakland's Jack London Square, will hold its second annual St. Patrick's Day street party Sunday, March 17, beginning at 10 a.m.
Jackie Gallanagh, who opened the eatery nearly two years ago, will again close off a portion of Second Street for a daylong party featuring Irish step dancing, music, and face painting. Oysters and Guinness will be flowing all day, she said in a flyer promoting the event.
For more information, visit the Facebook page at https://www.facebook.com/events/2271921676397719/.
Stud bar extends lease
The Stud bar has extended its lease for two years, ensuring the party will keep going at the 52-year-old queer nightclub at 399 Ninth Street in San Francisco's South of Market district.
According to a March 6 news release, the Stud Collective, which bought the bar two years ago, is still actively searching for a permanent home.
"It's now more important than ever to support the Stud and similar places that hold space for our community through all the changes that San Francisco is experiencing," Rachel Ryan, Stud Collective president, said in the release.
The bar announced a new slate of parties to celebrate the lease extension. Joining the existing slate of parties will be Drag Alive, a weekly Friday (6 to 8 p.m.) cavalcade of drag, burlesque, and other hijinks hosted by VivvyAnne ForeverMore; QTease, a queer burlesque happy hour every Saturday at 6; and Awooga, a monthly variety show (10 p.m. to late the first Thursday) hosted by John F*cking Cartwright and Kockina Rude.
For more information about other parties and activities, visit http://www.studsf.com.
Help plan AIDS 2020
People planning the AIDS 2020 conference in San Francisco and Oakland are seeking interested organizational representatives to be part of the community engagement and access committee.
The committee's charter is to address disparities through inclusion, collaboration, and transparency by fostering the partnership between Oakland and San Francisco through a global gathering that gives a voice to all communities, shared solutions, and advances the conversation to end the epidemic.
Meetings are held the first Wednesday of every month from 3:30 to 5 p.m. in Oakland.
To apply, visit http://aids2020local.org/#joinus.
AIDS 2020 has generated some controversy. Last year, the International AIDS Society selected San Francisco and Oakland as joint host cities for AIDS 2020 in an effort to highlight San Francisco's pioneering role in the response to the epidemic, as well as the ongoing disparities between the two sides of the bay.
Opponents have cited the Bay Area's high cost and logistical difficulties, but have mainly focused on the United States' exclusion of key affected populations, which they say has worsened under the Trump administration. Last December they announced an alternative conference to be held in Mexico City next year.
'Survivor' to hold Bay Area casting call
The hit CBS reality show "Survivor" has opened a casting call in the Bay Area and interested people are welcome to try and secure a spot as a contestant.
According to a news release, anyone who is a U.S. resident, 18 or older, and has a spirit of adventure is encouraged to enter through March 22. People can go to http://www.survivorcastingcall.com for more information and to register.
All registrants will get to meet Season 33 "Survivor" winner Adam Klein for tips prior to their live audition Saturday, March 23, at the Travel and Adventure Show at the Santa Clara Convention Center, 5001 Great America Parkway in Santa Clara. Auditions start at 10 a.m. Klein will be at the Taiwan Tourism booth to meet fans and share his experience.
'Beach Blanket Babylon' arts scholarships
Producer Jo Schuman Silver has announced high school seniors can apply for the 17th annual Steve Silver Foundation and "Beach Blanket Babylon" scholarship for the arts.
High school seniors who go to school within 100 miles of Club Fugazi, 678 Beach Blanket Babylon Boulevard (home of "Beach Blanket Babylon"), can submit a completed entry form along with a three-minute performance in one of these categories: singing, acting, or dancing. A panel of performing arts professionals will select nine finalists — three from each category. The finalists will perform their three-minute set live at Club Fugazi Monday, June 3, in front of a panel of celebrity judges and an invited audience made up of their family and friends.
One winner from each category will be presented with a $15,000 check to be used toward their higher education.
All entries must be uploaded by 11:59 p.m. Friday, April 26. Finalists will be notified by May 6.
For complete rules and guidelines, visit www.beachblanketbabylon.com/2019-scholarship-form.
Comments on Facebook