Mandelman eyes zoning changes to fill vacant Castro storefronts
Tuesday Mar 5, 2019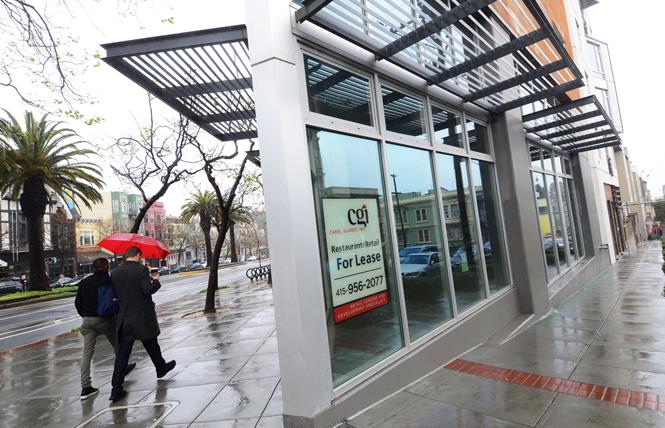 Art studios, nonprofit offices, and restaurants serving wine and beer would find it easier to open along upper Market Street in San Francisco's gay Castro district under zoning changes being proposed by District 8 Supervisor Rafael Mandelman. At the same time walk-in medical clinics would find it harder to open their doors.

Mandelman, a gay man elected to the board in June, has spent months working with neighborhood leaders on legislative ideas to address the glut of vacant storefronts that line Market Street between Octavia Boulevard and Castro Street. The commercial corridor for years has seen tumult among its retail scene exacerbated by the construction of new housing developments built over ground floor storefronts that the developers have struggled to rent out.

Having introduced his package of new rules for businesses along upper Market Street at Tuesday's Board of Supervisors meeting, Mandelman's proposal will first need to be approved by the city's planning commission. It would then go before the supervisors and mayor for final approval.

"We are trying to open up upper Market to uses that are beneficial and wouldn't drive up rents too much in order to fill vacant storefronts," Mandelman explained in an interview with the Bay Area Reporter.

Under the zoning changes, arts activities, nonprofits, and child care centers would be allowed to open on the first and second floors of a building along upper Market Street without the need for a conditional use permit. Such a business would need to apply for the permit if it wanted to open on the third floor or higher.

Wine shops and restaurants that only sell wine and beer would no longer need to seek a conditional use permit if they wanted to open in a ground floor space. Those selling or serving liquor and spirits would.

And businesses would be allowed to stock more items for sale on the sidewalk in front of their stores, such as gardening supplies, plants, and building materials.

"For anyone who has taken a stroll up Market Street, it is clear that the neighborhood needs some love," said Mandelman, who made addressing retail vacancies a top priority during his campaign for the supervisor seat. "There are a lot of vacant storefronts; that's been a challenge for some time. It certainly seems to be as bad or getting worse."

One form of retail that has sprouted along upper Market Street in recent years is medical office use. Two emergency walk-in medical clinics have opened, while primary care provider One Medical is constructing an office in the former Myriad food hall that had taken up roughly half of the ground floor retail space at 2175 Market Street at the corner of 15th Street.

Under current rules, such businesses do not require a conditional use permit in order to open. But they would under the zoning change Mandelman has proposed. Rather than ban them outright, Mandelman prefers requiring them to seek support from the neighborhood for their permit application.

"I think we have seen throughout the city a proliferation of those drop-in clinics. They may be very convenient but they are able to pay higher rents and displace other neighborhood-serving retail uses," said Mandelman.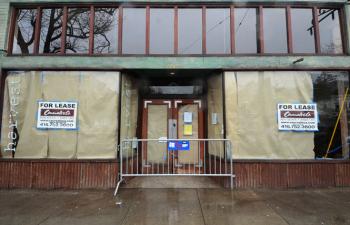 Reducing time to open
The zoning changes are also aimed at reducing the amount of time it takes for a new business to open along upper Market Street. According to a report released Tuesday by the city's budget and legislative analyst, it takes a year for most businesses in the commercial corridor to secure their permits from the planning department.

The report also found that, when combined with obtaining a building permit and approval for construction work performed, it takes new businesses roughly 18 months to secure all the necessary approvals they need in order to open their doors. And as the report noted, during that time "the associated commercial storefronts are often vacant."

The report also determined that businesses wanting to open in the upper Market/Castro commercial district are subjected "to more restrictive conditional use authorization requirements" than those in the comparable, nearby commercial areas of Valencia Street and Hayes Valley. The approval process in those neighborhoods is nearly two months shorter than in the Castro, found the report.

Mandelman hopes to see the zoning changes put in place by the summer.

"I am hopeful this will bring some positive changes to upper Market," he told the B.A.R.

Neighborhood leaders expressed support for the proposal.

"What we are really tired of is having empty storefronts," said Kimyn Braithwaite, president of the Duboce Triangle Neighborhood Association that borders much of upper Market Street between Church and Noe Streets. "So we are happy to have some change that will hopefully activate a lot of the empty spaces that we have."

Daniel Bergerac, president of the Castro Merchants business association, also welcomed the zoning proposal. While it is limited in scope, he believes it should make it easier for locally owned businesses to open.

"We are not talking about major, major changes to how things are done," noted Bergerac. "It is just lessening some of the burden to get new businesses in. I think lessening the archaic rules around beer and wine service are probably the most significant in my mind. It is so important for businesses to have that profit center."

None of the restrictions enacted in recent years that have made it harder for chain stores to open along upper Market Street are being rescinded. And the legislation does not change the zoning in the heart of the Castro district, along the 400 and 500 blocks of Castro Street, where new bars and nightclubs are banned from opening.

Nor will the zoning likely impact what many consider to be sky-high rents landlords are asking for vacant storefronts. For instance, the former Pottery Barn space at Market and Castro streets is reportedly seeking $750,000 a year in rent.

The space that had housed Harvest Ranch Market, at 2285 Market Street, is seeking $42,500 a month to lease. Neighborhood leaders said this week they have not heard of any new businesses planning to open in either storefront.

New businesses planned
At the same time several new businesses should be opening in the coming weeks. Barry's Bootcamp hopes to open later this month at 2280 Market Street, where a CVS had most recently operated. And Black Hammer Brewing is planning to open a beer garden at 2196 Market Street.

A new gay-owned restaurant, Gramercy Park Brasserie & Wine Bar, plans to open at 216 Church Street, just off Market, in April. The Castro/Upper Market Community Benefit District has moved into the former location of Snowbright Launderette, 693 14th Street at Market, and is planning to have an open house April 24.

As for the zoning rules for the commercial corridor, Mandelman said he is open to proposing more changes to help businesses move into the area and fill the remaining vacant spaces.

"We will continue to look for things we can do to make the situation better," he said.
Comments on Facebook