Political Notebook: Gay SF treasurer seeks 4th full term
Wednesday Feb 27, 2019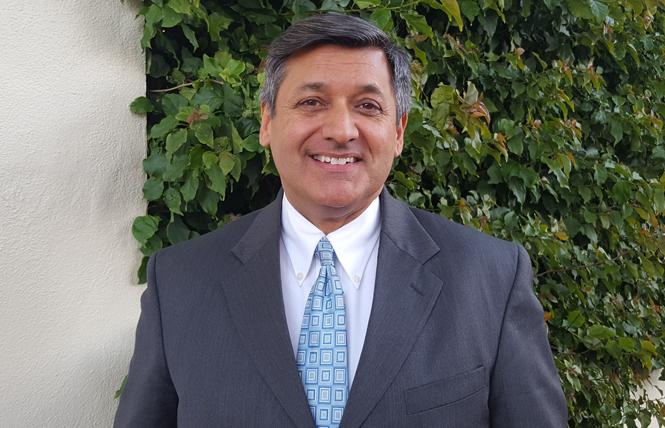 San Francisco City Treasurer-Tax Collector José Cisneros is gearing up for his campaign this fall to be elected to a fourth four-year term. Cisneros, a gay man, is the only LGBT person to hold one of the city's seven elected executive positions.
Cisneros, 63, has held the post, which is not term limited, since 2004 when former mayor Gavin Newsom, now the state's governor, appointed him to fill a vacancy. He is planning to have an official campaign kick-off event later this spring.
The first indication that Cisneros would seek re-election came in late January when the national LGBTQ Victory Fund announced it had endorsed him along with a host of out elected officials and LGBT people seeking office across the country this year. Only days prior Cisneros had quietly declared his intent to run with city elections officials.
"I love the job I have. And I want to ... I'm seriously going to run for re-election to keep the job I have," said Cisneros during a recent editorial board meeting with the Bay Area Reporter.
To date, no one else has indicated they are interested in running against Cisneros. He has not faced an opponent since he first ran for the position in 2005. This will be his fifth time running for treasurer, as he had to seek a two-year term in 2013 after voters approved a switch to the city's election timetable that conjoined five races for citywide executive offices, including that of treasurer-tax collector, mayor, and city attorney, to odd years.
Asked if he expected another cakewalk of an election this year, Cisneros said he wasn't taking anything for granted.
"I want to be prepared for whatever comes along," said Cisneros, who is married to San Francisco Human Rights Commissioner Mark Kelleher, a senior adviser at BroderickHaight Consulting. "I would probably be the last person to know if there will be someone running against me."
Cisneros this month updated his campaign website — http://josecisneros.com/ — to begin raising money for his bid. He is just starting the process to seek other endorsements from local political clubs and officials.
Gay state Senator Scott Wiener (D-San Francisco) recently told the B.A.R. that, although Cisneros had yet to ask for his support, he would be endorsing his re-election campaign this year. He said it is unclear if anyone would oppose Cisneros in the fall race; the deadline for candidates to file is August 9.
"I don't know. It is San Francisco, so uncontested re-elections are rare," said Wiener. "But Jose is an excellent treasurer. He has just done a superb job; he clearly deserves re-election."
As the city's banker and chief investment officer, Cisneros's main focus is collecting taxes and revenues. In that capacity, he publicly sparred with home-rental sites like Airbnb over their initial refusal to collect and pay the same occupancy tax San Francisco imposes on city hotels.
Cisneros declined to talk directly about Airbnb, citing taxpayer confidentiality laws. But he did note that not only did his office work on the issue, but the city's supervisors and former mayor helped by creating an office to police short-term rental websites. It has made it easier for such businesses and their hosts to follow the rules, said Cisneros.
"We now have a system where, for both permitting and licensing and registration purposes, the city has a good system, it's a system that is being enforced," he said. "And the treasurer-tax collector's office also has a good system that's allowing us to enforce the transient occupancy tax."
More recently he worked with current Mayor London Breed to offer assistance to those federal workers suffering from the shutdown of the federal government. He also worked last year with Breed and the late Public Defender Jeff Adachi, who died unexpectedly last week, to make San Francisco the first city in the country to eliminate the fees charged to people exciting its jails.
Ever since the economic meltdown of 2008 Cisneros and his office have been involved in talks to form a city-run public bank. He is expected to soon release a report on what doing so would entail based on the work of a task force that the supervisors called for last year. Cisneros, however, is remaining neutral on if it is a good idea.
"I'm not taking an official position on it. But let me tell you, we've done a lot of work on the topic," said Cisneros, explaining that "I, as the treasurer, it's not my job to make policy."
Due to federal laws prohibiting banks doing business with the cannabis industry, the report will not recommend that a public bank of San Francisco open accounts for marijuana businesses. At least not at this time, said Cisneros, who does support efforts by California lawmakers to change the federal rules.
"I think that it'd be smart to, to find a way for all businesses, particularly businesses that we consider legal in the state of California, to be able to be banked. Sure," said Cisneros.
One industry he has opposed is the check-cashing business. Through his Bank on San Francisco initiative, Cisneros has helped upward of 75,000 people open bank accounts in order to avoid using check-cashing outlets and their exorbitant fees. The initiative has been duplicated across the country and been lauded by the federal government.
Cisneros believes it has led to a retrenchment of such businesses in the city. For example, one check-cashing outlet that had operated in a prominent corner storefront in the city's gay Castro district closed and was turned into a dining room by the adjacent Super Duper Burger location.
"I haven't eaten there since they expanded. But I love Super Duper," said Cisneros, adding that he was "very excited to see that. You know, market forces, right?"
Since the city couldn't pass a law, "as much as we would want it to," said Cisneros, "to ban or eliminate or kick out these, you know, legal businesses as defined by the state of California, and so our goal was to through our Bank on San Francisco program ... was to steer people away from those businesses and bring them into relationships with a bank."
He would not say if this would be his final campaign for treasurer. Should he be re-elected come November, then Cisneros would be 67 when his term expires in 2023.
"I still really like my job. I feel like we have a great team in our department," said Cisneros. "And, and there's a lot of more interesting and exciting opportunities that lie ahead. And I want to be around to work on them and do good things for the city."
EQCA endorses CA legislative candidates
In the special election to succeed gay former state Senator Ricardo Lara, who resigned his seat in January when he became California's insurance commissioner, Equality California has dual endorsed in the race.
The statewide LGBT advocacy group's political action committee split its support between gay Lynwood City Councilman José Luis Solache, currently serving as his city's mayor, and Long Beach City Councilwoman Lena Gonzalez, seen as the frontrunner in the race. Lara and many other elected leaders in the 33rd Senatorial District have endorsed Gonzalez.
But Solache, the only out candidate in the race, is well funded to mount a competitive campaign for the seat. Having already begun raising money to run for the Senate seat in 2020, when Lara would have been termed out of office, he reported having $143,615 to spend as of February 9.
"Pro-equality voters in District 33 have two fantastic choices to fill Commissioner Lara's large shoes in the Senate," stated EQCA Executive Director Rick Zbur. "Councilmember Gonzalez and Mayor Solache have dedicated their careers to fighting for civil rights and social justice, and we're confident that each would be an effective champion for the 33rd District and for the LGBTQ community in Sacramento."
The primary election will be held March 26. If no candidate receives more than 50 percent of the vote, then the top two vote-getters will advance to the June 4 special election.
A win by Solache would return the membership in the Legislative LGBT Caucus to a high of eight members. Whoever is elected will need to run for a full four-year term in 2020, when the primary will again be held in March due to the presidential election.
Wednesday EQCA also endorsed gay former Assemblyman John Laird's 2020 bid for a state Senate seat. He is running to succeed Senator Bill Monning (D-Carmel), who is term limited from running again next year for his 17th Senate District seat along the Central Coast.
It also gave an endorsement to gay San Diego City Councilman Chris Ward's 2020 bid to succeed gay Assemblyman Todd Gloria (D-San Diego), who has opted to run for mayor of his city next year rather than seek re-election to his 78th Assembly District seat.
Web Extra: For more queer political news, be sure to check http://www.ebar.com Monday mornings for Political Notes, the notebook's online companion. This week's column reported on CA legislative efforts to create a statewide aging plan.
Keep abreast of the latest LGBT political news by following the Political Notebook on Twitter @ http://twitter.com/politicalnotes .
Got a tip on LGBT politics? Call Matthew S. Bajko at (415) 829-8836 or e-mail m.bajko@ebar.com.
Comments on Facebook