As STDs continue to rise, SF clinic gets a refresh
Wednesday Feb 20, 2019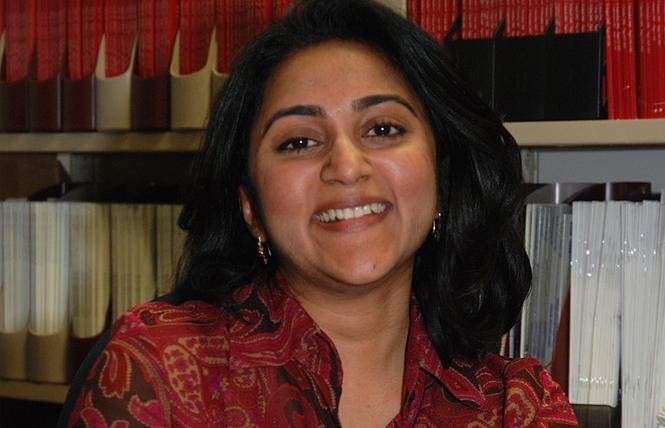 As sexually transmitted diseases continue to rise in San Francisco, albeit at a slower rate than seen in past years, the health department is remodeling its City Clinic facility South of Market.
The public health center has been at its location at 356 Seventh Street since 1982, but other than a refresh to its reception area, it had not upgraded its exam rooms over the last 37 years. To allow for the construction, the clinic closed Friday, February 15, and plans to reopen Friday, February 22.
But it will not be able to perform physical exams of patients and is only offering limited services through Wednesday, February 27. The clinic expects to return to a normal operating schedule in early March.
Once complete, the new clinical spaces will benefit the clinic's employees, as they have been designed to improve the ergonomics of the exam rooms. And they are also being fitted with new equipment, such as larger monitors, that the clinic needs in order to transition this summer to a new electronic records system that the health department will be rolling out.
The disruption to its operations, while a hindrance, "will be a benefit to our patients," said City Clinic medical director Dr. Stephanie Cohen. "Our exam rooms have not been modernized and need to be given a facelift."
Deputy Health Officer Dr. Susan Philip, the director of the disease prevention and control branch in the health department's Population Health Division, said the decision to close briefly was made so the disruption in the clinic's ability to see patients was as short as possible.
"We know City Clinic is hugely important as a resource for sexual health," said Philip. "Therefore, we wanted to do this massive work in a short timeframe."
STD rates continue to rise
It comes as the STD branch strives to stem a rising tide in cases of syphilis, gonorrhea, and chlamydia that has been going on in the city since 2007. According to preliminary data for 2018, chlamydia increased by 4 percent last year to 9,481 cases.
Gonorrhea increased by 3 percent to 5,931 cases. Total syphilis cases remained largely flat in 2018 with 1,689 cases compared to the 1,694 reported in 2017.
"For chlamydia and gonorrhea the amount of the increase has decreased to single digit increases instead of double digits compared to prior years," said Philip. Nonetheless, "We are not satisfied with that," she added. "We would like to see it decrease."
While men who have sex with men continue to account for the majority of STD cases in the city, San Francisco officials have seen an alarming spike in the number of women becoming infected with syphilis. Based on the unofficial numbers for 2018, total cases of syphilis among females increased by 88 percent last year to 120.
A majority (71 percent) of the female primary and secondary cases were in women of childbearing ages 18 to 44 years old. Relatively few had a recent STD test, according to city health officials, 16 percent were homeless at their diagnosis, and 37 percent reported meth use in the past year.
"It is a call to action, the rising number of cases of syphilis in women. We want providers to know about that," said Cohen. "Most providers are never going to see a cisgender woman with syphilis. Many may have forgotten that can happen, but that is happening."
The increase in female syphilis cases is leading to concerns that the city may begin finding a spike in congenital syphilis cases in pregnant women similar to what other parts of the state and country are seeing. The disease, if not treated, can cause complications for both the woman and her child. While there were no reported cases in 2018, the city saw one case in 2017.
"The bigger problem with congenital syphilis is the lack of access to prenatal care for women or they are not accessing prenatal care because of homelessness or drug use," said Cohen. "Some providers are not screening in the third trimester and the health system is not supporting the women who have complex things going on in their lives."
Across the country the rise in drug use, in particular methamphetamine, heroin, and other injected drugs, is leading to a rise in STDs among heterosexuals. In August the Centers for Disease Control and Prevention reported there were nearly 2.3 million cases of chlamydia, gonorrhea, and syphilis in the U.S. in 2017. It marked the fourth year in a row that the federal agency had recorded increases of all three STDs.
To combat the issue, the National Coalition of STD Directors is asking Congress to allocate $70 million toward federal STD prevention programs. Funding for the CDC's STD prevention program has not been increased in 15 years, noted the coalition in a statement last week released in response to a federal analysis of STD trends between 2013 and 2017.
"Without increased federal funding, a nearly bankrupted STD prevention effort in this country could be pushed over the edge when you add in the additional burden of the nation's drug crisis," stated David C. Harvey, executive director of the STD directors' group. "Combatting STDs and drugs go hand-in-hand."
Reviving task force
In San Francisco Mayor London Breed and gay District 8 Supervisor Rafael Mandelman have called for the city to revive its methamphetamine task force in order to develop a plan for how the city should respond to the rise in use of the drug and the negative consequences that stem from it. Philip told the Bay Area Reporter that she hopes the task force will include STD prevention as part of its focus.
"In San Francisco we are concerned and we are aware that substance use has been associated with an increase in syphilis," she said. "We are looking to see how the conversation around syphilis and congenital syphilis can be incorporated into the larger work the city is undertaking on meth and opiate use."
Addressing the rise in STDs in conjunction with other health endemics has been the approach local medical providers and advocates have taken. They are coordinating the efforts to reduce STD rates with the city's plan to end the transmission of both HIV and hepatitis C, and local officials are also calling on state health leaders to draw up a combined plan to end new cases of HIV, STDs, and hepatitis C across California.
"This year we are doing a better job than ever incorporating overall health into the framework of Getting to Zero," said Philip, referring to the city's strategy for ending new HIV cases.
Condom usage among gay men has decreased as the community embraces other HIV prevention efforts, from using PrEP, the once-a-day pill that protects HIV-negative people from acquiring HIV, to ensuring HIV-positive people are in treatment so their viral levels are undetectable and therefore are unlikely to transmit the virus to their HIV-negative sex partners. Yet neither strategy prevents STD infections, so health officials continue to recommend that all sexually active gay and bisexual men get tested every three months.
Those patients infected with syphilis within the last year are being asked to assist health officials in contacting their sexual partners in order to get them into treatment. The city can do so confidentially and anonymously, Philip stressed.
"We don't release names to the CDC or the state or anyone else," said Philip. "Our job is to reduce the amount of syphilis in San Francisco overall. We know if one person has it, their partner may have it and not be getting treated."
Comments on Facebook