Political Notebook: 2020 recruitment of CA LGBT candidates begins
Wednesday Feb 6, 2019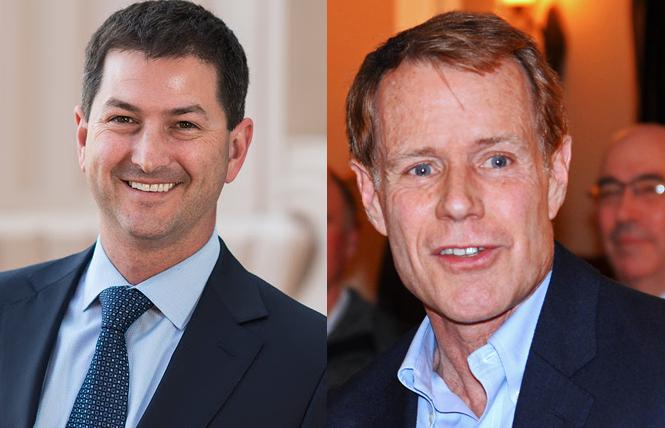 California LGBT leaders have begun recruiting out candidates to seek state legislative seats in 2020 in order to ensure the number of LGBT lawmakers in the Legislature doesn't continue to decline. Otherwise, come December next year, the number of out state lawmakers could remain flat or fall to six or fewer.
This year, the Legislative LGBT Caucus saw its membership slip from a high of eight members to now seven due to gay former state Senator Ricardo Lara (D-Bell Gardens) taking his oath of office as state insurance commissioner. While José Luis Solache, a gay Lynwood City Councilman currently serving as mayor, is running to serve out Lara's term through 2020, he is seen as an underdog in the March 26 special primary election.
In late January invites went out to LGBTQ elected, judicial, and appointed officials in the Golden State to attend what is being billed as the first statewide summit of its kind in Sacramento next month. The agenda will include "discussions about paths to higher office," according to the invitation one invitee shared with the Bay Area Reporter.
"We have to keep building the bench because the bench can become depleted quickly," said gay state Senator Scott Wiener (D-San Francisco), chair this year of the Legislative LGBT Caucus. "We want to provide resources and training opportunities. We want to identify people interested in running for office, LGBT people, so we can know who to reach out to when seats open up."
The LGBT caucus members and Equality California, the statewide LGBT advocacy organization, are co-hosting the daylong meeting Friday, March 15, at the Kimpton Sawyer Hotel not far from the Statehouse.
"This is an opportunity to bring appointed and local elected LGBT folks to the state capital for a daylong policy discussion so we can further develop this pipeline of out candidates," said gay state Assemblyman Evan Low (D-Campbell). "It is very clear to us we need to make sure our people are the frontrunners so they can hit the ground running."
The summit will educate the local leaders about LGBT legislation state lawmakers are carrying this year and provide them an outlet to talk about the concerns in their communities. It is also designed as a way for those interested in running for Assembly and Senate seats to talk directly to the LGBT caucus members, noted EQCA Executive Director Rick Zbur.
"Our goal really is to create and strengthen the bench of LGBTQ elected officials," said Zbur. "Investing in local elected officials allows us to advance the strongest candidates in future years."
Due to the decision to move up the 2020 primary from June to March because of the presidential race, the calculus for when legislative candidates must decide on whether to run has changed this year. The filing deadline is in early December to enter the primary race for a state legislative seat.
Under the state's open primary system, the top two vote-getters regardless of party affiliation advance to the November 3, 2020 general election. The winners can serve up to 12 years in either the Assembly or Senate, and with incumbents rarely defeated, it means seats can be locked up for more than a decade.
"There has to be a thoughtful effort at recruiting candidates in districts that offer us an opportunity to win and it can't be limited to certain geographic areas," said gay former Assembly speaker John A. Perez (D-Los Angeles), the first gay person of color elected to the Legislature. "You've just got to find good progressive candidates in areas of opportunity."
Now a member of the UC Board of Regents, on which he is vice chair and in line to become the next chair, Perez said, "You never say never," when asked if he would run again someday for elected office. For now, he has no immediate plans to do so.
Expanding the number of out legislators from outside the state's urban areas has proved to be difficult. All eight of the non-incumbent out legislative candidates running in November, many in suburban or exurban districts, lost their races.
A handful, however, came close to winning, noted Wiener. It is hard to draw any general lessons from last year's races, he added, since each race is unique and it is up to each candidate to run a strong campaign.
"No one can take anything for granted. We are in a very competitive political atmosphere," said Wiener. "We all have to be on our A-game, that is how we get elected."
There is strong interest among LGBT officials about seeking Statehouse seats or another public office. The LGBTQ Victory Institute this weekend in San Francisco is training 42 LGBT people interested in seeking elective office.
The four-day candidate and campaign training kicks off Thursday night and features various sessions on how to run for office, including tips on how to fundraise, create a campaign message, and reach voters.
"I think we have a bench of potential people that, with a little more seasoning, I think we are going to see get it done one of these days," said gay former Berkeley City Councilman Kriss Worthington, who ran unsuccessfully in 2008 for state Assembly. "We've just got to be persistent."
Already, five out incumbent state legislators and two out politicos are running for either Assembly or Senate seats in 2020. Another three out non-incumbents are eying legislative races in the Bay Area and down in San Diego.
Gay former Assemblyman John Laird (D-Santa Cruz) is running to succeed state Senator Bill Monning (D-Carmel), who is termed out of his 17th Senate District seat along the Central Coast. And in San Diego, gay City Councilman Chris Ward is running to succeed gay Assemblyman Todd Gloria (D-San Diego), who has opted to run for mayor of his city next year rather than seek re-election to his 78th Assembly District seat. An out legislator has long held Gloria's seat.
Excited to be back at my home club @SDDems4Equality to announce my candidacy for the 78th Assembly District! pic.twitter.com/6pv1vWxedw— Chris Ward for State Assembly (@ChrisWard4AD78) January 18, 2019
In the Bay Area, gay former Santa Clara County supervisor Ken Yeager is mulling a bid for the state Senate's District 15 seat in Silicon Valley, as Senator Jim Beall (D-San Jose) is termed out. Yeager, who lives in San Jose, told the B.A.R. this week that he is still deciding on if he will run.
Lesbian former Richmond City Councilwoman Jovanka Beckles has not ruled out running again in 2020 for the East Bay's 15th Assembly District seat. She narrowly lost in November to freshman Assemblywoman Buffy Wicks (D-Oakland).
"I'm interested in that office or a different one. I'm still thinking," Beckles told the B.A.R. this week.
And lesbian real estate agent Sunday Gover could challenge Assemblyman Brian Maienschein (D-San Diego), who left the Republican Party last month. She came close to ousting him from his 77th Assembly District seat last year.
In a tweet responding to the news of Maienschein becoming a Democrat, Gover put her former opponent on notice that she and her supporters "will be watching closely to see whether Mr. Maienschein fully embraces our community's values & rejects the Republican agenda, or whether his party switch is simply an attempt to hold onto power."
Lesbian state Senator Cathleen Galgiani (D-Stockton) is termed out of her 5th Senate District seat next year, and it is likely no LGBT person will run to succeed her. Lesbian state Assemblywoman Susan Talamantes Eggman (D-Stockton) has ruled out doing so and instead will seek re-election to her Assembly seat.
Both lesbian state Senate President pro Tempore Toni Atkins (D-San Diego) and Wiener will run for re-election next year, as will Low and lesbian Assemblywoman Sabrina Cervantes (D-Corona). Of the four, Cervantes faces the likeliest chance of being opposed by a strong Republican opponent. The GOP targeted her last year, but she was able to win a second term.
EQCA to honor Wiener, SFO
As it marks its 20th anniversary this year, EQCA will honor Wiener and the San Francisco International Airport at its San Francisco Equality Awards gala May 11 at the Fairmont Hotel. Wiener is being honored for authoring groundbreaking LGBT legislation since joining the state Senate in 2016.
As for SFO, its honor stems from having been led by gay former director John L. Martin for two decades and being the first airport in the U.S. to incorporate gender-neutral bathrooms into its larger, multi-use bathrooms, EQCA spokesman Samuel Garrett-Pate told the B.A.R.
"They are making sure SFO is an inclusive space for folks who travel through there," said Garrett-Pate, adding that Martin's tenure, which ended in 2016, was "unprecedented for the airport industry."
As the B.A.R. reported in 2016, when Terminal 1 reopens as the Harvey B. Milk Terminal in July, SFO officials expect its gender-neutral bathrooms will set the standard for the nation. Milk was the first out person elected to public office in both the city and California and is now the first LGBT person to have an airport wing named in their honor.
News of SFO's honor comes as LGBT business leaders continue to press airport officials to ensure LGBT-owned local businesses can compete for contracts at the airport, despite federal rules that put them at a disadvantage, and several supervisors have raised complaints about the proposed signage for the Milk terminal facade. As the B.A.R. first reported last week, District 9 Supervisor Hillary Ronen is sponsoring an ordinance to ensure that Milk's name is the most prominent part of the terminal's exterior sign.
Garrett-Pate said EQCA officials are confident the signage scuffle will be resolved quickly.
"We support honoring Harvey and his incredible legacy at the airport. That honor and tribute to him and his life should be impactful, visible, and appropriate for the contributions he made to the city," Garrett-Pate said of Milk, who was killed in November 1978 just 11 months after taking office.
Early bird tickets for the gala priced at $500 per person are on sale now at https://action.eqca.org/SF-Awards-2019.
Web Extra: For more queer political news, be sure to check http://www.ebar.com Monday mornings for Political Notes, the notebook's online companion. This week's column reported on the gay mayor of Lynwood running in a special state Senate race this year.
Keep abreast of the latest LGBT political news by following the Political Notebook on Twitter @ http://twitter.com/politicalnotes .
Got a tip on LGBT politics? Call Matthew S. Bajko at (415) 829-8836 or e-mail m.bajko@ebar.com.
Comments on Facebook