SF supes set to OK leather parklet permit
Wednesday Feb 6, 2019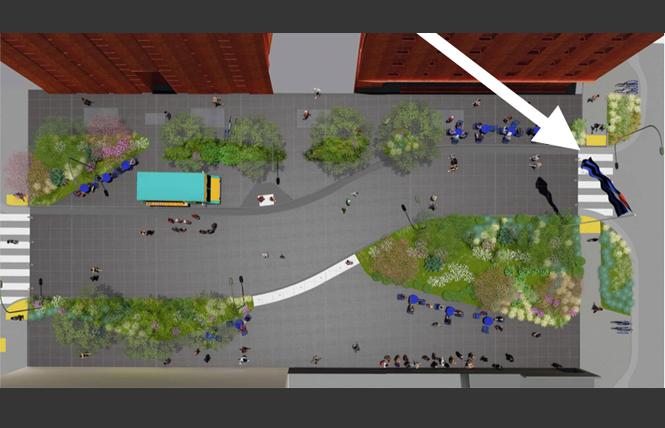 The San Francisco Board of Supervisors is set to approve next week a permit to allow for the construction of a leather-themed parklet in the city's South of Market neighborhood.
Known as Eagle Plaza and named after the gay-owned bar it will front on a portion of 12th Street, the public open space is seen as a focal point for the LGBTQ cultural heritage district city officials created in western SOMA to celebrate its being the home of the city's leather community.
"We have been working with a lot of members of the community trying to make this a space available for everybody," noted Alex Montiel, one of the Eagle bar owners.
Five years after it was first proposed, the project has languished in the city's bureaucratic process due to the need to take over a city street. Concerns over access for fire trucks and other safety vehicles led to protracted debate over the plaza's design.
As the Bay Area Reporter disclosed last month, Mayor London Breed stepped in to expedite the permit process in hopes of seeing Eagle Plaza open in time for this year's Folsom Street Fair, held annually the last Sunday in September.
The supervisors' land use committee unanimously voted to support the major encroachment permit request at its meeting Monday, February 4. The full board is expected to approve the permit when it meets Tuesday, February 12.
'Exciting opportunity'
"This is a very, very exciting opportunity that we have with Eagle Plaza for a number of reasons," said District 6 Supervisor Matt Haney, who serves on the board's land use panel and is a co-sponsor of the permit request. "This area of the city is really lacking open space. This is going to bring critical open space to the western SOMA neighborhood."
Haney added that it is also an exciting opportunity to pay further homage to the LGBTQ and leather communities, as "leather men and leather women have called western SOMA home for half a century."
Gay District 8 Supervisor Rafael Mandelman is also a co-sponsor of the permit request. He told the B.A.R. he expects it will have unanimous support from the board on Tuesday.
"I certainly hope so; I can't think of any reason why it wouldn't," he said. "A lot of people worked a long time to make this plaza a reality. It commemorates a very important social movement and culture in our city's history."
Local development firm Build Inc. will construct the plaza as part of a $1.5 million in-kind agreement with the city for approval of its mixed-use development across the street from the Eagle bar on what was a surface parking lot. Construction began last summer at 1532 Harrison Street on three seven-story buildings consisting of 136 rental homes.
Place Lab, started by Build and now part of the nonprofit San Francisco Parks Alliance, is overseeing the design of, and permits for, Eagle Plaza.
"We felt like this location was a great area to provide open space and to provide a gathering space," said Katie O'Brien, Build's vice president of development, at Monday's hearing.
While the parklet will take over the block of 12th Street between Harrison and Bernice streets, traffic will remain open in both directions via a curving, 28 foot wide two-lane roadway through the plaza. Bollards will be used to close off the street at both ends for special events.
The Eagle bar's flagpole sporting the leather flag will be moved into one of the plaza's planting areas in front of it. Sidewalks at both entrances into the plaza will sport the colors of the leather flag, which features a red heart and blue, black, and white stripes.
The parklet's estimated cost is $1.85 million. In addition to Build's contribution, the city awarded $200,000 in grant money to the plaza. The Friends of Eagle Plaza is aiming to raise $150,000 by this spring.
At its meeting Tuesday, the board approved residents' request to form the SoMa West Community Benefit District. If property owners vote to create the CBD, it is estimated to result in more than $3.8 million in property assessments that could pay for such things as street cleaning and activation of the Eagle Plaza with various events.
The CBD would launch January 1, 2020 and be authorized through December 31, 2034. Property owners would have to vote to extend it.
Tom Taylor, a gay man whose commercial property management business is within the CBD area, sees it as a way to help fund Eagle Plaza, which he also supports.
"It's the only open area in that vicinity people can have lunch or open space," said Taylor, who was friends with the late gay artist Gilbert Baker and oversees the flagpole he installed in the city's gay Castro district.
Comments on Facebook