Zhao attends LGBT API forum
Wednesday Jan 30, 2019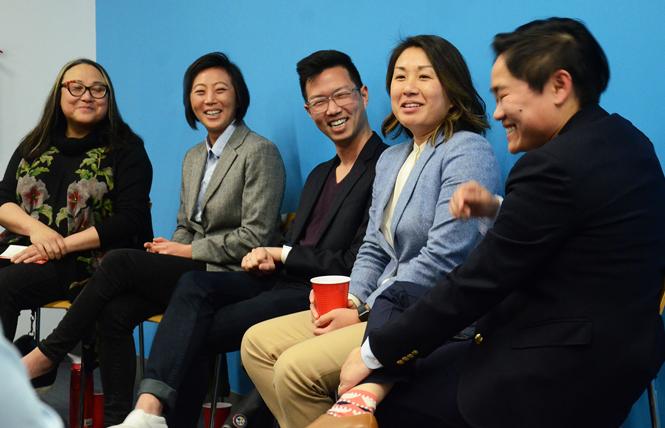 In the audience Monday night at a forum where local LGBT leaders of Asian-American descent discussed their coming out stories to their families was controversial San Francisco school board candidate Josephine Zhao. The 90-minute discussion at the city's LGBT community center stemmed from Zhao's dropping out of the race last fall due to her anti-trans comments six years ago about transgender students using school bathrooms of their choice.
Zhao, who initially had won endorsements from Mayor London Breed and gay state Senator Scott Wiener (D-San Francisco), had disavowed those remarks and said she was "wrong" on the issue. But by September, Zhao was found to be telling Chinese voters on a social messaging app that she continued to stand by her prior position. The disclosure led to her abandoning her candidacy, though her name remained on the ballot.
Ahead of the January 28 panel discussion, co-hosted by the Gay Asian Pacific Alliance and Team Q of the United Democratic Club, Zhao had been scheduled to appear last Thursday on the "Michelle Meow Show," whose host moderated the groups' forum. Yet Zhao did not appear on Meow's program, which is a joint venture with the Commonwealth Club of San Francisco.
Meow, a lesbian of Laotian descent, told the Bay Area Reporter that she decided to cancel Zhao's appearance after receiving a number of complaints about booking her on the show. Taped before a live audience at the Commonwealth Club for radio broadcast, Meow said she was concerned about people disrupting the interview to the point it could not be aired. GAPA chair Michael Nguyen appeared on the program instead.
During Monday night's discussion, Meow never mentioned Zhao by name, referring to her instead as "a candidate for school board" or "that candidate." Just one of the four panelists, Mandy Lee, a lesbian who is the immediate past board president of statewide LGBT advocacy group Equality California, used Zhao's first name at one point.
Asked by the B.A.R. why she wanted to attend the forum, Zhao said it was partly to learn more about the topic and also because she is friends with both Lee, who wrote an op-ed in support of Zhao for a local website, and Phil Kim, a gay man who ran for school board in November and had reached out to Zhao to talk to her when the first news stories about her past comments were published. She is also friends with, and a customer of, the parents of Cynthia Wang, who talked about coming out to her Chinese immigrant family.
"It is important to know how they think," she said, especially about "what happened during the campaign and what influence it had on them."
As for the comments she made on a social messaging app that sparked outrage from LGBT activists and led to her bowing out of the school board race, Zhao told the B.A.R. that it stemmed from a lack of understanding of how the issue of gender-neutral bathrooms are spoken about in the Chinese community. What she initially thought was being proposed was to do away with gender-specific bathrooms and locker rooms in the city's public schools in favor of "communal bathrooms where anyone could shower."
That was what led her to make her initial transphobic comments, said Zhao.
"It was my fault that I did not think about something I said would be fear-mongering and that there could be a different thing or another side. I didn't do more research. I was too ignorant," said Zhao, who is a single mother.
When she wrote last year that she stood by her original stance, Zhao told the B.A.R. this week that she was referring to her opposition to "communal bathrooms," not gender-neutral bathrooms or allowing transgender students to use the bathroom of their choice.
During the panel discussion Cecilia Chung, an immigrant from Hong Kong who is director of strategic projects at the Transgender Law Center and sits on the city's health commission, had spoken about how conservative Chinese religious leaders had inflamed the debate around gender-neutral bathrooms in schools.
"There is definitely a cultural piece and there's also a piece that is about religious oppression because a lot of these kind of misinformation was spread by some of the Asian churches, you know," said Chung. "Because what the community first of all wanted to call for is not co-ed bathrooms, but making single-stall bathrooms all-gender. But they keep calling that co-ed bathroom so that boys can go to the girls' bathroom and girls can go to the boys' bathroom. And that's totally not the situation. So if we don't call out that lie first it doesn't matter how we discuss the issue because people have a different understanding."
Lee, the daughter of Chinese immigrants who live in Alameda, said that she saw her op-ed as "a call to action for the progressive community to allow people that want to evolve to give them the opportunity to have that journey."
As for Zhao, who helped her come out to her family, Lee said that she "would die if my parents were in the position that Josephine was in wanting to understand more and wanting to extend herself to the Chinese immigrant community to help serve as an influencer, right? I mean, we heard earlier about the power of grandparents and what they can do, I think that our elders and folks within the immigrant community are the best vessels to create change."
For Lee, she saw the situation as "an opportunity and seeing someone that actually wanted to learn and was open to learning and was willing to insert themselves into a community that I can't change. I can't go into Chinatown and say, 'Hey, you know, like, you guys need to understand why gender-neutral bathrooms are important.' It requires us to be open to utilizing people that are willing to do the work for us in those communities."
As the B.A.R.'s online Political Notes column previously reported, Kim spoke with Zhao privately for three hours last fall in order to help educate her about LGBT issues and hear her out. At the forum, he was critical of those who had publicly called on Zhao to apologize but didn't bother to reach out to her directly.
"We talked about everything, and I was bawling, and they're evolving, and it was just a big old mess," said Kim, who is estranged from his mother, an immigrant from South Korea, and most of his family. "And what I find interesting is that in all the conversation about wanting to move a community forward, or have engaged in dialogue, engage in dialogue about all of this, no one had reached out to her, that's a problem."
He said it is also "a huge missed opportunity to have a conversation with someone who said some pretty terrible things. And it's one thing to call someone out about the terrible words and the poor record that they have, historically, that's fine, that is fair. And if you live in San Francisco, they should be aware that they're running for office, you should know your history. And if you're talking about moving a community, engaging in dialogue, yet no one is willing to have that dialogue, that is a problem."
Nguyen told the B.A.R. that the forum "was a much needed conversation we don't get to hear much of, especially from queer Asian immigrants."
He wasn't sure what GAPA's next step would be to foster more discussion on the matter. Monday's forum was the first time he could recall GAPA partnering with another political group to host such an event.
"It did substantiate the need for these conversations to happen," he said.
BART board director Janice Li, the only queer Asian woman currently in elected office in San Francisco, agreed that the forum "was one of many conversations that need to happen."
She was impressed that the audience was predominately Asian or Pacific Islander, which Li hadn't expected to see.
"Within the queer API community there needs to be more conversation," said Li.
As for if Zhao plans to run again at some point for a school board seat, she was noncommittal when pressed in the brief interview with the B.A.R. She commended Breed's decision this month to name her education adviser, Jenny Lam, to serve out the term of Matt Haney, who resigned his seat January 8 after being sworn in as the District 6 supervisor.
"I want to take time to build relationships and build trust, especially with the LGBT community," said Zhao. "It is also a two-way street. People need to make an investment to know more about the Chinese community. We don't know each other and people make assumptions."
Contact the reporter at m.bajko@ebar.com.
Comments on Facebook