Retail changes coming to the Castro
Wednesday Jan 23, 2019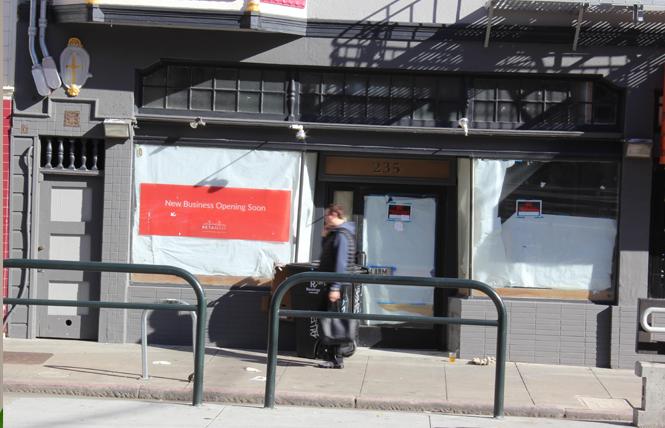 The Castro's commercial real estate shuffle continues as new restaurants and fitness centers arrive, legacy businesses are nominated, and a legendary business shutters.
Construction near the southwest corner of Church and Market streets is expected to begin this week for Gramercy Park Brasserie & Wine Bar (216 Church Street) — the former home of Crepevine for 18 years — that will open in April. The 1,900 square foot eatery will also occupy neighboring address 212 Church Street, formerly Church Street Flowers, to operate a takeaway business, Gramercy Park To-Go, Hoodline reported.
Gramercy owner Mark White, a gay man, told the outlet he's leased both spaces for a decade with the option for an additional five years.
According to a representative of Veritas Investments, a San Francisco real estate firm with multiple Castro properties including the aforementioned Gramercy Park, Il Casaro pizzeria (235 Church Street) will begin serving pies in February. Il Casaro's North Beach location opened in 2014.
Though tight-lipped about details, a source confirmed via email that new owners just acquired 242 Church Street, formerly 24-hour diner Sparky's, which closed in 2016.
"The impending openings of Gramercy and Il Casaro," said Justine Shoemaker of Veritas Investments in a statement to the B.A.R., "are the latest validation of Veritas' work with our brokers, retailers, Supervisor [Rafael] Mandelman, the merchants group, and neighbors to reinvigorate commercial activity in the neighborhood despite the challenges of soft-story improvements, PG&E coordination, city approvals, and in finding strong retailers who make a great fit for the community.
"We know it's an ongoing, combined effort and appreciate the cooperative approach of those seeking a thriving, energized Castro and Upper Market," Shoemaker added.
As the Bay Area Reporter noted in a recent article, there are two new tenants on the ground floor of Maitri Compassionate Care AIDS hospice at Church and Duboce streets. The Veritas-managed retail space formerly housed Out of the Closet thrift store. The Castro Animal Hospital (100 Church Street) opened January 7 and CorePower Yoga opens January 31.
Another fitness center will have locals breaking a sweat soon. Barry's Bootcamp opens at 2280 Market Street in late February, Barry's managing partner Adam Shane confirmed.
With over 50 gyms worldwide, the popular fitness studio acquired a conditional use permit last year allowing the formula retailer to reconstruct the former CVS pharmacy location.
Of the new location, Shane told the B.A.R., "Barry's Castro will not only be one of the company's largest studios in the world, but it will be one of our coolest spaces yet, with sleek and edgy design including contemporary furniture, stylish lighting, and more, resulting in a stunning social space where the whole community can hang out before and after their workouts."
On January 30, the Castro/Upper Market Community Benefit District will take over the former location of Snowbright Launderette (693 14th Street at Market), which served the Castro for nearly 55 years before closing in January 2018.
CBD Executive Director Andrea Aiello told the B.A.R., "We are working with Supervisor Mandelman to try to address issues that often present multiple headaches for new businesses, particularly around rethinking some of the zoning controls on upper Market Street."
Despite new additions to Castro's business corridors, the eminent closure of legendary retailer Aardvark Books is a loss for the community. After 41 years, the 3,125 square foot building — which sold last year for $2.43 million — will turn its final page Friday, January 25. [See story, page 8.]
Within a business corridor that's equal parts active and abandoned, Mandelman, a gay man who represents District 8 on the board, is taking action to revitalize Castro's commercial real estate climate.
"Even prior to my election last June, I had heard from many neighbors concerned with the increasing number of vacant storefronts in Upper Market," Mandelman told the B.A.R. "Addressing these retail vacancies has been a major priority for my office and we have been working for the last several months with neighbors, businesses, and other stakeholders to develop zoning changes that will make it easier for restaurants, arts organizations and nonprofits to come into the neighborhood."
Mandelman confirmed that in addition to co-sponsoring District 1 Supervisor Sandra Lee Fewer's legislation that closes a loophole property owners use to avoid paying vacancy fees, he's also working to secure long-standing neighborhood businesses.
Recently, Mandelman's office nominated floral arrangement boutique Ixia (2331 Market Street) and For Your Eyes Only Optometry (552 Castro Street) to the city's Legacy Business registry, giving them access to city resources that will help them stay in their locations. Both businesses have operated in the neighborhood for nearly three decades.
"It feels wonderful to be part of this community," Ixia owner Cheri Mims, who identifies as queer, told the B.A.R. "I first came to San Francisco in 1995, then moved to Castro in 2006. It's an honor to be part of the community and continue to sustain what has been built."
Updated, 1/24/19: This article was updated to include late February opening for Barry's Bootcamp and the number of gyms it has.
Comments on Facebook