News Briefs: BAAITS readies for new exhibit, powwow event
Wednesday Jan 23, 2019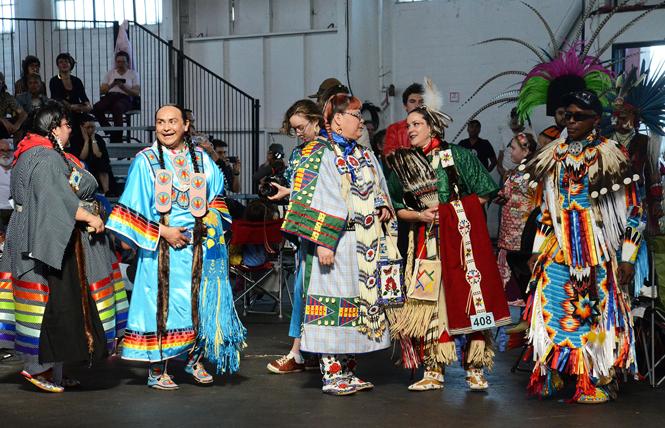 Bay Area American Indian Two-Spirits is involved with two upcoming events: a new exhibit at the GLBT Historical Society Museum and its annual powwow.
(The historical society officially changed the name of the museum January 1, a spokesman said. Previously, it had been the GLBT History Museum.)
The historical society exhibit, "Two-Spirit Voices: Returning to the Circle," focuses on four main themes: LGBTQ and two-spirit Pride, the annual two-spirit powwow, indigenous medicine and responses to HIV/AIDS, and two-spirit meaning within indigenous communities.
BAAITS members Roger Kuhn, Amelia Vigil, and Ruth Villaseñor have curated the show in collaboration with the historical society.
"This exhibition emphasizes positive approaches to resistance to the current political climate in the United States, reminding visitors that two-spirit people are still here and still queer," Kuhn said in a news release. "In particular, the displays honor the work two-spirit people do for Native and non-Native communities, including standing strong for environmental and social justice."
Drawing on materials such as regalia and textiles, medicines and herbs, and photography and video on loan from community members, as well as materials recently donated to the historical society, the exhibition highlights the resiliency of two-spirit people in northern California.
There will be an opening night party Thursday, January 31, with a public reception from 7 to 9 p.m. at the museum, 4127 18th Street in the Castro. The curators will offer introductory remarks and light refreshments will be served. Admission is free for members and $5 for non-members. For tickets, visit https://bit.ly/2C3kRfW.
The exhibit is up until May 27.
On Saturday, February 2, BAAITS will hold its eighth annual two-spirit Powwow from 10 a.m. to 6 p.m. at Fort Masson's Festival Pavilion, 2 Marina Boulevard in San Francisco.
Grand entry will be at noon.
A powwow is a traditional Native American event that gathers all tribes as well as non-Native guests to learn about Native cultures. Last year, the event welcomed more than 5,000 people and a larger crowd is expected this year, which is BAAITS' 20th anniversary, officials said.
"This is a space for all of us to gather and respectfully celebrate Native traditions," said Vigil, who is the BAAITS board chair. "Whether you are African-American, Native American, white, gay, straight, transgender, whoever you are and wherever your roots originated, come with curiosity and kindness."
The powwow will feature an opening prayer by Carla Munoz and Dessiree Munoz, head dancers Clyde Hall and Sage Runsabove, and head gourd dancer Matthew Reed. The northern drum will be performed by Blue Medicine Well; the southern drum will be performed by Southern Pride. L. Frank Manriquez and Coy McLemore will serve as co-emcees.
The powwow features several hours of ceremonial honor dances, contest dances, and a drum contest.
The event is open to the public and free, though donations are welcome at the door.
Organizers noted that the powwow is a clean and sober event. Street attire is encouraged for non-Natives. People should leave costumes at home.
For more information, visit http://www.baaits.org.
Two from SF join CenterLink board
A gay man and a lesbian from San Francisco have been named to the board of CenterLink, a national organization that supports strong, sustainable LGBT community centers and connects LGBTs with centers in nearly every state.
Lance Toma, LCSW, chief executive officer of the San Francisco Community Health Center, and Selisse Berry, the founder and former CEO of Out and Equal Workplace Advocates, joined the CenterLink board, according to a January 16 news release.
Toma has run SFCHC, formerly known as the Asian Pacific Islander Wellness Center, since 1999.
Berry started Out and Equal in 1996. She stepped down as CEO in 2017 and moved to an advisory role with the organization, which advocates for achieving global LGBT workplace equality.
Two others newly named to the CenterLink board are Sarah Anderson, a consultant for Campbell and Company in Seattle, and Porter Gilberg, executive director of the LGBTQ Center Long Beach.
"CenterLink is honored and excited to welcome four new exceptional leaders to our national board of directors in 2019," Lora L. Tucker, CenterLink CEO, said in the release. "Sarah Anderson, Selisse Berry, Lance Toma, and Porter Gilberg bring over 30 years of strong, compassionate leadership experience and dedication to the movement."
CenterLink is based in Fort Lauderdale, Florida. It was founded in 1994 as a member-based coalition. It helps LGBT centers improve their organizational and service delivery capacity, access public resources, and engage their regional communities in grassroots social justice work.
For more information, visit www.lgbtcenters.org.
Town hall for Prop E priorities
With the passage last November of Proposition E, the restoration of hotel taxes for arts and cultural purposes, the San Francisco Arts Commission and Grants for the Arts will receive funding for a new arts impact endowment to help support a variety of arts initiatives throughout the city.
Up to 1.5 percent of the money from the 8 percent base hotel tax that the city already collects will now be dedicated to arts and cultural functions. The current hotel tax, which includes a 6 percent tax surcharge for hotel rooms that was not part of the ballot measure, is currently available for any public purpose.
The measure was not a tax increase but a reallocation of funds for various arts and cultural functions.
The arts commission encourages interested people to attend a community town hall to provide feedback on the proposed cultural allocation plan. The meeting will be held Wednesday, February 6, from 5 to 6:30 p.m. at Herbst Theater, 401 Van Ness Avenue.
For more information, visit https://www.sfartscommission.org/.
East Bay Open Studios seeks artists
East Bay Open Studios is now seeking artists for this year's events, which take place in June.
"For over 40 years, the East Bay Open Studios has been a wonderful opportunity for art lovers in the Bay Area to connect with artists all over the East Bay," organizer Carolyn Quan said in a news release.
The open studios are free, self-guided tours of artists' studios and exhibition spaces. They give the public a unique opportunity to have direct experiences with local artists.
Art lovers are invited to an opening preview, followed by three weekends of open studios.
The opening will be Saturday, June 1, from 6 to 9 p.m. at the Scottish Rite Center, 1547 Lakeside Drive in Oakland.
Open studios will take place June 8-9, for Bayside cities; June 15-16, for Bayside and cities along the Interstate 680 corridor; and June 22-23, for cities along, or near, the 680 corridor. All run from 11 a.m. to 6 p.m.
Early bird artist registration is available online at www.eastbayopenstudios.com.
Contact the reporter at c.laird@ebar.com.
Comments on Facebook