Gay chorus plans fire relief benefit concert
Wednesday Jan 16, 2019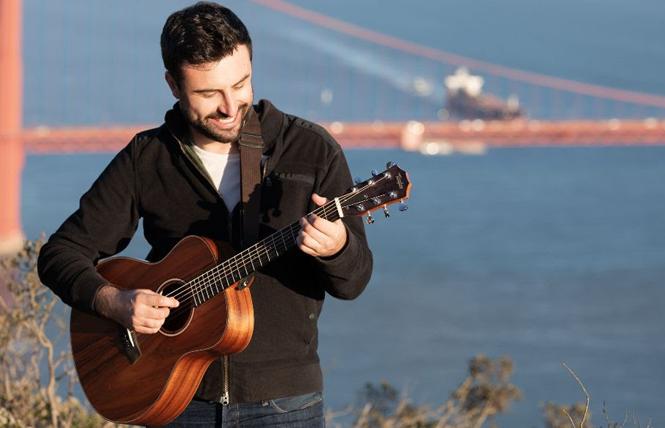 The San Francisco Gay Men's Chorus will hold a benefit concert later this month to help those ravaged by the wildfires in northern California.
Proceeds from the Sunday, January 27, event will be split between the North Valley Community Foundation and the music department of Paradise High School. The town of Paradise, in Butte County, was devastated by the Camp Fire last fall.
Shawn Howell, a music teacher at Paradise High School, will appear at the concert.
"The students and teachers are doing as well as can be expected," Howell told the Bay Area Reporter. "They are a very resilient group. Ninety percent of our students have lost their homes and have been scattered all over northern California. Many teachers lost their homes as well, and the tremendous sense of loss has been felt throughout the community. Our district's focus has been to get students back with their teachers, and we have worked diligently to create temporary schools to achieve their goals."
Paradise High is now based out of Chico, Howell noted.
"We're running buses to four different towns and cities to get our students to school," he said. "The ability to have class and feel some sense of normalcy has been very therapeutic for everyone."
Howell added that he would be speaking at the benefit to share the school's story and to express his gratitude to the chorus for organizing the benefit.
"We were so excited and honored to be contacted by the San Francisco Gay Men's Chorus and hear that they wanted to do a benefit concert for us," he said. "After the fire, I felt very helpless and at a loss as to what to do, so I reached out to a social media choral group page that is followed by thousands of directors from all over the world. I immediately received hundreds of messages of encouragement and support and the kind words were all very overwhelming."
It was through this post that Tim Seelig, a gay man who's artistic director for the chorus, contacted Howell to see if there was any kind of help he and the SFGMC could provide.
"It was quite surreal to think that someone I had never met before wanted to reach out and help my students and my music program," said Howell. "The funds raised will go a long way to rebuilding our music library, getting new risers, and a new keyboard. This will help ensure that music, a vital part of a student's education, can continue in the future at Paradise High School."
Gay singer-songwriter Bobby Jo Valentine will perform at the benefit.
"When I was putting concerts together to benefit the fires, we [Valentine and Seelig] came up with the idea almost simultaneously," Valentine told the B.A.R. "We have already raised over $40,000 with the other concerts, and I'm hoping this one brings it up to $50,000 with the audience's help. SFGMC has always been on the front lines of unity, peace, and restoration, and we're definitely on the same team. The time has come for us to celebrate that together, for a great cause, and I couldn't be more thrilled."
In a news release, Seelig said the chorus had been looking for a way to help out.
"When the opportunity came along to present Bobby Jo Valentine, we were thrilled," Seelig said. "No one will go away untouched by his singing. We are also incredibly happy to be able to assist the music programs of Paradise High School."
Valentine said that he knows all too well of how much harm the fires can do.
"I was affected by the California fires that swept through Napa and Santa Rosa in 2017," he recalled. "I lost the home I lived in and everything in it. But the support that came afterward, from friends and family and benefits like this, was absolutely priceless for getting me back on my feet, and believing and hoping again. So, when the chance came up for me to do a little bit of the same, I jumped at the opportunity."
He spoke of what he'll be doing at the benefit.
"I'll be performing a thoughtful selection of songs about hope and homecoming, to remind us that we find home in ourselves and in the people we love who are still with us, more than what has been lost" he said. "My goal is that it will be soulful, hopeful, upbeat, and heartfelt. And the SFGMC ensembles are performing as well, bringing their amazing talent and bright spirits for us to enjoy. I'm so excited."
The chorus' HomoPhonics and Lollipop Guild ensembles will perform, the chorus said.
Valentine said that he was grateful for advance coverage of the concert.
"It's up to us, those reading this, to keep this alive," he said. "If you're reading this message, I hope you'll get online immediately and buy tickets for yourself and your friends. Let's show these people, who have so much left to rebuild, that there are hundreds of people who love them and want them to recover."
The January 27 concert takes place from 5 to 6:30 p.m. at 170 Valencia Street in San Francisco. A minimum $25 donation is requested. For tickets, visit https://bit.ly/2RWqllP.
Comments on Facebook