News Briefs: Panel to discuss being queer, API
Wednesday Jan 16, 2019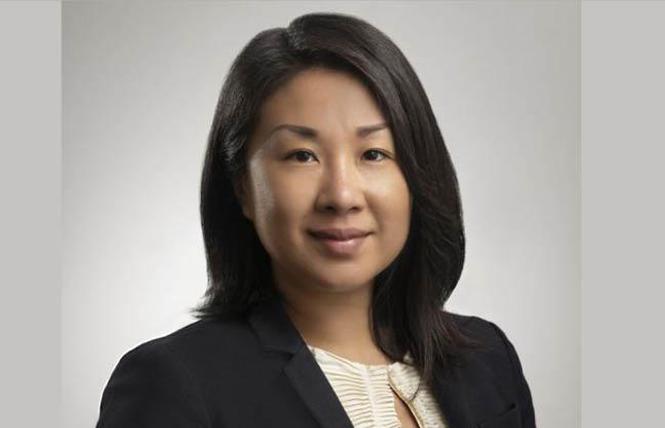 The Gay Asian Pacific Alliance and Team Q of the United Democratic Club will hold a panel discussion on the queer, Asian-American and immigrant experience Monday, January 28, from 6:30 to 8 p.m. at the San Francisco LGBT Community Center, Room 204, 1800 Market Street.
The event is free and open to the public.
Organizers said that Michelle Meow, a lesbian and host of the "Michelle Meow Show," will moderate an all-queer and all-API panel about the experience of being queer, API, and from an immigrant family. The convergence of these identities was rarely discussed in public, until the controversy during last year's school board race. While organizers didn't mention her name, candidate Josephine Zhao was initially criticized for her anti-trans comments six years ago about transgender students using school bathrooms of their choice. Last August, she disavowed those remarks and said she was "wrong" on the issue. But by September, Zhao was found to be telling Chinese voters on a social messaging app that she continued to stand by her prior position. She dropped out of the race.
Scheduled panelists include Cecilia Chung, an immigrant from Hong Kong who is director of strategic projects at the Transgender Law Center and sits on the city's health commission. Also speaking will be Phil Kim, who ran unsuccessfully for the San Francisco school board last year; Mandy Lee, the former board president of Equality California and daughter of Chinese immigrants; and Cynthia Wang, a business owner and daughter of Chinese immigrants.
All of the speakers have had difficulties in coming out to their families over the years, according to their bios.
Lee was the subject of protest by members of the Harvey Milk LGBTQ Democratic Club after she wrote an opinion piece last fall in the Bay City Beacon defending Zhao, saying she had helped her come out as "a gay Chinese woman" to her first generation immigrant family. The club wanted Lee to resign as EQCA board president, but she did not. Her stint leading the board ended December 31 but she remains on the body as an at-large member.
Kim said that his brothers and cousins were accepting of his being gay, but his mother, an immigrant from South Korea, was not. Kim continues to work on his relationship with his parents and extended family. He serves on the board of the Lavender Youth Recreation and Information Center.
Chung is a nationally recognized civil rights leader. Her bio states that she became estranged from her family due to their lack of understanding about her being a transgender woman. After Chung was stabbed during a sexual assault attempt, her mother came to the hospital and the two reconciled. Her story was part of the four main storylines in the 2017 ABC miniseries "When We Rise."
Wang was born and raised in the Sunset district and came out to her parents when she was 23, while introducing them to the woman she planned to marry. They spent a few months crying but eventually came around, embracing their daughter's wedding. Unfortunately, the women are now divorcing and her parents are asking if she might marry a man next.
To RSVP, visit https://www.facebook.com/events/348919759261372/.
MLK Day march
The San Francisco Interfaith Council has announced the annual march for Martin Luther King Jr. Day will take place Monday, January 21, at 11 a.m. in San Francisco.
People should gather at the Caltrain Depot at Fourth and Townsend streets, and march to Yerba Buena Gardens, 750 Howard Street, where there will be an interfaith commemoration ceremony.
For more information, visit http://www.sfinterfaithcouncil.org/.
Queer yoga starts Thursday
Gay yogi Tim Rubel will start his queer yoga class Thursday, January 17, from 7:30 to 9 p.m. at Pentacle Coffee and Art Gallery, 64 Sixth Street in San Francisco.
There is a suggested $15 donation (cash preferred) for the Thursday classes, which are open to all levels and identities. Students should bring their own mat.
Rubel received his master's degree in fine arts from UC Riverside and is currently completing a 500-hour yoga teaching program at the Yoga Room in Berkeley. His yoga Asana practice is informed by the lineage of B.K.S. Iyengar, and from the wisdom of the many teachers he has studied with. He has been on the dance faculties of several institutions including San Francisco State University, Mt. San Jacinto College, and the Beijing Dance Festival in China.
For more information, visit www.humanshakes.com.
Ma to hold listening tour on housing
Newly sworn in state Treasurer Fiona Ma will embark on a listening tour this week to gather ideas and feedback from the public about how her office can help increase the supply of affordable housing.
Ma will be in San Francisco Friday, January 18, at 3 p.m. at Recology Golden Gate, 900 Seventh Street.
In a news release, Ma noted that the treasurer's office has two programs that offer assistance to those in need of affordable housing. Both programs promote private investment in affordable rental housing for low-income Californians.
The California Debt Limit Allocation Committee manages the state's tax-exempt bond allocations for affordable housing projects and the Single-Family First-Time Homebuyer Program. In 2017, the program helped to finance more than 12,000 units of housing, including more than 10,000 affordable units.
Another program offered by the treasurer's office is the California Tax Credit Allocation Committee, which administers federal and state low-income housing tax credit programs.
According to Ma, the listening tour will help her understand how to best organize and deploy these and other resources that her office has to offer. It will also allow her to assist Governor Gavin Newsom, who has called for 3.5 million new housing units by 2025.
To RSVP for the event, visit https://bit.ly/2Rqmkqk.
Contact the reporter at c.laird@ebar.com.
Comments on Facebook