Political Notebook: Wiener elected chair of LGBT caucus
Wednesday Jan 9, 2019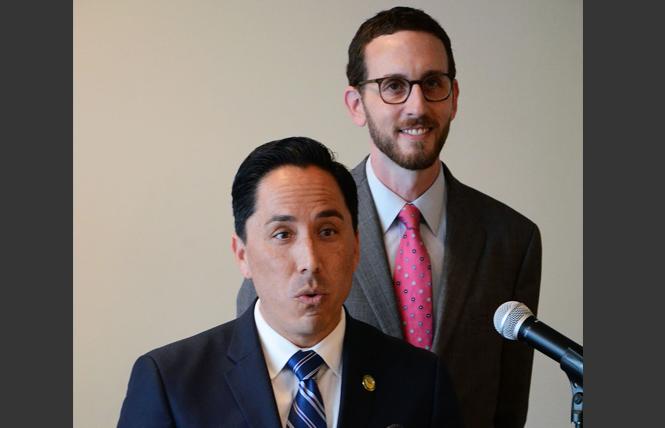 The California Legislative LGBT Caucus has elected gay state Senator Scott Wiener (D-San Francisco) as the group's new chair. Wiener, now in his third year of a four-year term, will serve in the position through the end of 2020.
It marks the first time in seven years since a member of the Senate has served as caucus chair. The last to do so was lesbian former state Senator Christine Kehoe of San Diego, who served in the position during the 2011-2012 legislative session.
Wiener succeeds gay state Assemblyman Evan Low (D-Campbell), who was elected caucus chair in 2017. Serving as vice chair of the LGBT caucus during the 2019-2020 legislative session will be gay state Assemblyman Todd Gloria (D-San Diego), who on Wednesday announced he's running for San Diego mayor in 2020.
Gloria succeeds gay former state Senator Ricardo Lara (D-Bell Gardens), who resigned his seat Monday when he took his oath of office as state insurance commissioner. Lara is the first out LGBT person elected to statewide office in California.
His departure from the Legislature resulted in the LGBT caucus seeing its membership fall from a high of eight members to now seven. And it does not appear his successor will be from the LGBT community.
Lara and other LGBT leaders in southern California have already endorsed Long Beach City Councilwoman Lena Gonzalez in the special election that will be held this spring to fill the vacancy in the 33rd State Senatorial District.
Despite several strong bids last year by lesbian non-incumbents for state legislative seats, none were able to pull off a victory and help increase the membership of the LGBT caucus. Expanding the number of out state lawmakers come 2020 will be a top priority for Wiener, who has a reputation for being a dogged campaigner.
"Electing Democratic members to the Legislature and passing legislation is a passion for me. I am honored to be in this position," Wiener told the Bay Area Reporter.
He commended Low for doing "a great job" the last two years and said he is looking forward to working alongside Gloria to advance the caucus' priorities.
"Todd is the best," said Wiener.
Low told the B.A.R. he felt it was important that a member of the Senate serve as chair this year since the last three caucus chairs have all come from the Assembly.
"It is fitting now that we have reached critical mass we get a senator to serve, so I am excited about Scott's capacity to serve in this position and Todd as vice chair," said Low. "I am excited to see what we have ahead."
As the B.A.R. noted last week, Wiener is authoring myriad legislation this year focused on both LGBT issues and the state's housing crisis, several of which are expected to be controversial and heavy lifts to pass. Asked why he wanted to take on the additional duties of being caucus chair, Wiener said he is up to the task.
"It's important for all members of the LGBT caucus to do our part," said Wiener.
Lesbian state Assemblywoman Susan Talamantes Eggman (D-Stockton), who served as caucus chair during the 2015-2017 legislative session, told the B.A.R. that her advice to Wiener as chair is to "be prepared to do more work."
She agreed with Wiener that a priority for the caucus is recruiting LGBT candidates to run for state legislative seats in 2020.
"We need more members," said Eggman, joking that she is tired of her friends from Maryland reminding her they have as many LGBT state lawmakers as California does but in a much smaller state.
Ex-Assemblyman Laird eyes Senate run
As for boosting the caucus' membership, gay former Assemblyman John Laird is expected to soon announce he will seek a state Senate seat in 2020.
Laird, 68, one of the first gay men elected to serve in the state Legislature, won a Santa Cruz Assembly seat in 2002. He had formerly served on the Santa Cruz City Council in the 1980s and then, after being termed off the council, won a seat on the Cabrillo College Board of Trustees.
When he was termed out of the Assembly in 2008, Laird had been mentioned as a possible candidate in 2010 for either a Santa Cruz County congressional seat or a state Senate seat. He ended up running for Senate but lost, leading to former Governor Jerry Brown appointing him as California's secretary for natural resources in January 2011.
His time leading the state agency came to an end at 5 p.m. Monday shortly after Governor Gavin Newsom was sworn into office. He told the B.A.R. that his plan was always to resign from the post at the start of the new gubernatorial administration.
"Because I have something else to do," Laird said of his decision to step down.
While Laird would not confirm it is due to his running for state Senate, he did note that he filed paperwork last week to form a Senate campaign committee in order to run for the 17th Senate District seat along the Central Coast. The incumbent, Bill Monning (D-Carmel), is term limited from running again next year.
An official campaign announcement by Laird could come within days. By entering the race so early, political insiders told the B.A.R. that it could dissuade other Democrats from running. According to the secretary of state's online campaign database, as of Wednesday this week, no candidates were listed for the race.
Another gay former elected leader, Ken Yeager, is also expected to soon announce if he will seek the state Senate's District 15 seat. Senator Jim Beall (D-San Jose) is termed out in 2020, leaving his Silicon Valley seat open.
Ahead of leaving this week for a Hawaiian vacation, Yeager told the B.A.R. that he "is getting closer" to making a decision.
Yeager, 66, was termed off the Santa Clara County Board of Supervisors last year. Himself a former community college board member and city councilman in San Jose, Yeager pulled paperwork to form a state Senate campaign committee last month prior to his leaving office.
Fellow Democrats former Assemblywoman Nora Campos, who ran unsuccessfully against Beall in 2016, and Santa Clara County Supervisor David Cortese have both opened campaign accounts for the contest, while San Jose City Councilman Johnny Khamis has filed an intention to run as an independent.
While Eggman formed a campaign committee for the state Senate District 5 seat, from which lesbian Senator Cathleen Galgiani (D-Stockton) will be termed out of in 2020, she told the B.A.R. this week that she plans to run for re-election to her Assembly seat next year.
"I am not running for state Senate. I want to stay in the Assembly," said Eggman, noting that due to term limits she would only be allowed to serve one four-year term in the Senate and prefers to remain in the lower chamber, where she potentially can serve through 2024.
Web Extra: For more queer political news, be sure to check http://www.ebar.com Monday mornings for Political Notes, the notebook's online companion. This week's column reported on a number of hires SF Mayor London Breed will be making in early 2019.
Keep abreast of the latest LGBT political news by following the Political Notebook on Twitter @ http://twitter.com/politicalnotes .
Got a tip on LGBT politics? Call Matthew S. Bajko at (415) 829-8836 or e-mail m.bajko@ebar.com.
Comments on Facebook