Advocates find Harris PrEP bill lacking
Wednesday Jun 26, 2019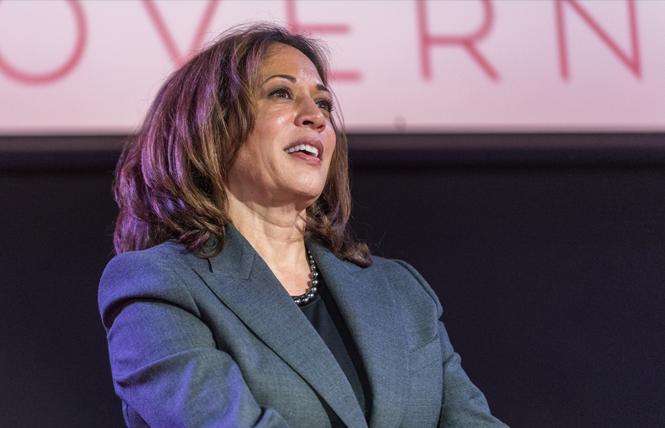 Senator Kamala Harris (D-California) last week introduced legislation that would expand access to PrEP by requiring public and private health insurers to cover it and funding a grant program for uninsured individuals. But some advocates say Harris needs to work with the community to develop a better plan.

"PrEP is a critical advancement in the fight against HIV that can finally provide peace of mind to Americans who live in the shadow of the HIV epidemic," Harris, a Democratic presidential candidate, said in a June 20 statement. "But for too many in our country, lack of insurance coverage and steep costs have put PrEP out of reach — and that needs to change."

Approved by the Food and Drug Administration in 2012, once-daily Truvada (tenofovir DF/emtricitabine) has been shown to reduce the risk of acquiring HIV by more than 90 percent among gay and bisexual men. Studies have also shown a high level of protection for women, heterosexuals, and people who inject drugs.

According to Centers for Disease Control and Prevention estimates, only around 10% of the more than 1.1 million people in the United States who are at substantial risk for HIV are using PrEP. This drops to just 1% among African Americans, the group with the highest rate of new infections. In San Francisco, about half of eligible individuals are on PrEP, according to the city's latest HIV epidemiology report.

Many private insurers already cover Truvada PrEP — which is priced at around $1,600 per month — but cost sharing is common. Manufacturer Gilead Sciences offers a copay card to cover out-of-pocket costs, but some find this benefit inadequate. Earlier this month, the U.S. Preventive Services Task Force strongly recommended PrEP for those at risk for HIV, meaning insurance plans must cover it for free under the Affordable Care Act.

The PrEP Access and Coverage Act requires that all public and private health insurance plans — including Medicaid and Medicare — must cover Truvada without a copay, as well as follow-up visits and monitoring tests for HIV status, sexually transmitted infections and kidney function.

Harris' legislation would fund a grant program to help states and tribal communities provide PrEP for people without insurance and to educate providers about PrEP. In addition, the bill also funds a public education campaign that aims to reduce disparities in access to and use of PrEP, focusing on "high-need communities" such as young black gay and bi men and transgender women.

Finally, the bill would prohibit providers of life, disability, and long-term care insurance from denying coverage or charge higher premiums for people who use PrEP.

California Insurance Commissioner Ricardo Lara warned insurance providers last week that they can't deny coverage to users of PrEP, the once-a-day pill that protects against HIV.

Several advocates expressed their support of the legislation.

"Ending the HIV epidemic in the U.S. requires effective, comprehensive, affordable, and sustainable public health strategies," said AIDS United president and CEO Jesse Milan Jr. "We must ensure access to PrEP for all populations, including young black and Latino gay men, women, and transgender individuals who are at highest risk for HIV ... [Harris's] proposal makes the game-changer of PrEP even more real."

But others think the proposal does not go far enough. Activists with the PrEP4All collaboration and their allies want Gilead to lower the price of Truvada and want other companies to produce less expensive generic versions. Earlier this year, PrEP4All members claimed that the CDC — which conducted the key PrEP trials — appears to hold patents on the use of Truvada for HIV prevention.

Gilead denies that the government holds valid patents on Truvada for PrEP. The company recently announced that a generic version will become available in 2020 — sooner than initially scheduled — and that it would donate 2.4 million bottles of Truvada to uninsured individuals.

One concern, activists say, is that Harris' bill and the recent USPSTF recommendation could in effect shift the cost of Truvada from Gilead to private and public insurers — and ultimately to everyone who pays insurance premiums.

"Why should Gilead be allowed to earn $3 billion a year on an invention they had nothing to do with?" PrEP4All member Peter Staley said in a June 20 Twitter thread. "Why would Harris shift all the burden for paying for Gilead's theft to Medicaid/Medicare and insurance companies (thus raising our premiums)?"

Staley extended an offer to work with Harris and her staff to improve her plan, which he said, "is a great start but misses the bull's-eye."