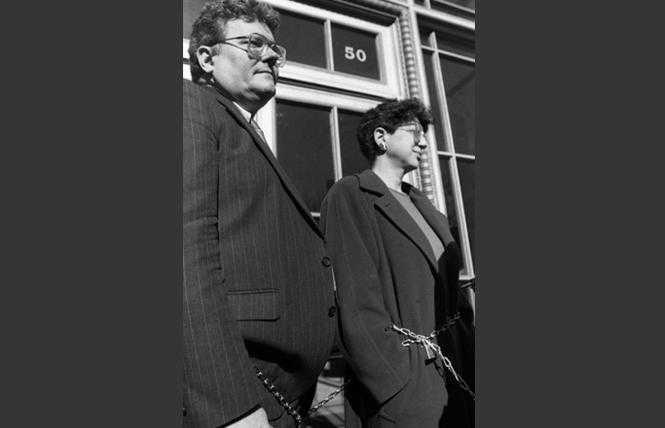 Devlyn Camp, a genderqueer podcaster and — as it turns out — historian, talks about their work with a bubbly, contagious enthusiasm that comes across clearly on the phone even from 3,000 miles away.
Viewing 1 thru 12 of 1154 Stories
The San Francisco Arts Commission's second Art on Market Street poster series for 2022 highlights a Black nonbinary artist.
The big trend in popular culture is the multiverse, as seen in films like "Doctor Strange and the Multiverse of Madness" and "Everything Everywhere All at Once."
A legislative push to establish a universal health care system in California may have stalled this year, but the calls for the state to move toward a single-payer form of medical care are expected to only grow louder in the years to come.
When the co-owners of the first gay bar in the southern Croatian city of Dubrovnik were considering what to call their establishment, they found inspiration from California.
There are no aisles of bookcases overstuffed with comic books at Sour Cherry Comics in San Francisco's Mission district neighborhood.
The annual pink triangle installation atop San Francisco's Twin Peaks is going to be a little different this year, and volunteers are being sought to help out.
The Canadian government has quietly relocated 60 LGBTQ Afghan refugees from Pakistan to the North American country.
If anything describes what the discerning historian encounters on a day-to-day basis, it might be this quote from Gregory Smithers' new book, "Reclaiming Two-Spirits: Sexuality, Spiritual Renewal & Sovereignty in Native America."
The appointment of Matt Dorsey May 9 as the first gay supervisor of District 6 marked the official beginning of the race for the San Francisco Board of Supervisors seat on the November election.
LGBTQ candidates across the country are capitalizing on the news of a draft ruling that would overturn abortion rights in the U.S., first reported on by Politico May 2.
The Supreme Court of South Korea has tossed out the military court conviction of two gay soldiers for having consensual sex outside of military facilities.
A Starbucks union organizer and UC Santa Cruz student aims to be California's first nonbinary state legislator.
Viewing 1 thru 12 of 1154 Stories