"Horse-faced lesbians." That was one of the first barbs tossed at the Democratic presidential field's newcomer, billionaire former New York City mayor Michael Bloomberg, Wednesday night, in the party's most combative debate yet.
House Speaker Nancy Pelosi of San Francisco gave a Democratic response to President Donald Trump's State of the Union address unlike any other — she ripped up her copy of the speech at the end.
Gay Democratic presidential candidate Pete Buttigieg and Senator Bernie Sanders appear to be leading in the Iowa caucuses, after state Democratic Party officials released 62% of the results across all 99 counties Tuesday, following a snafu Monday.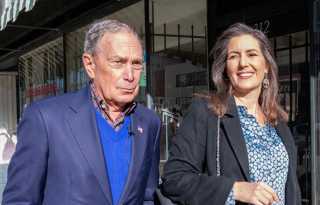 Former New York Mayor Michael Bloomberg brought his presidential campaign to the East Bay, and while he didn't pick up an endorsement from Oakland Mayor Libby Schaaf, he did excite a small crowd that met at Everett & Jones Barbecue.
Political observers gave Senator Elizabeth Warren (Massachusetts) high marks in Tuesday night's Democratic presidential debate — the last one before the first voting, at the February 3 Iowa caucuses.
A three-judge panel of the 4th U.S. Circuit Court of Appeals has unanimously upheld a national injunction to stop the U.S. Air Force from discharging service members just because they have HIV infection.
Same-sex marriage was the decade's top LGBT story.
Gay Democratic presidential hopeful Pete Buttigieg was under fierce attack Thursday night in the sixth Democratic debate.
One might argue that 2019 was a pretty good year for LGBT people. Others might argue that 2019 was a year of looming and unresolved battles over the heart and soul of American democracy.
The Senate voted 53-40 Tuesday afternoon to confirm a gay man to the nation's largest federal appeals court.
California Senator Kamala Harris withdrew from the Democratic presidential field Tuesday, saying her campaign "simply doesn't have the financial resources we need to continue."
Reported hate crimes in San Francisco rose 58% in 2018 over the previous year even as hate crimes nationwide leveled off after years of increasing, according to statistics released by the FBI Tuesday, November 12.