A three-judge panel of the 4th U.S. Circuit Court of Appeals has unanimously upheld a national injunction to stop the U.S. Air Force from discharging service members just because they have HIV infection.
Two federal judges in two days have struck down the Trump administration's Denial of Care rule as a third case in San Francisco awaits a judge's decision.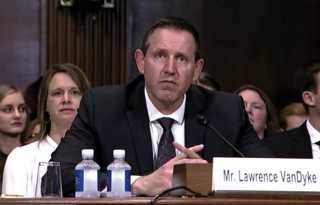 A confirmation hearing for two of President Donald Trump's nominees to the nation's largest federal appeals court snared considerable media attention Wednesday after one of them dissolved into tears.
After a historic hearing before the U.S. Supreme Court, LGBT legal advocates voiced optimism that a majority of the justices would rule in favor of LGBT workplace protections.
Here's the blunt reality from LGBT legal observers: The U.S. Supreme Court's rulings on three cases that it will hear arguments about on Tuesday, October 8, could have the most profound consequences yet on LGBT people.
A trans man who sued Catholic-affiliated Dignity Health over claims it was discriminatory in deciding not to perform his surgery has won an appeal that has revived his lawsuit.
A group of advocates has filed a federal class action lawsuit against Gilead Sciences Inc. and its partner companies, alleging that they violated antitrust laws.
The Arizona Supreme Court September 16 ruled that a business can — under certain circumstances — cite the business owner's religious beliefs to claim an exemption from a city human rights ordinance.
On the eve of San Francisco's Pride weekend, City Attorney Dennis Herrera on Friday forced the Trump administration to delay implementation of a rule that would allow health care staff to refuse to provide medical treatment to people, even in emergencies.
A Fresno County Superior Court judge Tuesday issued a tentative ruling against a trans barista in her lawsuit against Starbucks.
Lawyer Elizabeth Kristen is looking for some of America's long-lost gay soldiers.
The U.S. Supreme Court may soon get another chance to consider whether businesses can claim religious motivations for refusing service to LGBT people.