The future of the South of Market bar the Eagle is in question as the community wonders what will happen to the leather-themed establishment following the sale of its building.
Closed since March due to the coronavirus pandemic, gay sex venue Eros on upper Market Street in San Francisco's Castro neighborhood has re-opened as a "jack-off club," its co-owner told the Bay Area Reporter.
The 2020 census will end Thursday, October 15, after the U.S. Supreme Court reversed several lower court rulings that had forbade federal officials from completing the decennial count of the country's population prior to October 31.
LGBTQ issues were front and center during the second day of the confirmation hearing for U.S. Supreme Court nominee Amy Coney Barrett, with Democrats and even a few Republicans attempting to clarify how she might approach such issues on the high court.
The Southern California LGBTQ enclave of West Hollywood is poised to become the first city in the country to create a drag laureate position.
California Senator Scott Wiener (D-San Francisco) will reintroduce a bill allowing San Francisco, Oakland, and possibly other cities to open pilot supervised injection sites, he announced at an October 8 news conference in the Tenderloin.
The Castro CBD on Thursday postponed a vote on whether to accept private funds for surveillance cameras, after objections from the Harvey Milk LGBTQ Democratic Club.
The largest-ever American study on the social and mental health of intersex adults was released October 9, revealing that the population experiences major health disparities.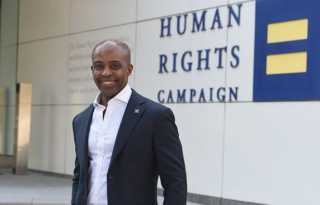 This week's rebroadcast of Out in the Bay-Queer Radio includes interviews with HRC's Alphonso David and EQCA's Josh Strickney on the importance of voting.
The San Francisco 49ers are 2-2 on the season, and they will roll out the rainbow flags Friday, October 9, with a live YouTube event to commemorate National Coming Out Day.
The Lavender Youth Recreation and Information Center has big changes in store for its famous purple house in the Castro, and on Thursday the LGBTQ youth nonprofit got the go-ahead from the San Francisco Planning Commission for the project.
Monica Roberts, a prominent transgender activist and journalist who shined a light on trans violence and other issues, has died.