Ghost Ship master tenant Derick Almena pleaded guilty Friday (January 22) to 36 counts of involuntary manslaughter in connection with the Oakland warehouse fire that killed 36 people, including three who identified as transgender, on December 2, 2016.
Can we have civil civic discourse in these fractious times? Manny Yekutiel, activist and owner of the eponymous cafe, bookstore, and civic events space in San Francisco's Mission district, passionately believes so.
California officials are accusing a little known panel of impeding the health of LGBTQ Americans.
President Joe Biden signed a wide-ranging executive order to extend anti-discrimination protections in federal agencies to LGBTQ people shortly after his inauguration January 20.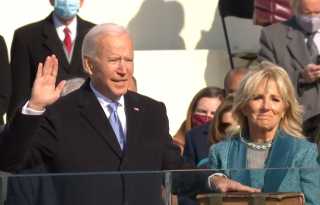 Joe Biden was inaugurated the 46th president of the United States January 20 in a ceremony on the west steps of the United States Capitol in Washington, D.C., bringing to an end one of the most tumultuous administrations in nation's history.
A decision on whether the two South of Market leather-themed street fairs will proceed in person in 2021 will be made following a meeting next week between the San Francisco Municipal Transportation Agency and Folsom Street Events.
A San Francisco supervisor is open to landmarking the Bank of America building in the Castro after the financial giant initially posted signs that appeared to ban impromptu memorials.
Alice Hoagland, the mother of gay 9/11 hero Mark Bingham, has died.
Margo St. James, a noted sex-positive feminist and pioneer of the sex workers' rights movement, died January 11 at age 83.
Want a break from today's scary news?
A California lawmaker is again attempting to ban medically unnecessary surgeries on intersex children in the Golden State.
Fran Hutchins, who helped lead the fight for marriage equality in Maine as the regional field director for Mainers United for Marriage, took on a new role as the executive director of the Equality Federation at the beginning of the year.