Online Extra: Pentagon's annual LGBTQ Pride event canceled over coronavirus concerns
Thursday May 28, 2020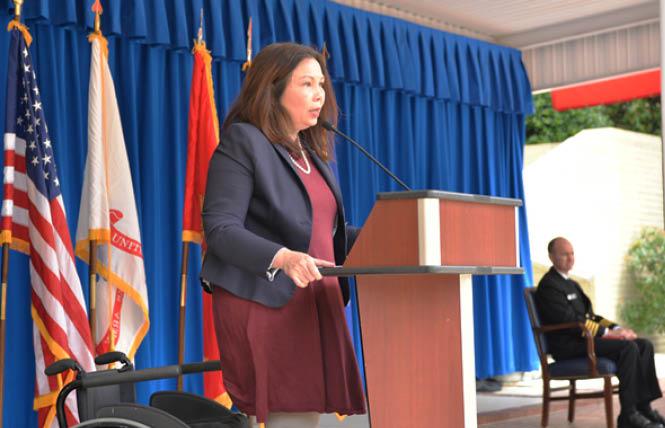 It's another cancellation as a result of the ongoing coronavirus pandemic.
For the first time since certification of "Don't Ask, Don't Tell" repeal allowed gay, lesbian, and bisexual people to serve openly in the armed forces, the Pentagon won't host a celebration recognizing June as Pride Month.
A Pentagon spokesperson said in response to an inquiry from the Washington Blade on Pride Month plans that the annual event was canceled, and DOD Pride — the affinity group for LGBTQ service members and civilian Defense Department staffers — confirmed it was due to the coronavirus.
"Each year since the repeal of 'Don't Ask, Don't Tell,' we've gathered in the Pentagon to celebrate and honor the contributions that LGBT service members and DOD civilians make to national security each and every day," said Rudy Coots, president of DOD Pride. "That's why we're so disappointed that, due to COVID-19, we've had to cancel this year's DOD LGBT Pride event."
In years past, the annual event — which began in 2012 — allowed LGBTQ service members and Pentagon employees to gather to celebrate Pride and hear featured remarks from senior defense officials.
Speakers during the Obama years included former Defense Secretary Chuck Hagel and former Army Secretary Eric Fanning, the first openly gay person confirmed to that role. The events continued through the Trump administration, even though President Donald Trump instituted a transgender military ban. Last year, Senator Tammy Duckworth (D-Illinois) spoke at the Pentagon Pride event and slammed Trump's anti-trans policy.
The Pentagon didn't respond to the Blade's follow-up request to comment on whether senior defense leadership would issue a formal message recognizing June as Pride Month. In 2017, Anthony Kurta, a senior defense official who was an Obama holdover, issued a Pride message, but that practice was scrapped thereafter under the Trump administration.
The cancellation of the Pentagon Pride event is but one example of Pride events intended for LGBTQ federal workers that appear to be either not happening amid the coronavirus crisis or are dramatically scaled back in favor of virtual events.
The State Department in coordination with GLIFAA, the LGBTQ affinity group for Foreign Service officers, also appears to be skipping an event. GLIFAA didn't respond to repeated requests to comment and LGBTQ sources familiar with the State Department said they're unaware of any plans in the works.
Annual Pride celebrations had taken place consistently over the years at the State Department, notably in 2010 when then-Secretary of State Hillary Clinton delivered a speech and coined the phrase, "Gay rights are human rights, and human rights are gay rights."
Those events had continued each year at the State Department and throughout the first three years of the Trump administration. (Last year, however, officials distributed to employees a recycled Pride message from Secretary of State Mike Pompeo without even changing the date of the proclamation to the current year.)
A State Department spokesperson reaffirmed the U.S. commitment to protecting LGBTQ human rights across the globe when asked about plans for a Pride event, declining to respond when asked again in a follow-up email.
"The Department of State works tirelessly to protect and promote the human rights and fundamental freedoms of all human beings around the world, regardless of gender, religion or belief, national origin, sexual orientation, or economic circumstance," the spokesperson said. "The United States firmly opposes abuses against LGBTI persons. Governments must ensure that all individuals can freely enjoy their human rights and fundamental freedoms."
The State Department spokesperson, however, affirmed U.S. posts overseas will recognize Pride month in accordance with the custom of their host countries.
"As we do each year, embassies and consulates around the world will celebrate Pride month in a variety of ways," the spokesperson said. "Recognizing that each country context is different, embassies and consulates develop individual plans to raise awareness of violence and human rights abuses."
Last year, U.S. embassies were under new guidance requiring them to fly on their official flagpoles only the American flag, effectively barring them from flying the Pride flag in the same prominent way they had been doing in previous years. The State Department didn't respond to the Blade's request to comment on whether that policy is still in effect or U.S. embassies will now be able to fly Pride flags on the official pole.
The Justice Department each year also has held major events celebrating Pride Month, although during the Trump administration they have moved the event away from the Great Hall to another room in the building. DOJ Pride deferred comment over plans to celebrate Pride to the Justice Department, which didn't respond to the Blade's request for information.
The Department of Homeland Security, which in previous years has hosted Pride events for its employees in coordination with the LGBTQ affinity group DHS Pride, didn't respond to multiple requests to comment on any Pride events. DHS Pride appears now to be defunct; it's website is no longer functioning and its Twitter account has been inactive for a year.
Some departments on board with Pride
One department, however, that was enthusiastic about recognizing LGBTQ employees ahead of Pride Month was the Department of the Interior.
"The Interior Department stands at the forefront in defending the rights of all employees and having a workplace free of harassment," a DOI spokesperson said. "Under the leadership of Secretary [David] Bernhardt, the Department issued a policy extending protections from harassing conduct, which explicitly included the LGBTQ community."
The DOI spokesperson provided a detailed list of Pride-related events from May to June for LGBTQ employees both within the National Park Service and DOI-wide, many of which appear to be virtual events amid the coronavirus pandemic.
Among them was an education seminar in May called "How WWII Military Practices Planted Seeds of Queer Community," an upcoming workplace webinar in coordination with the Human Rights Campaign as well as viewings of the documentary "Stonewall Uprising" and the movie "Milk."
The DOI spokesperson said the Bureau of Reclamation is set to hold an event on June 25 with guest speaker Ryan Sallans and the U.S. Geological Survey is having a program on June 24 with various guest speakers. (Sallans, a trans man, is an author, LGBT advocate, and speaker.)
"While we recognize the contributions of the LGBTQ community to the department's mission year-round, we have been hosting events in May and will host several webinars, movie screenings, employee trainings and social media events in June to raise awareness," the spokesperson said.
The Department of Veterans Affairs articulated a modest approach to recognizing Pride Month amid the coronavirus pandemic.
Susan Carter, a VA spokesperson, said about one-fourth of the department's staff is teleworking, but affirmed "VA facilities across the country will be celebrating Pride Month in a variety of ways."
Among the ways the VA will recognize Pride Month, Carter said, are visual arts displays, including posters and banners, to recognize LGBTQ veterans and employees; film screenings; and sharing LGBTQ-related educational and celebratory information with staff and veterans via email, newsletters, facility websites, social media and intranet platforms.
The departments of Commerce, Energy, Agriculture, Education, Health & Human Services, Transportation, Treasury, and Labor didn't respond to multiple requests from the Blade to comment. A U.S. Small Business Administration spokesperson said there are "no details as yet on agency events to recognize Pride Month."
Editor's note: If you liked this article, help out our freelancers and staff, and keep the B.A.R. going in these tough times. For info, visit our IndieGoGo campaign.
Comments on Facebook