Updated: Online Extra: Trans woman at center of Supreme Court case dies
Tuesday May 12, 2020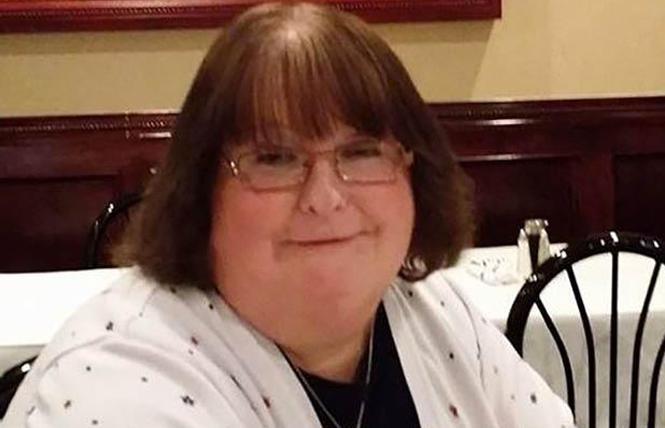 A transgender woman who is at the center of one of the LGBT discrimination cases now before the U.S. Supreme Court has died.
Aimee Stephens, 59, reportedly suffered from kidney disease. Earlier this week, she was in hospice at home, according to a GoFundMe campaign that has been established to assist with expenses. She died May 12.
The Detroit News reported Tuesday that Stephens passed away, citing her family.
"About five years ago, Aimee developed kidney disease that required frequent dialysis," the GoFundMe campaign site stats. "Her health continued to deteriorate and she is now in stage four renal failure. She has discontinued dialysis and is currently under hospice care."
The American Civil Liberties Union, which represented Stephens in the court case, expressed its condolences.
"Aimee did not set out to be a hero and a trailblazer, but she is one, and our country owes her a debt of gratitude for her commitment to justice for all people and her dedication to our transgender community," Chase Strangio, one of her attorneys, said in a news release.
Stephens is survived by her spouse, Donna, and their daughter, Elizabeth.
"Thanks you from the bottom of our hearts for your kindness, generosity, and keeping my best friend and soulmate in your thoughts and prayers," Donna Stephens stated in the ACLU release. "She has given so many hope for the future of equality for LGBTQ people in our country, and she has rewritten history. The outpouring of love and support is our strength and inspiration now."
Human Rights Campaign President Alphonso David also issued a statement praising Stephens and her legal fight.
"Aimee Stephens will be remembered as a trailblazer," he stated. "All of us in the LGBTQ community owe her immense gratitude for her bravery in standing up for the right for LGBTQ people to live as ourselves at work and in every aspect of our lives."
As the Bay Area Reporter previously reported, the case involving Stephens, Harris Funeral Homes v. EEOC, originated in 2014 when Stephens, a funeral home director and embalmer, filed a complaint with the U.S. Equal Employment Opportunity Commission. Stephens said Harris Funeral Homes fired her after seven years on the job two weeks after she informed the employer she would be transitioning.
The funeral home said it fired Stephens because she refused to abide by the company's dress code, requiring that male employees wear a company-furnished men's business suit. The EEOC found Harris Funeral Homes in violation of Title VII, and the 6th Circuit U.S. Court of Appeals agreed. Harris Funeral Homes appealed to the Supreme Court.
The issue for the Supreme Court, which heard oral arguments last fall, is whether federal civil rights law, which bars job discrimination on the basis of sex, protects transgender people. A decision is expected by late June.
The Detroit News reported that her death won't render the pending Supreme Court case moot, as her estate could still recover compensatory and perhaps other damages for the alleged violation of her rights, legal experts said.
To donate to the GoFundMe page, go to https://bit.ly/3ctuRyZ
Updated, 5/12/20: This story has been updated with comments from the ACLU and HRC.
Editor's note: If you liked this article, help out our freelancers and staff, and keep the B.A.R. going in these tough times. For info, visit our IndieGoGo campaign.
Comments on Facebook