Online Extra: LGBTQ Agenda: Local pols encouraged by Chick-fil-A no longer funding anti-LGBT groups
Thursday Nov 21, 2019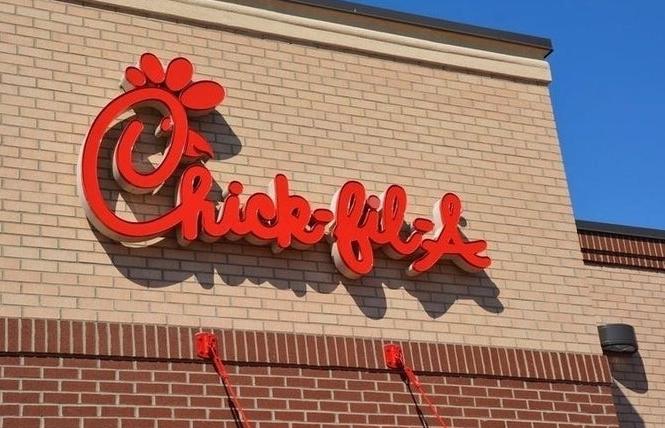 At least two Bay Area current and former elected officials are praising Chick-fil-A after the decision Monday of its charitable foundation to stop donating to two anti-LGBT organizations — although some are taking a more hardline stance against the conservative, Southern-owned company.
San Mateo County District 5 Supervisor David Canepa, a straight ally who represents Daly City, Colma, and parts of South San Francisco on the board, said in a phone interview with the Bay Area Reporter Tuesday afternoon that he was no longer opposed to the opening of a Chick-fil-A in Redwood City.
On October 23, Redwood City granted a permit for that Chick-fil-A, according to the San Mateo Daily Journal.
"Where we were is now very different from where we are now," Canepa said, pointing to this as an example of "incremental progress."
"This is a huge step and when Huckabee says that Chick-fil-A has lost its way, that's very telling," he added, referring to the Republican former Arkansas governor.
Huckabee tweeted Monday that Chick-fil-A "betrayed loyal customers" with its decision to end the donations to anti-LGBT groups.
In Aug 2012, I coordinated a national @ChickfilA Appreciation Day after they were being bullied by militant hate groups. Millions showed up. Today, @ChickfilA betrayed loyal customers for $$. I regret believing they would stay true to convictions of founder Truett Cathey. Sad.— Gov. Mike Huckabee (@GovMikeHuckabee) November 18, 2019
Atlanta-based Chick-fil-A became a flashpoint in the controversy over same-sex marriage in 2012, when CEO Dan Cathy announced his opposition to it. The Cathy family donated millions of dollars to groups that promoted conversion therapy and opposed same-sex marriage.
But on November 18, Chick-fil-A announced it would no longer be donating to two organizations — the Salvation Army and the Fellowship of Christian Athletes — which have been criticized for their positions on LGBT rights.
CNN reported that in 2018, the Chick-fil-A foundation donated $1.65 million to the FCA and $115,000 to the Salvation Army. On its website, Chick-fil-A said that it would focus its charitable giving going forward on "key organizations that address education, homelessness, and hunger."
The Fellowship of Christian Athletes did not respond to a request for comment.
The Salvation Army notes on its website that it does not discriminate against anyone and that it does not lobby the federal government on any issue. It also states that "At times, the Salvation Army has joined other religious organizations in solidarity on issues like religious liberty and the traditional definition of marriage."
Shortly after its announcement, however, Chick-fil-A said in a statement to Vice News that it wouldn't necessarily be opposed to considering similar donations in the future.
Canepa said that even if that's the case, the company "has other priorities now," noting that Chick-fil-A has pledged to donate $25,000 to a local food bank whenever it opens a new location.
"In politics we want all or nothing but what I've seen here is progress," Canepa said.
Ken Yeager, the first gay elected official in Santa Clara County and a former supervisor for the county's fourth district, had submitted the idea of having an LGBT flag and a trans flag near the Chick-fil-A in the San Jose airport to its City Council.
Yeager had been opposed to the chicken sandwich chain opening a shop in the airport.
"Of course I'm thrilled to hear they're no longer funding anti-gay organizations," Yeager told the B.A.R. in a phone interview Monday — but he added in a follow-up call that he's not going to be asking for a side of Chick-fil-A sauce with his fries any time soon.
"My boycotts go way back," he said. "I'm still boycotting Coors beer."
Gays joined with the Teamsters union to boycott Coors, which began in 1977 in part as a response to the company's 178-question employment application form, which included questions like, "Are you a homosexual?" according to a history by Teamsters Pride at Work.
Yeager said that LGBTs should trust, but verify, Chick-fil-A's claims.
"We'll have to keep track of what they do or say next, but I'd say this is a victory for the LGBTQ community. There was enough pressure put on Chick-fil-A," he said.
Eric Yaverbaum, the CEO of Ericho Communications and co-author of "Public Relations for Dummies," said in a phone interview with the B.A.R. Wednesday that "when it's sketchy in my head, I'm not buying your sandwich."
"This is deliberately misleading PR and they're trying to have it both ways," Yaverbaum said. "You can't talk out of both sides of your mouth.
"As far as any brand that wants to play politics in this way, my opinion is — don't," he added.
The San Mateo County Pride Center did not return multiple requests for comment as of press time.
Q Agenda is an online column that appears weekly, usually on Tuesdays. It will return December 10. Got a tip on queer news? Contact John Ferrannini at j.ferrannini@ebar.com
Comments on Facebook