Online Extra: Modesto denies permit to 'straight pride' event
Monday Aug 12, 2019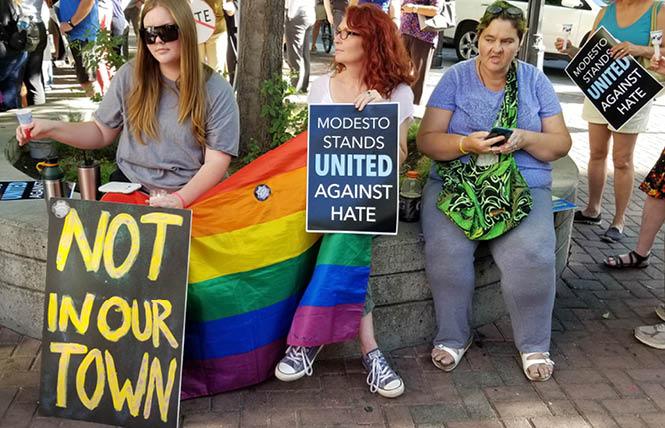 The City of Modesto has refused a permit for a planned "straight pride" event that would have been held at Graceada Park Saturday, August 24.

In their action Friday, August 9, city officials cited the event's loss of liability insurance, and a mismatch between the park's facilities and the event's planned use.

Requested by the National Straight Pride Coalition, the event was expected to bring around 500 participants, according to founder Don J. Grundmann. Grundmann, who lives in San Leandro, addressed a meeting of the Modesto City Council August 7, claiming that efforts to stop his organization from holding their event proved that "tolerance is a one-way street; tolerance for their side, but not for our side."

Multiple speakers at the meeting that night suggested that the city offer the event an alternate venue where security might be more manageable and outside of a residential neighborhood that might bear the burden of protest, law enforcement, and the attention a straight pride could draw.

However, the City Council did not vote or issue any statement or ruling that night.

Thomas Reeves, the city's community and media relations officer, explained in a phone comment to the Bay Area Reporter. "The council doesn't weigh in on permit matters, normally. There was a lot of public comment and views expressed at that meeting. I know there is growing scrutiny for safety and security for the participants as well as the residents of the area," Reeves said.

He spoke with the B.A.R. last week, just before the final decision was issued.

Grundmann told multiple media outlets that his organization intends for the event to go forward, and is going through the process to obtain a permit to secure another site for the same day and time. The Facebook page that previously hosted the ongoing discussion about the event and was identified with the National Straight Pride Coalition has since disappeared or been made private.

The organization's website still lists the "1st true Straight Pride Parade/Event in the nation" as planned for August 2019.
Comments on Facebook