Blaze in SF's Duboce Triangle leaves 5 displaced
Friday Apr 8, 2022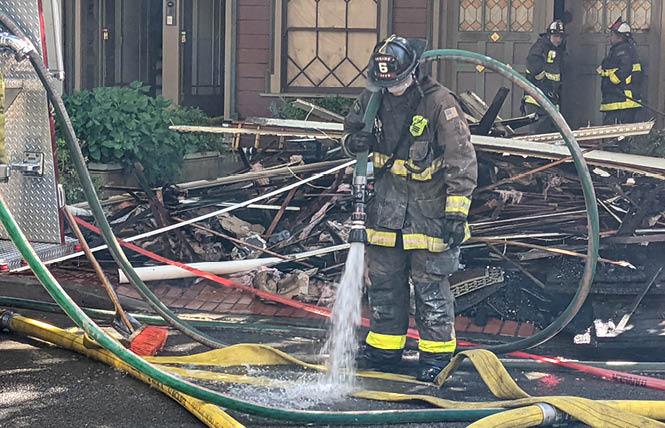 An early morning fire in San Francisco's Duboce Triangle neighborhood April 8 displaced five people out of their homes and required 100 firefighters to bring it under control. There were no injuries despite the tremendous damage to two buildings at the corner of Noe and Henry streets.

Firefighters were called to 141 Noe Street at 5:40 a.m. but within 15 minutes, a second alarm was sounded bringing more aid to the site to battle the blaze, which had spread next door to 147 Noe Street. A third alarm was sounded at 6:14 a.m. and, with 100 firefighters on hand, the blaze was under control by around 8 a.m. The fire, according to San Francisco Fire Department Media on Twitter, took place during shift change, which meant that many of the firefighters who arrived on site at first were replaced with a new crew as the fire wore on.


By 10 a.m., the fire had been out for a couple hours but the intersection at Noe and Henry streets was still blocked off as police cars, an SFFD paramedic unit, and more than half a dozen fire trucks filled the streets. A pile of charred wood from the buildings grew taller on the sidewalk as firefighters began the process of clearing out burnt debris, which they tossed out the second and third floor windows of the charred building. The roof of 147 Noe had been burned through, leaving the charred cupola of the building open to the sky.

Down at street level, Sushi Urashima looked as if it may have escaped the blaze but smoke and water damage was likely to be extensive.

Five people were displaced by the fire but by mid-day, SFFD tweeted that four had found shelter and the fifth was being helped by the American Red Cross to find temporary shelter and to access city services.

Neighbor Kelly Gillease, who lives two doors down from the disaster, tweeted "Grateful to everyone at SF Fire Dept managing the blaze at Henry and Noe, two houses down from me. We left with a go bag, the cat, and fingers crossed." Her home escaped the flames.

The cause of the fire is, as yet, undetermined, although SFFD said that it is investigating.

Help keep the Bay Area Reporter going in these tough times. To support local, independent, LGBTQ journalism, consider becoming a BAR member.