Gay former Healdsburg police chief Kevin Burke dies
Thursday Apr 7, 2022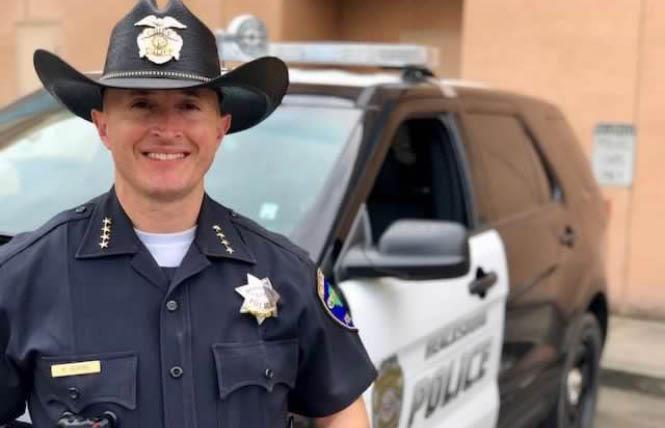 Kevin Burke, the gay former police chief of Healdsburg in Sonoma County, has died, officials said. He was 55.

Burke had led the town's police department since 2010 and, after announcing his retirement in November 2021, had only recently withdrawn from the race for Sonoma County Sheriff because of health concerns.

The retired chief was found dead April 5 in his Healdsburg home after a friend had reported not being able to contact him, according to a story in the Santa Rosa Press-Democrat. Sonoma County Sheriff's deputies found him dead from an apparent self-inflicted gunshot wound. A note was found nearby.

Burke, a native of nearby St. Helena, was a veteran police officer but began his legal career as a prosecutor in Orange County after graduating from UC Berkeley. He later attended Johns Hopkins University and received a Master's degree in public safety management. However, he got his start in law enforcement in 1996 in Los Angeles, as a patrol officer, according to his campaign website. He was soon promoted to sergeant and, by 2006, he had taken the job as chief of police for Lakeport, in Lake County. During his four and a half year tenure as chief, he also ended up serving for two years as city manager following, as Burke noted in his resume, "an unexpected absence."

In 2010, he was hired as chief of police of Healdsburg, an appointment that brought him physically closer to his family. There, he was credited for revamping the police department's community outreach.

"During his tenure in Healdsburg, Chief Burke played a lead role in the community's response to the Kincade Fire, the pandemic, and a national dialogue over police reform," read a statement from the City of Healdsburg. "Committed to community policing, Chief Burke also created a program within the police department wherein a social worker works with sworn officers to provide services to community members."

He was credited with helping Healdsburg through 2018's Kincade fire and was credited with overhauling the department's community engagement efforts during Healdsburg's own grappling with racism sparked by the Black Lives Matter protests in 2020. That same reckoning brought down Healdsburg Mayor Leah Gold, who resigned after insisting there was no need to address policies for police use-of-force in incidents related to racism in her city.

Burke, however, saw it very differently. In a statement he posted to the police department's Facebook page at the time, he wrote:

"There can be no dispute that what happened to Mr. George Floyd at the hands of law enforcement in Minneapolis was reprehensible, both morally and legally. Indeed, every law enforcement officer I have spoken to agrees, and we universally and without hesitation, condemn the actions of the officers involved, and support any steps taken to hold them accountable. Trust must be earned. It takes years to build up and only seconds to erode.

"I am saddened by what has happened to Mr. Floyd and I am saddened by what it has instantly done to undermine the reputation of a profession that I have invested my career in," he wrote. "The dedicated group of men and women who make up the Healdsburg Police Department fully understand the justified anger and frustration of our greater community and we support the right to lawfully assemble in order to call attention to the issues raised by this tragedy. We are committed to continuing to earn the trust of our community that we serve and will continue to work every day toward building and earning the trust and confidence of our community."

As a gay man, Burke was a founding member in 2007 of Protect and Defend, "a safe and secure venue for LGBT first responders and military members to meet and socialize with peers both nationally and internationally," and volunteered most recently for the San Francisco AIDS Foundation where, at the Strut clinic in the Castro, he helped clients navigate the HIV testing process. As a candidate for sheriff of Sonoma County, he was believed to be the second out gay man to run for the office. (Jeff Foxworthy, a gay man who was a San Francisco sheriff's deputy, ran in 2017, though he later dropped out of the race, as the Bay Area Reporter noted at the time.)

SFAF officials did not immediately respond to a request for comment.

Burke's death was met with shock and grief.

"I met Chief Burke years ago & [was] drawn to his commitment to service, leadership & desire to make positive change," Christopher Mahurin, a sergeant with the Santa Rosa Police Department, wrote on Twitter. "He mentored & inspired me to be an innovative & compassionate leader. He taught me leadership is about a person's character not their sexual orientation or upbringing."

He was "one of the most genuine people I have met," Sonoma County Supervisor James Gore told the Press-Democrat. "He was the example of a police chief that was a community representative, the best of the best," Gore said. "That really trickled throughout his department."

In a statement on Facebook, Healdsburg Mayor Ozzy Jimenez said that the loss of Burke would be felt by many in the North Bay community.

"His light and kind heart will be missed by so many. Our Healdsburg Police Department has lost a great leader and friend," Jimenez stated.

"We are heartbroken and saddened over Kevin's passing," stated current Police Chief Matt Jenkins in the same announcement. "As his Healdsburg Police Department family mourns the loss, we remember him for everything he did for the department and the community. He was a mentor and a friend, and he led us through many difficult times with courage and dignity."

On Facebook, many more wrote tributes to the man.

"Chief Burke was my neighbor, a man who served our town with professionalism and kindness, and a man who represented the best in public safety," wrote Brigette Ann Mansell.

"I was so proud of him for running for Sheriff," commented Erik Engstrom."I am so sad to hear this news. We are all the poorer for it."

Throughout the long string of comments were calls for more support for people suffering from mental health issues both in general and in law enforcement, in particular.

For those experiencing a crisis, San Francisco Suicide Prevention's 24-hour crisis line is (415) 781-0500. Its HIV Nightline is (415) 434-2437 or 1-800-273-2437. For the crisis text line, text MYLIFE to 741741. For more information, visit sfsuicide.org.

Help keep the Bay Area Reporter going in these tough times. To support local, independent, LGBTQ journalism, consider becoming a BAR member.