Jones reversing course, will fight landlord at rent board
Thursday Mar 31, 2022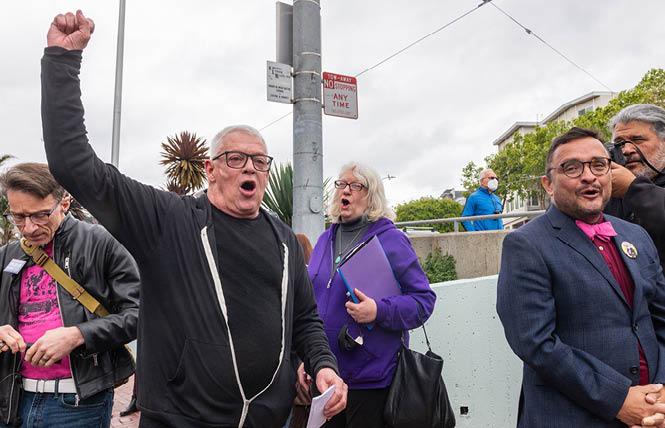 What a difference a week makes — or a rally.

Longtime gay activist Cleve Jones has decided that, actually, he'd like to fight his new landlord who wants to see him leave his Castro neighborhood home.

As the Bay Area Reporter reported March 24, Jones initially decided to leave the Castro due to a tense dispute he's having with Lily Li Pao Kue, the new owner of the building he's been renting a rent-controlled unit in for several years.

Kue alleged Jones bringing Brenden Chadwick to live with him was against the lease. (Subsequently, Kue said she alleges Chadwick lived alone while Jones lived in Guerneville.) Jones said that doesn't matter due to San Francisco rent laws. Kue then alleged Jones' primary residence is in Guerneville, where he bought what he describes as a "very small cottage, under 1,000 square feet." Jones alleges that Kue is trying to push him out of the Castro unit so she can put it up on Airbnb.

Through Jones, Chadwick declined to comment.

Kue has cameras trained on Jones' front porch, both agree, and is doing construction upstairs.

Jones, who said he is drawing attention to his situation to shine a light on what he considers abusive behavior by landlords, told the B.A.R. that he decided that actually he'd like to stay and fight because it'd be hypocritical not to.

"I was packing when Brenden and I decided we weren't going to fight it," Jones said. "I felt a great sense of relief — for about two hours. Then, I felt angry and ashamed."

Jones said many friends and supporters said they understood why he didn't want to fight Kue at the San Francisco Rent Board.

"Then I got a copy of the petition she filed with the rent board," Jones said. "It was so full of lies and misrepresentations that I couldn't believe it."

Jones was talking with Tommi Avicolli Mecca, a queer housing rights activist, when he made the fateful decision to flip the script.

"Tommi can be really persistent," Jones said. "And, he can be a pain in the ass. As we were putting together the rally — which wasn't to save Cleve, it was to say here's this guy with unearned advantages of race and gender and legal advice and political connections who can't stay in his home — he called me and said, 'We need to talk about messaging' and he said 'It's all about defeat.' I thought, 'Well that hurts,' and he told me about a woman named Alison who keeps getting evicted and as he's telling me this story I thought 'how can I tell people to stand up and fight if I can't.'"

Jones, who worked with the late Supervisor Harvey Milk in the 1970s and co-founded the AIDS Memorial Quilt, said "people expect better of me."

"I expect better of me. Brenden expects better of me," Jones said. "So, I'm going to fight it."

Jones said he thinks he'll win if his case goes before the San Francisco Rent Board but that Kue "always has the option of an owner move-in or the Ellis Act."

The Ellis Act, signed into law by then-Governor George Deukmejian in 1985, prevents municipalities from banning evictions if the property owner decides to go out of business as a landlord. It was one of the few forms of eviction allowed to continue during the COVID-19 pandemic lockdowns.

"The assertion that I've vacated the apartment is false and certainly my nextdoor neighbors on both sides [can] testify to that," Jones said.

Rally
Jones held the rally at the famed Castro and Market Street intersection on March 27 to bring attention to renters' issues. Avicolli Mecca and Alison Wright were among the speakers. Originally there was going to be a march to Jones' apartment, though this was scrapped.

When contacted by the B.A.R., Avicolli Mecca said, "Cleve and I did discuss" messaging and Wright.

"Alison's story is amazing. It really is," Avicolli Mecca said.

At the rally, Avicolli Mecca said he "basically talked about how speculators have been displacing people from the Castro for many years and we need to fight to preserve the Castro as an LGBT community and as a safe space for LGBT people."

Avicolli Mecca said that District 8, where the LGBTQ Castro neighborhood is located, is among the hardest for renters to stay in their homes.

"My understanding is that District 8 is one of the hardest hit for no-fault evictions," Avicolli Mecca said.

Wright, who is pansexual, told the B.A.R. that speaking at the rally was a great experience.

"It was pretty galvanizing to speak from the heart," she said. "It was really supportive to see all those people and faces."

Wright said she added, "save our homes" to the ACT-UP chant "Stand up, fight back."

When asked about her personal story, Wright said she'd "ended up with a speculator for a landlord" who tried to kick her out through four Ellis Act evictions, each of which failed, she said.

"I tell people, you need to stand up for your home," Wright said. "It's something you're paying for as a customer. You got a 50% chance of winning if you fight it, and a 0% chance if you don't."

Kue, who said that she's been with men and women when asked her sexual orientation by the B.A.R. for the March 24 report, told the B.A.R. that "Cleve was on the fence to leave quietly pre-rally, because he knows his one true principal address in 2021, but decided to stay to save face."

"This is indeed a fight," Kue stated. "The SF Rent Board judge will decide. The cops, SF district attorney's office have been contacted. I respect the law. Will Cleve?"

The date for the rent board hearing has not been set.

Updated, 4/1/22: This article has been updated as building owner Lily Li Pao Kue now alleges that Brenden Chadwick lived alone in the apartment while Cleve Jones lived in Guerneville. It's also updated to state that cameras are trained on the front porch.

Help keep the Bay Area Reporter going in these tough times. To support local, independent, LGBTQ journalism, consider becoming a BAR member.