Out in the World: Gay Polish politician asks SF supervisors to reinstate Lech Walesa street name
Thursday Nov 4, 2021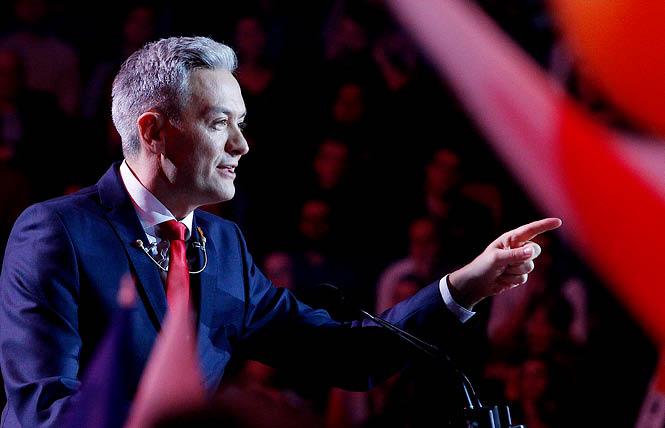 A gay Polish politician is asking the San Francisco Board of Supervisors to reverse a street name change made seven years ago that saw a gay icon replace a former Polish president.

On October 12, Robert Biedro?, a Polish member of the European Parliament in Brussels, Belgium, wrote to the city's supervisors requesting to revert Dr. Tom Waddell Place to Lech Walesa Street.

Biedro? conveyed his "great sadness" for the street name change due to Walesa being a "symbol of the fight for freedom and democracy" for "Poles and many other nations," he wrote in the letter.

In an email interview with the Bay Area Reporter, Biedro? expressed that Walesa is a "living symbol and we should commemorate it," he wrote, explaining he believes that every city should honor the freedom fighter.

"I believe that a street with the name of Lech Walesa should be in all major cities in the world," Biedro? stated. "He is a symbol of the fight for freedom not only for Poles, but also for many other nations in the world - including Americans."

The B.A.R. previously reported on the street's name change in 2013, when then-Supervisor Jane Kim became fed up with anti-gay remarks made by Walesa, the former Polish president. The street is a small alleyway near Civic Center Plaza, in District 6, which Kim then represented.

The alley was renamed from Ivy to Lech Walesa in 1986 to honor the Nobel Prize-winner, who founded the Solidarity union and led the battle for democracy against the Soviet Union.

At the time, Kim proposed to change the name, stating Walesa's anti-gay comments were "not representative of the city that I am a part of and its value of inclusiveness."

Waddell was an Olympic athlete and founder of the Gay Games. He died of AIDS-related complications in 1987. A health clinic named for him, the Tom Waddell Health Center, which serves many in the LGBTQ community, particularly transgender patients, is located at 50 Dr. Tom Waddell Place.

"This city is also a place that is a refuge for many members of our LGBT community," Kim said at the time. "We didn't feel it was appropriate to continue to have his name on one of our streets."

Kim was supported by gay then-Supervisors Scott Wiener (D8) and David Campos (D9), and then-Supervisor John Avalos (D11).

Kim did not respond to a request for comment from the B.A.R. Current District 6 Supervisor Matt Haney did not respond to multiple requests for comment. Haney is running for the vacant 17th District Assembly seat, as is Campos.

LGBTQ activists tried to get the Walesa Street name changed before, but that effort was not successful. The Board of Supervisors unanimously approved the current renaming in 2014. The two street names appeared together for five years, according to city protocol, until the street renaming was completed in 2019.

Biedro? did not want to take away from Waddell's legacy. He suggested the street names should stay next to each other.

"Dr. Tom Waddell Place should also stay on the streets of San Francisco next to Lech Walesa Street," Biedro? stated. "I think that would be an interesting solution."

Homophobic rant
In 2013, Walesa went on a homophobic and transphobic rant on TVN 24 when asked by the newscaster about the then-proposed legislation in Poland for civil partnerships for same-sex couples.

Walesa stated that LGBTQ politicians should "sit at the back of the parliament" or even "behind a wall." He went on to state that the queer community should not "take away" from and "spoil" things for the majority.

They should "know that they are a minority and must adjust to smaller things and not rise to the greatest heights," Walesa told the newscaster, stating that he would never support LGBTQ rights.

Biedro?, a longtime politician who was a member of Poland's parliament when Walesa made his disparaging comments against the LGBTQ community, condemned the comments, and supported the street name change at the time.

"I found these words offensive and completely unjustified," Biedro? wrote in his letter, but the former Polish presidential candidate has had a change of heart after many conversations with Walesa.

Biedro? ran for president in Poland's 2020 election under his new progressive party, Wiosna (Spring), that was launched in 2019. Poland's anti-LGBTQ stance grew during the 2020 election season and continues with newly proposed anti-LGBTQ legislation. Biedro? came in third place during the elections.

Biedro? won a seat in the European Parliament under his political party in 2019.

"As one of the representatives of Polish gay politicians, I would like to assure you of the sincerity of our former president's apologies and kindly ask you to consider restoring the street name to Lech Walesa Street," wrote Biedro?. He feels Walesa is truly sorry and should be forgiven for his mistakes.

Biedro? pointed to Walesa's meeting with gay British pop star Sir Elton John in 1984 and again when he honored the star with a Medal of Gratitude in 2012 for his help bringing down the communist regime in Poland.

Biedro? noted Walesa repeatedly apologized for his anti-gay comments and assured him that "he had not intended to offend anyone," Biedro? continued in the letter.

It appeared Walesa might have changed his mind about LGBTQ rights when he told the New York Review of Books that LGBTQ rights are "non-negotiable." His comments followed the 2020 elections and Poland's Law and Justice Party's anti-LGBTQ campaign that led to Polish towns declaring themselves as "LGBT Free Zones," and the country suffering a severe backlash from the European Union.

"I have always been in favor of freedom, including for LGBT people," he said, emphasizing that Poles need to sort out queer activists' calls for equality.

However, a year before, Notes from Poland tweeted Walesa's latest anti-LGBTQ comments


Lech Wa??sa warns LGBT people they 'cannot go around town and seduce my grandchildren. This isn't normal, the majority [of us] are different, and they must submit to the majority'.

But he adds that they should 'not be oppressed' because 'God created them' https://t.co/ze23J6L61R— Notes from Poland ???????? (@notesfrompoland) March 25, 2019
Walesa went on a new rant, warning LGBTQ people that they "'cannot go around town and seduce my grandchildren. This isn't normal, the majority [of us] are different, and they must submit to the majority.''
But he added in the 2019 tweet that they should "not be oppressed" because "God created them."
Street name change unlikely
It does not appear that Biedro?'s request will be entertained by the Board of Supervisors.
Gay District 8 Supervisor Rafael Mandelman said he was not inclined to support any change.
In an email to the B.A.R., Mandelman wrote that he was not moved to reverse the city's decision. He stated that he was encouraged by Walesa's apologies for his 2013 remarks and recent support for Poland's LGBTQ community.
"Dr. Tom Waddell is an important figure in San Francisco's queer history, and I believe it is appropriate to keep the street where the Tom Waddell Health Center is located named after him," Mandelman wrote.
Campos and gay state Senator Scott Wiener (D-San Francisco) stand by their past decision.
"No, I don't support changing the name back given that Lech Walesa, unfortunately, continues to hold anti-gay views," Campos texted the B.A.R.
Wiener added in his text to the B.A.R., "Tom Waddell was a hero in our community."
Poland introduces new anti-gay legislation
Poland's latest anti-gay legislation that would ban Pride parades and any public gathering that promotes LGBTQ rights recently moved forward in parliament.
The right-wing dominated lower house of Poland's parliament successfully pushed an anti-gay citizen's legislative initiative, dubbed "Stop LGBT," forward to the Interior Affairs Commission October 29.
The commission will assess the legality of the proposed bill, according to a news release from OutRight Action International.
The vote came a day after an emotional debate on the proposed legislation that would ban Pride parades, locally known as Equality Marches, and other public gatherings considered to "promote" LGBTQ rights.
In 2019 the Equality March in Warsaw was attended by 50,000 people, and a record 20 Pride events took place around the country, according to OutRight.
Opposition lawmakers strongly condemned the proposed legislation, reported the Associated Press.
The initiative was submitted by the Life and Family Foundation, a conservative anti-feminist and anti-LGBTQ organization. The foundation successfully restricted abortion rights in the country last year. This year its members successfully gathered 140,000 signatures, more than the 100,000 required, for its "Stop LGBT" proposal.
In recent years, Poland's conservative politicians have drummed up LGBTQ fears, dubbed "LGBT ideology," claiming LGBTQs target children, and that gays threaten Poland's identity and values in the staunch Roman Catholic country.
Andrzej Duda, Poland's right-wing president and leader of the Law and Justice party, narrowly won reelection last year by scapegoating the Central European country's LGBTQ community. He called for Polish cities to declare themselves so-called LGBT Free Zones. An estimated 100 municipal and provincial areas in Poland headed his call.
Poland suffered an economic backlash from the European Union for its attacks on its LGBTQ community.
Poland's LGBTQ community has suffered ongoing assaults from Polish leaders and in cities where pridegoers have been physically and verbally attacked, according to OutRight. Poland has also seen an exodus of LGBTQs to other European countries.
Amnesty International and OutRight opposed the draft legislation.
Nils Muiznieks, Amnesty International regional director for Europe, said in a statement that if adopted, the law would place LGBTQ Poles at a "greater risk than ever."
The human rights leader called on Polish lawmakers to "recognize that love is love and reject this hateful proposal which is discriminatory to its core," he said.
OutRight's acting Executive Director Maria Sjödin called upon the parliamentary committee to reject the proposed bill in a statement.
"This is a very dark day in Poland, not only for LGBTIQ people, but for Polish society as a whole," stated Sjödin, who called pride events a "crucial element of the movement for LGBTIQ equality" and "an expression of the right to freedom of assembly and expression."
Some Polish regions have reversed their "LGBT Free Zone" status due to the loss of EU and sister city funding from other European cities.
AP reported it is unclear if the proposed legislation will be debated by the full chamber of parliament. The proposed bill will need to be approved by the Senate and Duda. The opposition has a small minority capable of altering draft legislation in the Senate.
Got international LGBTQ news tips? Call or send them to Heather Cassell at WhatsApp/Signal: 415-517-7239, or oitwnews@gmail.comHelp keep the Bay Area Reporter going in these tough times. To support local, independent, LGBTQ journalism, consider becoming a BAR member.