City College trustee insists he did not call police on protesters outside his home
Friday May 7, 2021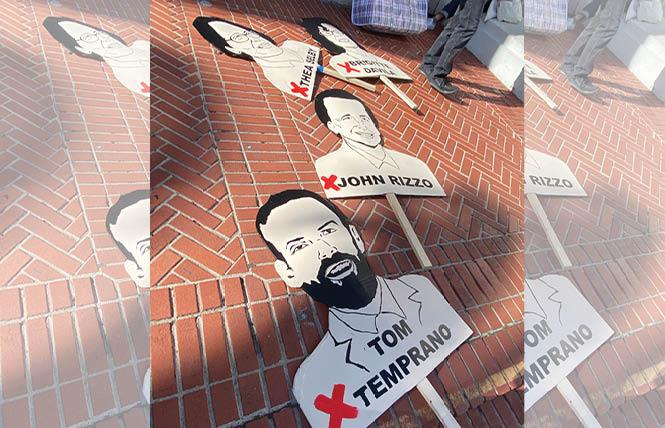 With a potential vote on faculty layoffs looming, tensions are mounting among City College of San Francisco students, with a group accusing a gay trustee of calling the cops as they chanted outside his home Thursday — a charge he strongly denied.

Protesters who went to the residence of trustee Tom Temprano May 6 sent out a statement saying he "called cops on students peacefully protesting." Not true, Temprano told the B.A.R.

"I wasn't even home," the trustee said May 7. "I wouldn't call the police on peaceful protesters. Period."

Temprano said he was working late at City Hall, where he serves as an aide to gay District 8 Supervisor Rafael Mandelman, when students protesting proposed layoffs showed up outside his Castro home.

It is anticipated that the college board will vote May 10 to go forward with the cost-cutting plan. It already approved sending layoff notices to 163 faculty members and 34 administrators across 39 departments as a way of addressing a projected $33 million deficit.

"CCSF Trustee Tom Temprano called more than 20 police officers on CCSF students, and community, majority who are POC, when they were peacefully protesting in front of his house. ... A student of color asked him to come outside to sign gigantic contracts to call out his actions: 1.) 'I, Trustee Temprano, agree to ruin thousands of peoples' lives by voting to destroy CCSF' 2.) 'I, Trustee Temprano, will vote against the proposed 65% faculty cuts because I care about the community and CCSF,'" a group called the CCSF Collective stated in a news release. "Instead, more than 10 police showed up in full force."

In a phone interview with the B.A.R. Eria Kien with the CCSF Collective said she couldn't address Temprano's assertion that he did not call police. She did explain that the discrepancy in the numbers of officers the group alleged were on the scene was a typo and she meant to write "more than 20" in both instances.

When asked to back up the assertion Temprano called the police, Alexis Reiko of the CCSF Collective stated, "We do not have access to police phone records, but we heard a passing call requesting SFPD come to his residence. We are just students and cops were called on us, we heard it on the scanner."

The protest started with virtual events in the afternoon before a 5:30 p.m. rally at Mission High School, across from Mission Dolores Park. Subsequently a march took demonstrators to the heart of the Castro neighborhood then Temprano's nearby residence.

"I definitely got people sending me video, screenshots, and photos," Temprano said.

Temprano said it is his understanding police were present as they often are for protests. He said after he found out what was going on, he spoke with Mission Station Captain Rachel Moran to make sure things would be OK.

Temprano, who is advocating for emergency funding for the college, told the B.A.R. that he asked Moran to order the police to stand-down.

"[Moran] said 'that isn't your call to make,'" Temprano recalled.

Moran and the San Francisco Police Department did not respond to requests for comment by press time.

"I started my investment with City College as a protester," Temprano said. "This is what students do when the school is in trouble, so I understand."

Temprano reiterated that he hopes concession bargaining between the community college district and American Federation of Teachers Local 2121 will mitigate the impact of, or prevent, layoffs. The union and members of the San Francisco Board of Supervisors are advocating the city provide emergency funding to the institution, which has struggled with budgetary problems for years.

A rally and march to oppose the budget cuts is scheduled for Saturday, May 8, at 11 a.m. at City Hall, according to Athena Waid, who does political and communications work for AFT 2121.

Updated, 5/7/21: This article has been updated with additional comments from Tom Temprano and from the CCSF Collective.

Help keep the Bay Area Reporter going in these tough times. To support local, independent, LGBTQ journalism, consider becoming a BAR member.