San Francisco to begin reopening — again — Jan. 28
Monday Jan 25, 2021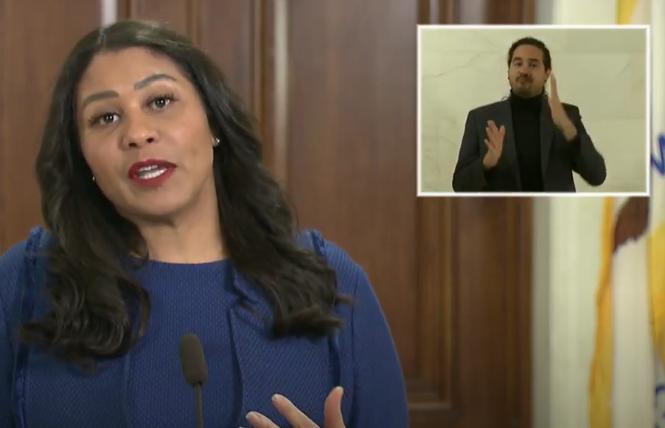 San Francisco will allow some businesses to reopen Thursday, January 28, as it expects to move into the state's purple COVID-19 tier, Mayor London Breed announced at a January 25 virtual news conference.
"We anticipate that tomorrow we will be told that we are in the purple tier, which will allow us to do so much more than we have been doing," Breed said. "Outdoor dining can resume. Personal services can resume — as long as you can wear a mask."
Small gatherings of up to 12 people, no more than three households per group, will be allowed outside, with masks and social distancing, Breed said.
"This is not an open door to let our hair down and do whatever we want to do," Breed said. "Let's keep doing what we're doing."
Outdoor museums and zoos, outdoor family entertainment centers, open-air boats and buses and indoor funerals of up to 12 people will be allowed to resume. Retail and grocery stores will be allowed to increase their capacities to 25% and 50%, respectively, from 20% and 35%.
A revised health order will be posted to the city's website January 27 with more specific requirements.
Dave Karraker, the owner of MX3 Fitness, provided a statement on behalf of the Castro Merchants group.
"It's not an exaggeration to say the city and the state just tossed a lifeline to small businesses in the Castro," Karraker wrote in an email to the Bay Area Reporter. "Today's news will allow so many in the community to restart their businesses, including hiring back staff that was recently laid off or furloughed. This will also help to bring much-needed foot traffic back to the neighborhood, so everyone benefits. It is a definite step in the right direction."
The move came hours after California Governor Gavin Newsom ended the stay-at-home order he had announced December 3.
At that time, faced with a rise in COVID-19 cases and anticipating a holiday season surge, Newsom abandoned the colored tier system that had been adopted in August. The state was divided into five regions, which were to fall under the stay-at-home order when region-wide ICU capacity dipped below 15%.
The Bay Area region did not go under the state-mandated stay-at-home order until December 17. But anticipating the inevitable, San Francisco leaders joined with the city of Berkeley and the counties of Alameda, Contra Costa, Marin, and Santa Clara in implementing their own stay-at-home order December 7. San Francisco had been in the purple tier, which it entered on November 29.
"If we had continued on the pace we were going, and had done absolutely nothing, we would be out of ICU beds," Breed said. "Because we acted quickly, and because you followed the orders and did so early even though we were not required to do so, because we did so early we are in a better place. ... We are finally seeing a difference with our numbers, but there is still work to be done."
This stay-at-home order was intended to expire January 4, but was quietly extended indefinitely on December 31.
Better ICU capacity
After weeks of single-digit ICU capacity, the Bay Area region reached 23.4% capacity according to state data released over the weekend. San Francisco has an ICU capacity of 26%, as of January 22.
Already before Breed's news conference, officials in other Bay Area counties such as Alameda, Marin, and Sonoma announced they would, too, be ending the stay-at-home orders, returning to the purple tier.
Concurrent with the change in state regulations, however, are rising concerns about a number of variant and mutated forms of the virus that causes COVID-19, including one believed by researchers to be from California. A variant from the United Kingdom is thought to be more deadly, and President Joe Biden is taking action to put limits on travel into the United States with these variants in mind.
Things moving in right direction
Dr. Grant Colfax, a gay man who is the director of the San Francisco Department of Public Health, said that the city is taking this move "because things are moving in the right direction."
"We are opening at a high level of case diagnosis, 30 per 100,000 right now, which is substantially lower than we were a few weeks ago," Colfax said. "The rate of the virus spread in the city is slow right now, which is also good news.
"With regard to the variants, we are concerned about that but there is no reason to panic," he added. "Wearing masks, social distancing, [and] good hygiene practices are effective."
Breed expressed consternation at the rate of vaccinations, seen as the key to ending the pandemic. Only 10,345 people of the city's population of more than 800,000 have received both doses of a COVID-19 vaccine, according to data made available by the city. Some 48,938 have received at least one dose, according to that same data.
The city has received 127,000 vaccine doses total, Colfax said, 34,500 of which were sent to the health department itself.
Last week, the city opened its first high-volume vaccination site at City College of San Francisco's Ocean Avenue campus, part of its ambitious goal to vaccinate all residents by June 30.
"We are not where I want us to be because we do not have a sufficient supply of vaccines to deliver to the public," Breed said.
Colfax addressed the question of why non-San Francisco residents are receiving shots at City College, saying that many health care workers in San Francisco are residents of other counties.
"The Bay Area is porous, we're all interconnected, and we need to get vaccines in arms as quickly as possible," Colfax said.
Breed also announced that the Biden administration will reimburse the city 100% for the use of hotels for the unhoused population.
Updated, 1/25/21: This article has been updated with a comment from Castro Merchants.
Help keep the Bay Area Reporter going in these tough times. To support local, independent, LGBTQ journalism, consider becoming a BAR member.