Out in the Bay: Drag is revolutionary in '50 Years of Fabulous'
Friday Oct 23, 2020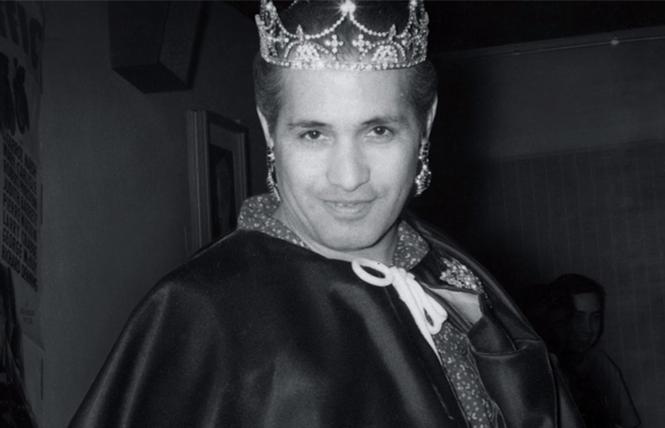 Frameline Distribution has released for online viewing "50 Years of Fabulous," an award-winning documentary recounting the life and legacy of iconic queer rights activist José Julio Sarria and featuring the international charity drag institution he founded, the Imperial Court. In doing so, it gives fascinating details of San Francisco's queer history.
The movie is available for online viewing through November 30. Those who view it Friday, October 23, at 7 p.m. will also be treated to a pre-film drag show.
Filmmaker Jethro Patalinghug wove together an impressive array of contemporary and archival interviews and performance footage for "50 Years," which has shown mostly at film festivals since its 2018 premiere.
The film reminds us that the Supreme Court of California ruled in favor of LGBTQ rights way back in 1951. When San Francisco and state officials effectively shut down the Black Cat, the bar where Sarria had been performing in drag since the late 1940s, the owner fought back and eventually won a unanimous state Supreme Court decision.
"The judges said it was not necessarily an obscene or indecent act to just serve alcohol to a known homosexual," historian Paul Gabriel said in a "50 Years" interview. The ruling "guaranteed homosexuals in California our constitutional right of public assembly."
But harassment didn't stop. Patalinghug, on this week's Out in the Bay podcast, said blackmail and other anti-gay actions by San Francisco police spurred Sarria to run for supervisor in 1961, becoming the first known homosexual to run for public office in the United States.
"He felt so violated, he took it upon himself to fight," said Patalinghug. "He had already been a drag queen for about 15 years, so he already had notoriety." Sarria didn't win, but he received some 6,000 votes.
"That was the very first time that America actually saw that there was a gay vote," said Patalinghug. "It jump-started gay political power."
In "50 Years," Sarria himself describes the revolutionary roots of high drag — with elaborate dresses and gaudy faux jewelry — in the 1940s and 1950s: "We couldn't be real," he said. "As long as we did it in costume, we would not be violating the law." Sarria declared himself Empress I and founded the Imperial Court in 1965. He died in 2013 at the age of 90.
"For 55 years, we've had an unbroken chain of empresses," drag activist Khmera Rouge, who appears in "50 Years" winning the Absolute Empress 50 title in 2015, told Out in the Bay. While it may look "frivolous," he said, it started as a risky political act and today "the work we do is very real; the money we raise impacts a lot of charities that really need our support."
Hear more from Patalinghug and Rouge and audio clips from "50 Years of Fabulous" — including a brief bit of Sarria performing in the Black Cat — on this week's Out in the Bay-Queer Radio from San Francisco. It will re-air at 9:30 a.m., Saturday, October 24, on KSFP Radio, 102.5 FM in San Francisco only, and is available anytime on Out in the Bay's website.
Eric Jansen is managing producer and host of Out in the Bay-Queer Radio from San Francisco. Learn more and listen at www.outinthebay.org
Help keep the Bay Area Reporter going in these tough times. To support local, independent, LGBTQ journalism, consider becoming a BAR member.
Comments on Facebook