Political Notes: SF launches last minute 2020 census push
Thursday Sep 24, 2020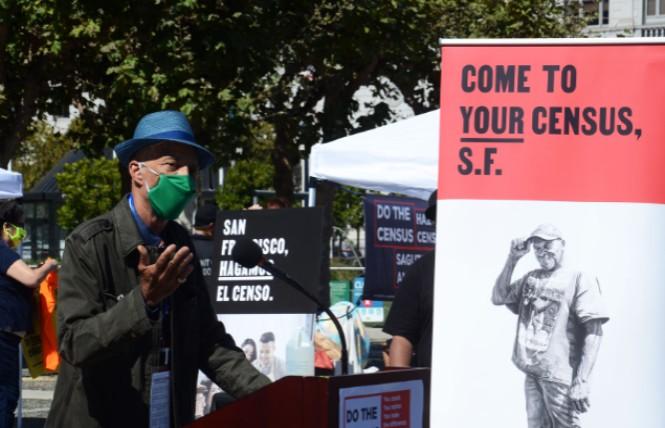 With the U.S. Census Bureau planning to wrap up its efforts on the 2020 count Wednesday, September 30, San Francisco officials are making a last minute push to see that every resident of the city is counted.
Various events are taking place over the course of the last seven days of the decennial count. From phone banking and in-person assistance to help people fill out their census form in the Civic Center, Chinatown, Bayview, and the Mission districts to public service announcements from the San Francisco Giants and Golden State Warriors, the aim is to reach hard-to-count communities such as non-English-speaking immigrants and the homeless.
(UPDATE: Late Thursday night U.S. District Court for the Northern District of California Judge Lucy H. Koh issued an order that preliminarily enjoins the Census Bureau and Secretary of Commerce from using September 30 as the deadline to complete data collection for the 2020 census and ordered the count to continue through October 31, as the Census Bureau had earlier planned.)
At stake is billions of dollars in federal assistance for affordable housing programs and community-based health care to myriad social services. For each resident who doesn't fill out the census, San Francisco leaders estimate the city will lose out on $20,000 per year over the next decade.
The final tally from the census will also be used to apportion U.S. House seats to each state and to redraw the district boundaries of numerous local and state elected positions.
"Get counted, San Francisco! Participating in the census helps ensure our city's voice in the electoral process and protect critical federal resources for lifesaving programs," Mayor London Breed posted on Facebook Wednesday.
As the Bay Area Reporter has noted for months, San Francisco has trailed behind most other major West Coast cities in its self-response rate to the decennial count of the country's population. As of Wednesday, September 23, it was at 65.7% and Los Angeles stood at 57.4% compared to San Jose at 76% and San Diego at 73.3%.
In the 2010 census, San Francisco reached a self-response rate of 68.5%. This year, for the first time, people can log in online via the website and fill out their census questionnaire.
While the 2020 census is not asking people about their sexual orientation or gender identity, it is expected to provide the most accurate count yet of same-sex households in the country.
New to the 2020 census forms in explaining how people living in the same household are related are the options "same-sex husband/wife/spouse" or "same-sex unmarried partner." In 2010 the options on the census form were the generic terms "husband or wife" or "unmarried partner."
"Census 2020 is the most important challenge to overcome before the end of September," stated Anni Chung, president and CEO of Self-Help for the Elderly and a co-chair of the San Francisco Complete Count Committee. "I urge every resident in San Francisco to complete the census questionnaire TODAY and reach out to 10 others to do the same. San Francisco needs everyone to be counted!"
To date, California as a whole has a 2020 self-response rate of 68.7%, with another 28.8% of households counted by enumerators hired by the census bureau to contact those that did not fill out their census forms on their own. Thus, California's total response rate stood at 97.5% as of Wednesday, according to the federal agency, which also reported that more than 95% of U.S. households have now been counted in the 2020 census.
The enumeration data, however, is not broken down by city or county, so it is hard to know where San Francisco's exact response rate stands. Recent news stories have detailed how enumerators were being told there was no work for them in San Francisco and were being assigned to other jurisdictions.
Yet, that should not come as much of a surprise since in 2018 the federal agency had designated every census tract in the city as "Self-Response" in terms of the type of enumeration area it fell under. As an online viewer created by the census bureau explains, "Self-Response is designed to occur in areas where the majority of housing units have mail delivered to the physical location of the housing unit."
Nonetheless, for numerous reasons many households in the city remain hard to count. And community activists and city officials contend reaching San Francisco's immigrant communities to fill out the census has been made even more challenging by President Donald Trump's failed attempt to include a citizenship question on the form.
Although no personal information gathered by the census is shared publicly, there was heightened fear that the Trump administration would somehow target undocumented immigrants for deportation if they had to answer questions about their citizenship on the census. Advocates have tried to address those fears in their outreach campaigns about the importance for everyone to fill out their census forms.
"The stakes are high and the future prosperity of our City is dependent on a successful 2020 census count," stated Good Samaritan Family Resource Center Executive Director Mario Paz.
A full list of the census activities taking place in San Francisco over the next week can be found here.
To find resources on how to fill out and return your census, click here.
Keep abreast of the latest LGBT political news by following the Political Notebook on Twitter @ http://twitter.com/politicalnotes
Got a tip on LGBT politics? Call Matthew S. Bajko at (415) 829-8836 or e-mail m.bajko@ebar.com
Help keep the Bay Area Reporter going in these tough times. To support local, independent, LGBTQ journalism, consider becoming a BAR member.
Comments on Facebook