Gay couple caught cheating at bridge as Castro club moves online
Monday Sep 14, 2020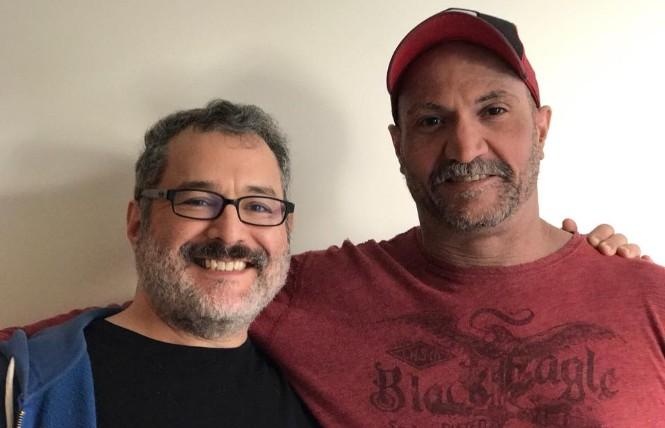 Everyone loves to win, but two gay Bay Area bridge players are paying the price for flaunting the rules, drawing a suspension from a national watchdog group that bars them from playing at games sponsored by local clubs, including Quick Tricks based in the Castro.
Devlin Delaney and David Sweet, a recently married couple who moved from the Castro to Pacifica, are halfway through their six-month suspension, according to an article in American Contract Bridge League's monthly magazine, the Bulletin.
Other bridge players, including several prominent ones, have confessed to cheating, according to posts on the aptly named blog Bridge Winners, since the game went online after the pandemic shut down in-person competitions.
Playing online makes cheating relatively easy, either by players swapping information on the phone or in person or using a software program that enables someone to see all four hands, or using a second computer while playing. But it was impossible to estimate how many people have been sanctioned for cheating nationally; a query to the ACBL was not answered at press time.
A member of the ACBL's ethics committee, Ron Smith, a gay man who is a professional player and a former longtime resident of San Francisco before moving to Chicago, stated in an email to the Bay Area Reporter: "The problem [of online cheating] is very large and very hard to police. How many, I'm sure is a secret. This is something that has to be addressed in order to call tournaments a fair contest."
Smith has played online with Quick Tricks during the pandemic.
Devlin and Sweet offered an apology.
In an email to the B.A.R., the men wrote, "We regret cheating in online bridge. It was wrong, and we are ashamed of what we did. We would like to sincerely apologize to anyone who was affected by this.
"This happened only while we were in quarantine, never before that or during live play," Devlin and Sweet added. "We are not only bridge partners, but husbands sharing the same house. It was all too tempting to kibitz while quarantined together in the same room. Now we are rightfully paying the price for it in our suspension, as determined by the ACBL. Currently, we've been dealing with health issues, and haven't decided when we will return to live play."
Quick Tricks longtime manager, Kim Fanady, a straight ally who has volunteered to administer the organization for the past 18 years, explained in an email how the irregularity was discovered.
The couple "were caught because in one game they had strange results that scored well on one-third of the boards, which the director thought was (ahem) a bit unusual," Fanady wrote. "I found their impressive record in the QT game after that. I have no idea if they ever confessed after they were busted. I would guess that most people were caught due to a string of anomalous results (Bridge Base Online has software that flags that). Anyone can make a crazy bid or misclick [on the computer keyboard.] But when you keep doing the weird thing that just happens to work and gets you a great score, over and over, well ..."
Subsequently, "the SF directors/club managers reported them to ACBL" which suspended them, she added. Fanady stated that the men learned of their suspension after they "tried to get into the QT game and were blocked." When they contacted Fanady to get into the game, she notified them that "they'd been reported, and they were barred from QT" pending a ruling from the ACBL, which made the decision after the men did not respond to an inquiry about the irregularities.
Once the irregularities were reported, Fanady also noticed that the couple had regularly been beating some of the club's top players.
"Suddenly getting 58% was just the icing on the cake," she stated, referring to an unusually high score, a difficult achievement when competing against people who have been playing for decades or were young prodigies who had already won many tournaments.
Fanady, one of the club's highest-ranked players, went on to explain her feelings about cheating at bridge.
"I personally can't imagine why the ordinary bridge player would cheat," she stated, "since there's no prize money involved, we play for fun and enjoyment. We play for the mental challenge of solving the bridge puzzle, the competitive thrill of winning, and the sense of accomplishment in gaining a certain level of skill — all of which are completely destroyed by cheating.
"You didn't solve the bridge puzzle — you cheated. Maybe you won, but not fair and square — you cheated. You didn't gain in skill — you cheated," she added. "How does any of that make you feel good? Further, you took those things away from honest bridge players. They didn't have a fair shot at solving the bridge puzzle, gaining in skill, or winning, because your cheating didn't allow them to do that. How does any of that make you feel good? I suppose there's some thrill in seeing if you can get away with it, but anyone over the emotional age of 9 should be able to resist that.
"Why do people take cheating so seriously? Why would anyone play in a game they know isn't fair? Cheating ruins the game for everyone. I think the ACBL's decision re: Devlin and David was 100% appropriate," Fanady stated.
The cheating scandal isn't the first topic to rock the stodgy world of bridge, thought of as a pursuit for grandmothers because of the many older, retired people who play the popular game, many at a different club every day. At the beginning of the coronavirus pandemic, multiple media outlets reported on a number of deaths that were traced to bridge club in Colorado, where several people are believed to have come into contact with an infected player and then traveled to a tournament in Arizona, where the virus spread.
Quick Tricks was founded in 1978 by Tadd Waggoner, primarily to provide games for the city's gay community, according to the club's website. Waggoner died of AIDS in 1993. The first location was at the old Gay Pride Center at 330 Grove Street. One of the club's first directors was a lesbian, Dianne Barton-Paine, whose family has operated a bridge club in the city for decades, now named PIPS.
People interested in playing bridge online can go to www.quicktricks.org for further details. Before the pandemic forced the club to switch to online games, Quick Tricks usually attracted over 100 players to its Monday night game at Most Holy Redeemer Catholic Church, 100 Diamond Street. More than half are regularly playing online, the club said.
Full disclosure: Reporter Sari Staver used to play at Quick Tricks.
Help keep the Bay Area Reporter going in these tough times. To support local, independent, LGBTQ journalism, consider becoming a BAR member.
Comments on Facebook