Public safety concerns take center stage at Castro Merchants meeting
Thursday Sep 3, 2020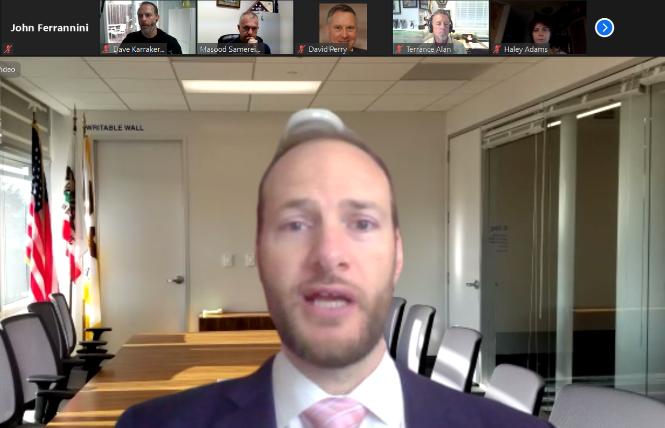 San Francisco District Attorney Chesa Boudin faced some pushback during his virtual appearance at the Castro Merchants meeting September 3.

Boudin, who has been in office about nine months since being elected as one of a new crop of progressive prosecutors, began his remarks by apologizing to the Castro community for neglect from his office before he took over.

Boudin then delved into the issue of crime numbers. As other outlets have reported, there has been a nationwide perception of a rise in crime this year, which in many jurisdictions such as New York City is borne out by the facts.

In the Castro neighborhood police reported a string of petty crimes at the beginning of this week. The neighborhood also saw significant vandalism on Pride Sunday in June, coinciding with Pride marches against police brutality and racism.

"Anecdotal experiences in front of your own businesses are very important but we also have to take into account data trends citywide," Boudin told the merchants, before going on to say that as of August 30, reported property crime is down 34% from 2019 numbers.

"I want to make it clear — San Francisco has had a serious property crime problem for many years before we took office," Boudin said. "We've seen — in terms of reported crimes to police — a historic decline, an unprecedented decline."

Some of the merchants chimed in on Zoom's chat function. One person said, "Shelter in place? Without tourists here, the number of car break-ins must have plummeted. That's COVID, not policing."

Boudin said that the decrease in property crime may be driven by a decline in tourism and the COVID-era shutdowns.

"I think it has to do with shelter-in-place and COVID-19," Boudin said. "That's why I opened by saying I'm not taking credit for it."

Boudin also said it's not his fault whether police take reports or respond in a timely manner.

Boudin told the story of when he chased someone down who he saw committing theft in January.

"I was able to kick the car window out of the car [whose driver had] the stolen computer," Boudin explained. "It still took the police 25 minutes to arrive." Boudin also said he has been broken into on multiple occasions over the years and did not file police reports.

Another user commented in the chat that it's "really irresponsible to not report break-ins to police. Also irresponsible to chase down a perp's car and physically attack it."

Boudin said some officers have been not taking reports and then blaming him personally to victims. He said an assistant district attorney, who two police officers did not know was such, was told when they were the victim of a crime that a police report couldn't be taken because of Boudin.

"They said this to a 30-year veteran prosecutor," Boudin explained. "We have a serious problem with an agency that is supposed to protect and serve but says they're not going to do their job because they don't like me. Some San Francisco police officers have been using this excuse for decades and it's unacceptable. There are many, many reasons why police have a job to do that has nothing to do with my office, and I can't prosecute crimes if police refuse to investigate them."

The San Francisco Police Department returned a request for comment after the initial publication of this story.

"The department values our relationship with the District Attorney's office," spokesman Sergeant Michael Andraychak stated in an email. "We work closely with DA Boudin and his staff in an effort to thoroughly investigate crimes and bring the best possible cases for prosecution. It is through this partnership that we help to keep the community safe."

Boudin and merchants seemed to come together on at least two issues. First, Boudin offered an assigned assistant district attorney for the Castro neighborhood's businesses and residents.

Second, Boudin said that the government needs to invest in mental health resources to address people having mental health crises on the streets of San Francisco, because these are not solvable by the criminal justice system for a number of reasons.

"It's really a sad legacy of the [Ronald] Reagan-era that we dismantled the mental health infrastructure and did not replace it with anything but jail," Boudin said. "In San Francisco, jail is the number one provider of mental health services."

Boudin said that responders "need more tools than just a citation booklet and a pair of handcuffs."

Boudin praised gay District 8 Supervisor Rafael Mandelman and Mayor London Breed's efforts to open a methamphetamine sobering center in the Tenderloin. He went on to say that victim services are lacking, and have been in the city for many years, because it does not receive funding from the Board of Supervisors.

"I hope you will join me in making that a priority for the city," Boudin said.

Mandelman addresses public safety, add-backs
Mandelman appeared on the Zoom meeting after Boudin.

Some merchants have asked for increased policing in the Castro neighborhood, but Mandelman said that nobody called to express this opinion during the recent city budget process.

"We got hundreds of calls about defunding the police," Mandelman said. "We are going to see a decrease in the number of police in the next couple of years."

Mandelman said one way to counteract the anticipated decreased presence of police in the future is through community ambassadors. There are already such ambassadors in the Rincon Hill neighborhood and at Union Square, he said, and he has asked for money for Castro neighborhood community ambassadors through the budget add-back process.

"Community ambassadors go to the folks who seem disruptive and ask them to calm down and if they'd consider moving," he explained.

Mandelman said that that the Healthy Streets Operations Center has done "a number of operations in the Duboce Triangle in the past couple months" to clear homeless tent encampments, as the Bay Area Reporter has previously reported. He said that while the city offers services such as hotels and safe sleeping sites, many of the people still on the streets don't want to take advantage of them.

"In many ways, what's happening in the Castro and on Market Street is the overall volume has gone way down but the people who are left are the most disturbed, the most challenging and the most likely to cause challenges for your businesses," Mandelman said.

Mandelman said he helped push in the budget, through the add-back process, to expand the number of street crisis response teams from four to six, which he said would be able to take up to 21,000 911 calls.

'Gilding the lily'
Many of the attendees expressed positive feelings about theshared spaces program that has shut down two blocks of 18th Street in the Castro on Sundays and is expected to expand to Fridays and Saturdays for the benefit of businesses on those blocks.

Mandelman said he checked out the closed-down 18th Street last Sunday, stopping by at the Mix between Hartford and Castro streets.

"Servers were definitely enforcing social distancing and keeping the gays from fluttering about: chatting, hugging, kissing, [and] doing the things they want to do but can't," Mandelman said.

Shared spaces is not without its issues, however. He said moving the taxis that used to be available adjacent to the Sausage Factory on Castro Street between 18th and 19th streets has had an effect "on the taxi cabs and the businesses that rely on the taxi cabs." Ways to mitigate the effects of the street closures on street parking will be looked at going forward, he said.

Not everyone is so saccharine about the street closures, however. Patrick Batt, owner of Auto Erotica on 18th Street, spoke up to register his disapproval. He said it is unnecessary, since businesses moved outdoors are able to have parklets, and dangerous, because people sitting maskless in public places may lead to further transmission of the virus that causes COVID-19, and subsequently, more shutdowns.

"I understand everyone is hurting," Batt said. "What I don't get is why you have parklets there 24/7 and then insist on Sunday [street closures] as an addition. I call it gilding the lily. I don't understand how Sunday is different than any day of the week. I'm getting a lot of feedback from my customers that they don't want to come to the neighborhood if it's a giant street party."

Paul Perretta, co-owner of Hot Cookie on Castro street between Market and 18th streets, said that all 12 businesses that have received approval to participate in the shared streets program have stated that "it has helped them tremendously with revenue streams" and said after Batt's remarks that "if people are sitting down to eat or drink they are not required to wear a mask. I don't know if you knew that."

Castro Merchants President Masood Samereie told Batt that he could apply for a shared space permit if he'd like, and the program is not limited to bars and restaurants.

"So far, it's why bars and restaurants are hiring more staff, making much more money," Samereie said. "It's driving more foot traffic into the neighborhood and that's something we want to do."

Batt said he had no interest in doing business in the shared space zone.

"I just want to be on the record as saying this is patently — you got two things when one would suffice. I have no interest in a parklet. I can't imagine another retailer would," Batt said.

Mandelman said he is securing funding for the shared space program through the add-back budget process.

Greg Carey of Castro Community on Patrol said that his group will soon be doing virtual training.

Updated, 9/4/20: This article has been updated with comments from SFPD.

Help keep the Bay Area Reporter going in these tough times. To support local, independent, LGBTQ journalism, consider becoming a BAR member.