Over 10,000 people in SF protest police violence
Thursday Jun 4, 2020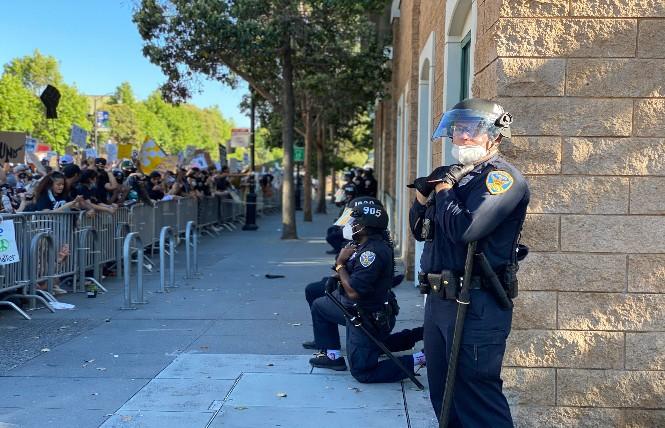 Thousands of people descended upon San Francisco's Mission district Wednesday, June 3, to demonstrate their outrage over the police killing of George Floyd and express solidarity with the Black Lives Matter movement.
The protest continued into the night — past a citywide curfew ordered by Mayor London Breed following looting in Union Square last Saturday.
The demonstration began at Mission High School, across 18th Street from Mission Dolores Park and adjacent to the city's predominantly LGBT Castro neighborhood.
By 3 p.m., people had begun to arrive at the school. The protest was the brainchild of 17-year-old lifelong Mission district resident Simone Limon, according to a news release sent by organizers.
High school age youth passed out water, face masks, and other supplies as the protest got underway. While the police estimate that 10,000 people participated, the East Bay Times estimates that the crowd could have been as large as 30,000, which would make it the largest protest in the city over Floyd's homicide — which for the past week has outraged people around the world, and led to large protests in major cities in spite of shelter in place orders due to the novel coronavirus outbreak.
Floyd, a black man, died May 25 after white former Minneapolis police officer Derek Chauvin kneeled on his neck for more than eight minutes. Three other officers, all since fired, watched. On Wednesday, Minnesota Attorney General Keith Ellison upgraded the charges against Chauvin to second-degree murder and charged the other ex-officers with aiding and abetting murder.
Breed, who decreed an 8 p.m. to 5 a.m. curfew May 30, announced that after Wednesday night the curfew would be lifted. Breed faced staunch opposition from some members of the Board of Supervisors — particularly District 6 Supervisor Matt Haney — over a curfew that had no end date and that he said represented an undue burden on civil liberties and constitutional rights.
Indeed, around 100 people had been arrested on Monday and Tuesday for violating curfew, and enforcement was particularly stringent around City Hall.
Things are starting to get underway as crowds gather at Mission High for the protest in solidarity with #BlackLivesMatter pic.twitter.com/iIVM3IhG5m— John Ferrannini (@jferrnews) June 3, 2020
Protesters share anger over injustice
Before the protests, Castro neighborhood businesses began to board up even more than they already had after the shelter in place orders were instituted in March.
Walgreens, Starbucks, and other businesses announced they were closed for the rest of the day.
Maurice Darwish, owner of The Cove on Castro, told the B.A.R. Wednesday afternoon that he was boarding up out of an abundance of caution.
"I know they are going to demonstrate and there are rumors that I've heard," Darwish said. "Insurance doesn't cover any of these things."
Speeches began in front of Mission High around 4 p.m. Two men on horseback elicited cheers as they rode down Dolores Street to 18th Street, one with a cardboard sign reading "Black Lives Matter."
One woman, Sasha Mace, was serving lemonade with her children near the intersection. Her young son said that he was serving the refreshment "for people that are thirsty — if they're thirsty they may have nowhere else to drink."
Josephine McKinney, a 27-year-old black woman, said she was at the protest to express exhaustion at continued police killings of unarmed black people.
"I'm tired of the mess," she said. "I'm tired of looking up and seeing people — my people — attacked. We've been through a lot in this country. Enough is enough."
McKinney said she recently wrote a poem titled "I can't breathe" — one of Floyd's last utterances, and one of the last things said by Eric Garner, an unarmed black man killed by New York police in 2014. She read the poem aloud to the B.A.R.
The poem refers to previous unjust killings of black people in the past decade.
"I'm starting to wonder what do the colors and stars on the American flag really represent? I mean, is the red blood stains left behind by white cops who beat black people blue," the poem states.
"I'm sorry you mistook my wallet for a gun but I can't breathe," the poem continues. "I'm sorry you didn't realize my hands up, but I can't breathe."
The protest made its way from Mission High School to the Mission district police station at 630 Valencia Street. Demonstrators chanted Floyd's name, "No justice, no peace," and "No good cops in a racist system!"
A black man who identified himself as Pate T. said he was encouraged by the fact that so many people showed up to the march.
"I think it's good people are out here. I feel that this is probably the biggest Black Lives Matter movement in a while, if ever," he said. "I think that this next generation is going to change the world because we are more educated."
Demonstrators confront police
High drama ensued at the Mission station around 6:15 p.m. as demonstrators asked police to take a knee in solidarity with their cause.
Several officers took the knee, reminiscent of the knee that former San Francisco 49ers quarterback Colin Kaepernick took during the national anthem before NFL games in protest of racial injustice and police brutality.
A white officer, next to two black officers, did not take a knee and was roundly criticized by the demonstrators.
"It takes two seconds to show us if you care," one protester yelled.
Another: "Are you going to kneel next to your brother next to you, who'd give his life for you? Join him if you care about us."
Longtime gay activist Michael Petrelis, carrying a doll depicting President Donald Trump, said he was there to protest gay state Senator Scott Wiener (D-San Francisco). Petrelis has clashed with Wiener for several years.
"Scott Wiener must return police officer union money. I am protesting because he has taken this money," Petrelis said. "It shows he's too close to the cops."
Wiener was challenged to donate over $25,000 in contributions from police unions to nonprofits by democratic socialist Jackie Fielder, who is challenging him in his reelection to the state Senate.
"You can't be in solidarity with the protesters demanding justice for George Floyd, Ahmaud Arbery, and countless murdered black men, women, and children when you're bankrolled by the very organizations killing them," Fielder, a queer educator, stated May 31. "The same peace officers you supported are sporting Blue Lives Matter masks around town RIGHT NOW and pulling the same killer knee-chokeholds on Black San Franciscans as they did on George Floyd ... Sad that it takes a re-election campaign and a national uprising to bring this back to light. Do the right thing."
Wiener did not immediately respond to a request for comment.
Wiener took to Twitter on Thursday morning to say he will be "donating all contributions to my reelection campaign from law enforcement unions to SF & Daly City nonprofits serving at-risk youth of color."
Wiener also pledged not to accept such campaign contributions going forward.
"The system kills/harms countless people, esp. people of color," Wiener tweeted. "We need to do more & I'm committed to this fight. I'll release policy proposals in coming days."
Around 6:45 p.m., protesters began to disperse to different parts of the city. Some walked through the Castro neighborhood.
Protesters walked through the Castro district as well as the Mission, South of Market and downtown. https://t.co/llGWaMjMai— John Ferrannini (@jferrnews) June 4, 2020
Others marched toward the Hall of Justice — the county's criminal court that also contains a jail, located in the South of Market neighborhood at 850 Bryant Street.
A large contingent made a left on Eighth Street and headed toward City Hall.
The protest reached a fever pitch in the moments before 8 p.m., when the curfew took effect. Law enforcement had swept the street in front of City Hall on previous nights.
But police and sheriff's deputies bided their time. At 8 p.m. there was no clearing of the several hundred demonstrators who had amassed on Polk Street.
Instead, demonstrators faced off with armed officers standing between them and the entrance to City Hall — chanting slogans such as "Fuck the curfew," engaging with them in one-on-one discussions about police brutality, and at one point even dancing in the street when it became clear a police sweep was not imminent.
More speeches were made, and after many protesters left Polk Street, police swept the street around 9:45 p.m.
pic.twitter.com/XyrOn56TD0— John Ferrannini (@jferrnews) June 4, 2020
Some protesters, and a journalist from the publication Mission Local, reported having been arrested in violation of the curfew.
While Floyd's death was the impetus to the protests, many brought up their dissatisfaction with the San Francisco Police Department, particularly with regard to the death of Alex Nieto.
Nieto was a 28-year-old man killed by San Francisco police in 2014 in the Bernal Heights neighborhood. Then-District Attorney George Gascón, who is currently running to be Los Angeles County DA, did not file charges against officers, who fired a total of 59 shots.
Protesters also voiced their opposition to the San Francisco Police Officers Association, the powerful union that has a long, fractured history with many in the city.
On Monday, District Attorney Chesa Boudin — who was elected in spite of the POA's fierce opposition — called upon the California State Bar to end what he called a conflict of interest in POA political donations.
"District attorneys will undoubtedly review use of force incidents involving police officers," Boudin stated in a news release. "When they do, the financial and political support of these unions should not be allowed to influence that decision making."
Boudin was joined by other DA's, including Gascón.
"When videos emerge like the one depicting the killing of George Floyd or Ahmaud Arbery, the damage it does to the entire criminal justice system cannot be overstated," Gascón stated, referring to the Georgia man shot by a father and son while jogging in a neighborhood in February. "That damage, however, is further compounded by delays in the condemnation, arrest, and charging of the involved law enforcement officers. These feelings, these protests, and the pain we're seeing, would not be as raw and widespread if we had seen police held accountable by local prosecutors quickly and with regularity. An important step in curing this pain is curing the conflict of interest that gives, at minimum, the appearance that police do not face consequences swiftly—or at all—due to the proximity and political influence of their union."
The SFPOA did not immediately respond to a request for comment.
As protesters walked down Polk Street toward Market Street, they had words for the sheriff's deputies on the south side of City Hall, adjacent to the statue of President Abraham Lincoln.
"Talk to your families," said one.
Another: "We'll be back tomorrow."
Updated, 6/4/20: This article has been updated to include a response from state Senator Scott Wiener and to clarify that his opponent in his reelection race first challenged him to return POA funds..
Editor's note: If you liked this article, help out our freelancers and staff, and keep the B.A.R. going in these tough times. For info, visit our Indiegogo campaign. To donate, simply claim a perk!
Comments on Facebook