Online Extra: LGBTQ Agenda: HRC report shows foster care agencies more accepting of queer youth
Monday Jun 1, 2020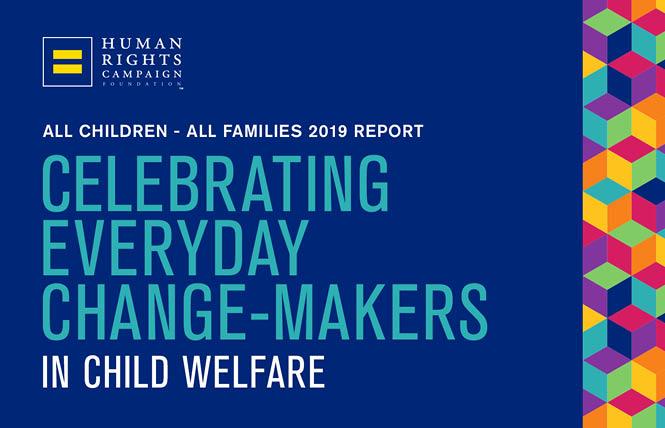 The federal government and foster care agencies are taking divergent paths in the area of recognizing the LGBTQ identities of foster youth.
Last month, the Trump administration finalized new rules to stop the collection of data on the sexual orientation of foster youth. On May 28, however, the Human Rights Campaign hosted a Zoom celebration of the fact that child care professionals and organizations are becoming more cognizant of LGBT inclusion.
Obama-era rules rewritten
Under rules promulgated during the administration of President Barack Obama, the Administration for Children and Families (part of the U.S. Department of Health and Human Services) collected 273 data points on foster youth and their parents.
Trump administration officials proposed last year cutting these data points. As per new rules announced May 8, only 181 data points are now collected.
Among those eliminated were questions geared specifically toward Native Americans and LGBT people.
The move will reportedly lead to several million dollars in saved costs. But LGBT advocates fear that will be outweighed by a decline in queer visibility and consideration in child welfare agencies.
Darrell Cummings, the chief of staff of the Los Angeles LGBT Center, said in a statement that "this decision is not an accident" and fits in with larger efforts from Republicans to "erase the LGBTQ community from the American mainstream."
"This is yet another frontal attack on the LGBT community by the Trump administration," Cummings said. "The specific needs of these youth go largely unattended, and they often face the same discrimination from their own foster families that exists in society at-large. Without better data, these youth remain invisible and susceptible to even greater harm and discrimination.
"Millions of LGBTQ youth in foster care will be harmed," Cummings added. "Like all young people, LGBTQ youth deserve the opportunity to have a decent life and bright future. The center will not stand idly by as this kind of hatred continues to be expressed in our public policy. We will redouble our efforts to make the welfare of these youth a priority and fight this Administration's efforts to do them harm."
Studies suggest that queer youth are overrepresented in foster care — one from the Williams Institute at UCLA School of Law found that 20% of foster care youth identified as LGBTQ, and that those who did were more likely to face abuse.
HRC joined the LA center in blasting the federal rule change.
"In the midst of a global pandemic, the Trump-Pence administration chose to target some of the most vulnerable youth in the foster care system," David Stacy, HRC government affairs director, said in a press statement. "LGBTQ youth are overrepresented in foster care, and this attempt to erase them and important data on adoptive and foster parents undermines efforts to address the marginalization, harassment, and discrimination that LGBTQ youth in foster care and families face. HHS should prioritize supporting foster youth and young people, many who aged out of foster care without a family — including LGBTQ youth — and are losing safe homes and employment during this public health crisis."
Professionals more accepting than in decades past
HRC founded the All Children-All Families project in 2006-2007 to help address some of the systemic challenges LGBT youth face in the foster care system, and, according to HRC President Alphonso David, it is helping to make child welfare more accepting and inclusive.
"Back in 2006, many adoption and foster agencies were not accepting and didn't want to acknowledge the fact that LGBTQ youth were not only in their care, but were disproportionately represented," David, a gay man, said. "The All Children-All Families program has grown and changed the landscape. In the climate of COVID-19, this work is as important as ever."
David made those remarks in the May 28 Zoom event to announce the release of the "Celebrating Everyday Change-Makers in Child Welfare" report from All Children-All Families.
The report highlights the efforts of 70 child care agencies nationwide and organized them into three tiers of recognition to track their progress on issues of LGBT inclusion as defined by All Children-All Families benchmarks. According to the report, 14 organizations were "building a foundation for inclusion," 25 had a "solid foundation for inclusion" and 32 were practicing "innovative inclusion."
Bay Area agencies listed in the report in the building a foundation category were Adoption Connection in San Francisco and St. Andrew's Residential Programs for Youth Inc. in San Jose. Those listed under the solid foundation category were Pact: An Adoption Alliance Placement Team and Adoption Agency Services in Emeryville and Uplift Family Services in Campbell. Those listed as innovators were Child Advocates of Silicon Valley in Milpitas and TLC Child and Family Services in Sebastopol.
HRC's numbers indicate that almost one-third of foster youth are LGBTQ, and that they are twice as likely to report being treated badly, and more likely to be placed in congregate living situations, than their heterosexual-cisgender counterparts.
Nakiya Lynch, 21, is a genderqueer person who is a youth ambassador for HRC and the Prince George's County [Maryland] Department of Social Services. Lynch said that it was the experience of seeing people like them when they were younger that encouraged them to keep persevering in life.
"I met fully grown black, queer people who had made it," Lynch said. "They went to work, went home, and even sat in traffic sometimes.
"Things that may not feel like a big deal to you, your youth will remember," Lynch said to the queer professionals on the call. "Because of people like you, I can not only say I made it to my 21st birthday, but will probably make it to many more. Thank you."
The HRC call was also joined by Ashley Rhodes-Courter, a best-selling author and parent to a trans child.
Rhodes-Courter said it was personal to her that fit LGBT people were being prevented from parenting. She had been in the foster care system herself.
"Child welfare is something I lived personally and professionally," Rhodes-Courter said, adding that it turned out 25% of her caregivers were, or ended up, convicted of felonies.
"In Florida, we still have discriminatory laws in place putting barriers in the way of finding permanency for those children who need it," she said. "All children matter; all families matter."
Rhodes-Courter was adopted at the age of 12, but her brother was not so fortunate and she said that he recently died of a drug overdose.
"When I was abused I would have given anything for loving parents," Rhodes-Courter said. "A nuclear family was not on my radar — I just wanted to be cared for, and wanted to be loved."
To read the report, click .
LGBTQ Agenda is an online column that appears weekly, usually on Tuesdays. Got a tip on queer news? Contact John Ferrannini at j.ferrannini@ebar.com
Comments on Facebook