Online Extra: LGBTQ organizations respond to latest racial violence
Friday May 29, 2020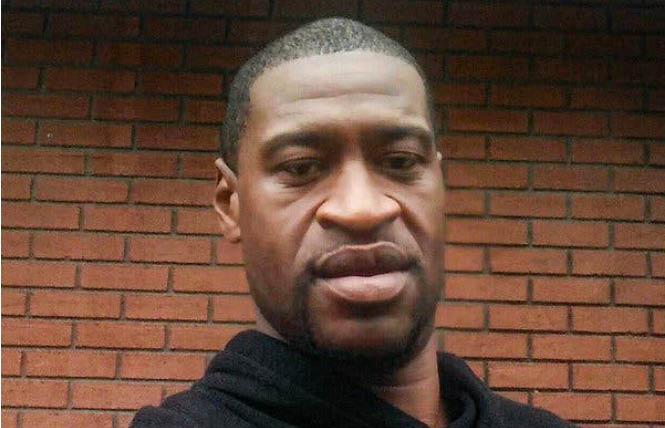 In response to the latest racial violence and killings of transgender people across the country, leaders of 75 LGBTQ advocacy groups in the U.S. issued a joint statement Friday recommitting themselves and their organizations to addressing racism and ending white supremacy.
"We, the undersigned, recognize we cannot remain neutral, nor will awareness substitute for action. The LGBTQ community knows about the work of resisting police brutality and violence," read the statement.
Coming three days before the start of Pride Month on June 1, the out leaders noted that the annual celebration "commemorates, in part, our resisting police harassment and brutality at Stonewall in New York City, and earlier in California, when such violence was common and expected. We remember it as a breakthrough moment when we refused to accept humiliation and fear as the price of living fully, freely, and authentically."
Those from California who signed on to the statement included Equality California Executive Director Rick Chavez Zbur, National Center for Lesbian Rights Executive Director Imani Rupert-Gordon, Oakland LGBTQ Community Center CEO Joe Hawkins, Pacific Center for Human Growth Executive Director Michelle Gonzalez, PRC CEO Brett Andrews, and Rainbow Community Center of Contra Costa County Executive Director Kiku Johnson.
Also on the list were Sacramento LGBT Community Center CEO David Heitstuman, San Francisco Community Health Center CEO Lance Toma, SF LGBT Community Center Executive Director Rebecca Rolfe, San Diego LGBT Community Center CEO Cara Dessert, and The LGBTQ Center, Long Beach, Executive Director Porter Gilberg.
"We understand what it means to rise up and push back against a culture that tells us we are less than, that our lives don't matter," read their statement. "Today, we join together again to say #BlackLivesMatter and commit ourselves to the action those words require."
They did so the morning after protests broke out in cities around the country as people took to the streets enraged by the deaths of black individuals at the hands of police. In Minneapolis a police precinct was burned to the ground following the death May 25 of George Floyd in police custody.
Video taken by bystanders showed Floyd, 46, calling out that he couldn't breathe due to police officer Derek Chauvin kneeling on his neck while three other officers watched. The four officers were fired, and on Friday, Chauvin was arrested and charged with third-degree murder and manslaughter.
In a statement Friday, Attorney General William P. Barr said the video images of the incident "were harrowing to watch and deeply disturbing." He noted that both the Department of Justice and FBI are conducting an independent investigation to determine whether any federal civil rights laws were violated.
"Both state and federal officers are working diligently and collaboratively to ensure that any available evidence relevant to these decisions is obtained as quickly as possible," stated Barr. "Under our system, charging decisions must be, and will be, based on the law and facts. This process is proceeding quickly. As is the typical practice, the state's charging decisions will be made first. I am confident justice will be served."
Protesters also took to the streets in Louisville, Kentucky outraged by the death of Breonna Taylor, 26, an African American woman. White plainclothes Louisville police officers had kicked down the door of her apartment and shot Taylor eight times as she slept in her bed.
Other killings also alarm LGBTQ advocates
In a post to its Facebook page late Thursday, the Harvey Milk LGBTQ Democratic Club called for justice for both Floyd and Taylor, as well as for Oscar Grant, a black man who was shot to death by a BART police officer in 2009, and Mario Woods, a Hispanic man who was fatally shot by five San Francisco police officers in 2015.
"As an LGBTQ political organization, our history is a riot, from Compton's to Stonewall to the White Night Riot, and every power and right and privilege we have was taken by us, for us, and built with thrown bricks," stated the Milk club. "We stand in solidarity with those acting and organizing for justice, in Minneapolis and Louisville and everywhere, yesterday and today and tomorrow."
It included a quote by gay former Supervisor Harry Britt, who was responding to the White Night Riots in 1979 sparked by the lenient verdict handed down to Dan White, who had assassinated gay supervisor Harvey Milk and then-mayor George Moscone the morning of November 27, 1978.
"Harvey Milk's people do not have anything to apologize for," said Britt. "Now the society is going to have to deal with us not as nice little fairies who have hairdressing salons, but as people capable of violence. We're not going to put up with Dan Whites anymore."
The deaths of Floyd and Taylor followed the brutal fatal shooting of a black man, Ahmaud Arbery, by two white men — a father and son — as he jogged through their Brunswick, Georgia neighborhood February 23. For months Arbery's family and friends had called on authorities to arrest the men but local prosecutors either recused themselves or argued they had not committed a crime. The father, Gregory McMichael, is a former Glynn County police officer and a former investigator with the local district attorney's office who retired last May.
After the killing gained national media attention this month and swift public outcry following the release of a video that showed the brutal shooting death, the Georgia Bureau of Investigation took over the case. Within days both McMichael and his son Travis McMichael were arrested, along with the man who shot the video.
The statement from the LGBT organizations also pointed to the killings of at least 12 transgender people so far this year. They included Dustin Parker, Neulisa Luciano Ruiz, Yampi Méndez Arocho, Monika Diamond, Lexi, Johanna Metzger, Serena Angelique Velázquez Ramos, Layla Pelaez Sánchez, Penélope Díaz Ramírez, Nina Pop, Helle Jae O'Regan, and Tony McDade.
In its own statement released Friday, the national LGBT seniors advocacy agency SAGE decried the violence targeted at transgender people and African Americans.
"As an organization deeply committed to building the equitable world that our LGBT pioneers have spent many decades fighting for, SAGE cannot stay silent in the face of the onslaught of racist violence against black people in this country," it read. "We know that these issues run deep and have been part of our social, political, and economic climate in various ways since the beginnings of our country."
It called out the "far too little action in response at both the local and national level. Even worse, we have seen repeated efforts at the highest levels of government to take advantage of racial division and pit racially-divided communities against each other rather than build unity."
SAGE committed itself to be part of the solution to addressing the "dangerous pattern of hate, violence, systemic racism, and un-checked white privilege" convulsing the country.
"This hatred and violence deeply affects our community members and it must stop. It is the antithesis of the equitable world SAGE works to build," it said.
A solidarity "Bay Area March Against Police Brutality!" is planned for noon Saturday, May 30, in San Francisco. It will kick off from UN Plaza on Market Street between Seventh and Eighth streets.
And another protest march is planned for 4 p.m. Wednesday, June 3, leading from Mission High School on the border of the city's Castro and Mission districts and heading to the city's Mission District police station at Valencia and 17th streets.
Editor's note: If you liked this article, help out our freelancers and staff, and keep the B.A.R. going in these tough times. For info, visit our IndieGoGo campaign.