Online Extra: Political Notes: LGBT leaders seek Pride sweep in San Mateo County
Monday May 11, 2020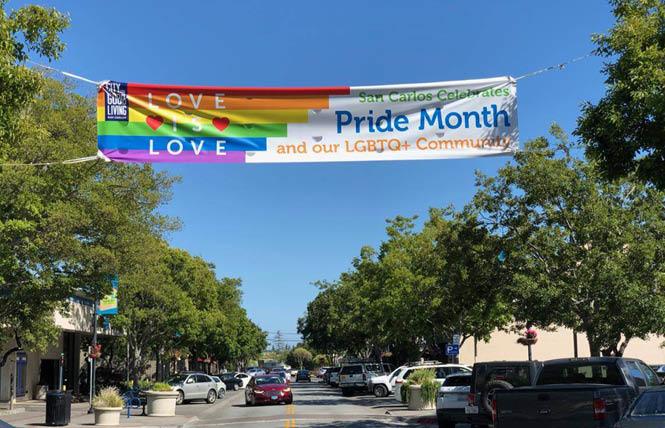 With their annual Pride event turned into a weeklong virtual affair this year due to the novel coronavirus outbreak, LGBT leaders are working on seeing all 20 of the incorporated cities and towns in San Mateo County celebrate Pride Month in June. If achieved, it would mark a first for the Peninsula jurisdiction just south of San Francisco.
It is the second county in the Bay Area where LGBT advocates are attempting to see all of their county's cities celebrate June as Pride month for the first time this year. As the Bay Area Reporter first reported last month, LGBT leaders in Contra Costa County just need Danville city officials to agree to recognize Pride this year in order to achieve a city sweep in their county in June. They hope to hear from the city in the coming weeks.
Tanya Beat, director of the San Mateo County LGBT Commission, told the B.A.R. she intends to use the cross-bay attempts to her advantage as she works with members of the commission and other LGBT leaders to press their county's cities to celebrate Pride next month. A bit of regional rivalry and civic pride could be advantageous in their attempts to convince city leaders throughout San Mateo County about the importance to celebrate Pride in an official capacity.
"If I can turn it into a competition that is what I am going to do," said Beat, who identifies as lesbian and queer and lives in Belmont.
In 2019, at least eight of the county's cities and towns officially marked Pride in June by either issuing a Pride proclamation or raising the rainbow flag — or doing both — that month, according to local LGBT leaders and a search of city agendas and social media accounts. It is hoped that the octet will again celebrate their LGBT residents this year in some manner.
Belmont, Brisbane, Colma, Redwood City, San Carlos, San Mateo, and South San Francisco all flew the rainbow flag last year, with South San Francisco officials also lighting up their City Hall in its colors. Foster City issued a Pride proclamation.
Daly City, which in the past has issued Pride proclamations, is expected to join the list this year, as its City Council will take up a request to celebrate Pride when it meets Monday (May 11). It is expected to declare June as Pride Month in the city and to raise the rainbow flag June 1.
The county's governing body is also expected to again honor Pride Month at the June 2 meeting of the Board of Supervisors. It has issued Pride proclamations in years past and flown the rainbow flag in June. In November the county raised the transgender flag for the first time to mark the annual Transgender Day of Remembrance observance for those trans individuals lost to violence.
The other cities in San Mateo County are Burlingame, East Palo Alto, Half Moon Bay, Menlo Park, Millbrae, Pacifica, and San Bruno. Its other towns are Atherton, Hillsborough, Portola Valley, and Woodside.
Asked about Woodside taking part this year in the Pride visibility campaign, gay town councilman Daniel Yost told the B.A.R. in an emailed reply that he would bring it up with his town's manager and current mayor.
"I am not aware that we have done this in the past but I don't see any reason why we should not join other towns," wrote Yost, who lives in Woodside with his husband and their two sons.
Pride amid a health crisis
With people feeling isolated at home and unable to participate in the annual Pride gatherings held throughout the Bay Area in June, as they have been canceled or postponed due to the health crisis, LGBT advocates argue it is even more important for cities to mark Pride Month this year to show support to their local LGBT residents.
"Because of the shelter in place, we realized this campaign we were doing could have so much more of an impact on the community because people are so limited in what they can see," said Beat.
At the bare minimum LGBT leaders hope all of the cities and towns will issue Pride proclamations. The LGBT commission plans to provide them with a short history of Pride they can post to their city website and asks they also use rainbow flag imagery on the homepages. This year marks the 50th anniversary of the first Pride parades held in New York City and San Francisco, which were organized to mark the first anniversary of the Stonewall riots outside the Manhattan gay bar of the same name that are credited with sparking the modern LGBT rights movement.
"We understand if a city prioritizes other things at this time because of the epidemic, so we want to make this as easy as possible for them," said Beat. "We will send them a Pride proclamation template and will even fill it out for them."
The ones who also raise the rainbow flag are being asked to broadcast their doing so virtually, either live or recorded and posted afterward, so people can feel like they were able to take part in the ceremony.
"It is beyond we are here. It is we are here, we are alive, we are thriving, and we are going to be OK," said Francisco "Frankie" Sapp, a queer transgender man who was recently hired as program director of the San Mateo County Pride Center, which is helping to support the countywide Pride visibility push. "I think that needs to be heard. I think we need to be the ones who say it."
The members of the county's LGBT commission divvied up the list of 20 official cities and towns, as well as unincorporated areas and other municipal districts, for each to contact about celebrating Pride. Terri Echelbarger, the founding pastor of the Many Journeys MCC Church in San Mateo, was given the city of Pacifica and will be addressing its City Council at its next meeting about recognizing Pride Month.
She has also contacted several jurisdictions along the county's Pacific coastline to ask them to take part in the Pride Month festivities.
"I would encourage everyone to write their city council members and to give public comment virtually to their city councils about why they need to celebrate Pride. So there is something we can all do," said Echelbarger, who is a lesbian and genderqueer.
San Carlos raised the Pride flag for the first time last year at the request of City Councilwoman Laura Parmer-Lohan, who has been sequestered at home with her wife and their two teenage sons in light of the shelter-in-place orders issued in March to address the health crisis. The city ended up erecting a new flagpole for the rainbow flag in front of its City Hall, she said, and has been flying it ever since.
She told the B.A.R. that she had already been in talks with city staff about how to mark Pride this year prior to the virus outbreak. The discussions have since changed, as the city will be unable to host a public flag-raising ceremony as it did last year.
"I do know plans are underway to recognize it in some way," said Parmer-Lohan by phone May 7. "I am meeting with our parks and rec staff (this) week to understand what the direction is they are going to take. My hope is we will recognize Pride Month in some shape or form."
Dana Johnson, a co-chair of the county's Pride Initiative who also represents Redwood City on the LGBT commission, told the B.A.R. they are hopeful of also seeing Half Moon Bay celebrate Pride this year. In October, the city passed a proclamation declaring it LGBTQ History Month.
"Even without COVID-19 it is still good actually for cities to represent and show support for their community members that might identify as LGBTQ," said Johnson, who is gender nonbinary and works for the county in behavioral health.
It was members of the Island United UCC Church in Foster City who in 2019 approached their city councilman, Sam Hindi, at the time serving as mayor, about issuing a Pride proclamation. He immediately agreed and had the city proclaim June 23, 2019 as LGBTQ Pride Day in the city as that was the date the LGBT-welcoming church planned to host its own Pride service.
The Reverend Jim Mitulski, a gay man who is the church's pastor, told the B.A.R. he intends to reach out to the council members this month to ask them about issuing a Pride proclamation again as well as to fly the rainbow flag this year.
"Our church would gladly pay for one and present it to the city if they decide to fly one," he said. "I don't think anyone has ever asked them to fly the flag."
While he said it is possible there could be a countywide Pride recognition sweep this year, if it falls short he was sure it would only be a matter of time before all 20 of the Mid-Peninsula cities and towns marked Pride in some manner.
"Maybe it takes this year to introduce it and to then make it possible for everyone to do something a year from now," said Mitulski, noting that he heard from straight residents of Foster City last year how they wished it hadn't taken their city so long to mark Pride Month. "It affects people more than you think."
Since the Pride organizers had to cancel their annual celebration in the park, they decided to host a week's worth of virtual events instead, said Johnson. It will kickoff Monday, June 8, and culminate Saturday, June 13, when the daylong event was to take place. Comedian Jesús U. BettaWork is expected to still emcee the virtual version.
"We figured it was a good idea to have a week of Pride so the community can gather and embrace with each other during these difficult times. All the Pride Week events will be virtual," said Johnson. "It is going to be fun."
For more information about the Pride Visibility campaign and steps people can take to have their city join in, visit https://bit.ly/2zv5LB6
And for updates about this year's week of Pride virtual events in San Mateo County, visit https://www.smchealth.org/pride-initiative
UPDATED 6/12/2020 to reflect that the city of Colma also flew the rainbow flag in 2019.
Keep abreast of the latest LGBT political news by following the Political Notebook on Twitter @ http://twitter.com/politicalnotes
Got a tip on LGBT politics? Call Matthew S. Bajko at (415) 829-8836 or e-mail m.bajko@ebar.com
Editor's note: If you liked this article, help out our freelancers and staff, and keep the B.A.R. going in these tough times. For info, visit our IndieGoGo campaign.
Comments on Facebook