Online Extra: LGBTQ Agenda: VideoOut raising money to put coming out stories online
Thursday May 7, 2020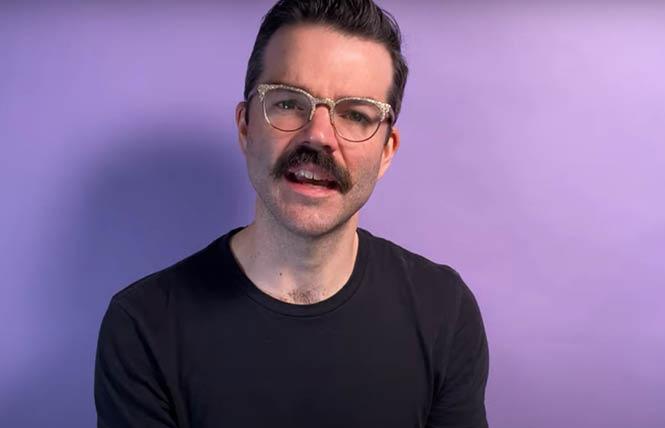 A nonprofit is raising money on GoFundMe to put 50 coming out stories online to inspire and educate LGBT people — particularly in places without long-established queer communities.
Jordan Reeves, a queer, nonbinary person who is a founding member of the popular TED-Ed, TED Conferences' youth and education initiative, recently started VideoOut, which, according to Reeves, has already reached millions of people.
Reeves said in a recent phone interview with the Bay Area Reporter that the idea for VideoOut "started years and years ago" with their own coming out.
"I grew up in a conservative, devoutly religious home in Hueytown, Alabama," Reeves said. "I knew I was queer, but that was not a place you came out. At 18, I wanted to kill myself but instead I poured myself into the church."
In a follow-up email, Reeves wrote that he was a member of the Southern Baptist church "from the time I was brought home from the hospital in 1985 to the time I left Alabama in 2010."
Reeves, 35, ended up going to college at the University of Alabama, Birmingham, where one of their professors noted that he had been with his male partner for 30 years.
"Immediately after, I ran to him and said 'I have to tell you — I think I'm also a homosexual,'" Reeves said. "The weight of the world was lifted from my chest. It's the date that saved my life."
Reeves said that after graduating they moved to New York City on the advice of that professor, but said they never forgot the experience of how one person's coming out story can not only save a life but change it for the better.
"I thought 'if there's power in one story to save my life, imagine the power of many stories on VideoOut,'" Reeves said.
Reeves was intending to bring VideoOut to record and showcase these coming out stories across the country, particularly in states where LGBT people are the most stigmatized.
"My goal is to use storytelling as empathic tools for education," Reeves said.
Unfortunately, however, the novel coronavirus outbreak put a halt on those plans.
"Since the COVID-19 quarantine, we pivoted to move these efforts online and have these stories online, through our website and YouTube channel," Reeves said. "We're raising money to put all of the stories we have recorded on our website — 50 stories in 30 days."
Reeves said it costs $75 to edit one of the previously-recorded stories and put it online.
The GoFundMe had raised $1,495 of its $3,750 goal at press time.
Brenda Risch, a lesbian, nonbinary, genderqueer person who is the executive director of the Borderland Rainbow Center in El Paso, Texas, recorded a video for the project earlier this year titled "You Gotta Choose to Go On."
In the video, Risch talked about growing up in Missouri, how they "dated" a gay man in high school to help keep both of them safe, and how they were cheated on by a girlfriend who was afraid of her own homosexuality.
In a phone interview with the B.A.R. May 6, Risch said that they already knew Reeves before a trip to El Paso earlier this year collecting stories for VideoOut.
"We were the first — and, well, now the only — tour included in VideoOut," Risch said. "He said 'I've been dying to get your story included' and I said 'sure.'" (Reeves said that they are OK with he/him or they/them pronouns.)
Risch said they had experience in the past with recording oral histories — as an academic, Risch recorded 140 stories of LGBT people who lived in the El Paso, Texas-Juarez, Mexico area.
"We were looking at social identities and activism and 'what are the social spaces, political spaces that aren't gay bars, and the occasional lesbian bar?'" Risch said, adding that they found various places, many of which closed years ago: community centers, a gay newspaper in the 1970s and 1980s, several student groups, and organizations founded to help people with AIDS.
Risch is fully behind VideoOut, hoping it brings visibility to LGBTs nationwide. They founded the Borderland Rainbow Center in 2016.
"Many El Pasoans who have since left don't know that there are these resources (like community centers) for people who are still here and suffering," Risch said. "I stand behind this."
Reeves said that two in five LGBT people who come out will be rejected by their families, and people outside cities with large queer populations, like New York, Los Angeles or San Francisco, may not be aware of what they should do next.
"The act of coming out is still an incredible, rebellious act," Reeves said. "It takes a plan."
LGBTQ Agenda is an online column that appears weekly, usually on Tuesdays. Got a tip on queer news? Contact John Ferrannini at j.ferrannini@ebar.com
Editor's note: If you liked this article, help out our freelancers and staff, and keep the B.A.R. going in these tough times. For info, visit our IndieGoGo campaign.
Comments on Facebook