Online Extra: New SF health order requires face masks in public
Friday Apr 17, 2020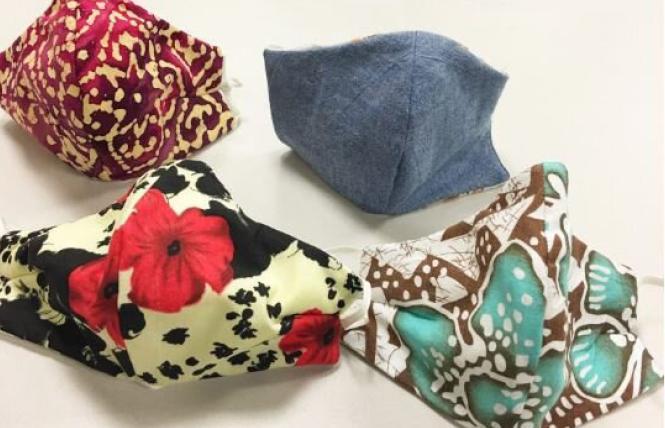 San Francisco Mayor London Breed and Health Director Dr. Grant Colfax announced Friday (April 17) that everyone in the city will be required to wear a face mask when they are outside of their homes in public settings like stores and buses.
In an effort to brighten the mood, a local gay politico announced a mask contest that will be judged online by some of the city's best known drag artists.
The order, issued by Health Officer Dr. Tomás Aragón, goes into effect at 11:59 p.m. April 17, but will not be enforced until 8 a.m. Wednesday, April 22, according to a news release.
It requires people to wear face masks when they are shopping for essential items, waiting in line to get into essential businesses such as grocery stores and pharmacies, seeking health care, and when they ride public transportation.
Additionally, transportation workers and other employees who interact with the public must also cover their face while doing essential work, the order states. The city recommended face masks on April 2. The April 17 order now makes it a requirement.
According to the city's order, people do not need to wear face coverings when at home or in their cars alone or with members of their household. People out walking, hiking, bicycling, or running also do not need to wear masks.
But health officials do recommend that people have a face covering with them and readily accessible when exercising, even if they're not wearing it at that moment, in case they encounter a situation where it becomes necessary to cover their mouth and nose.
Masks are also not necessary for children 12 years old or younger, while age 2 and under should not wear a face covering due to the risk of suffocation. Children age 3 to 12 are not required to wear a face covering, but if they do, should be supervised by an adult, according to health officials.
The mayor and Colfax, a gay man and longtime public health official whom Breed tapped to lead the San Francisco Department of Public Health last year, indicated in the release that the new directive is part of the city's long-term plan to lift stay-at-home orders. While the city's shelter-in-place order is set to expire May 3, it is likely to be extended.
"Today's order is part of our broader strategy to protect public health and slow the spread of the coronavirus in our community," Breed stated. "By covering your face when you go pick up food or ride Muni, you are helping reduce the risk of infecting those around you. As we look to a time where we can begin to ease the stay home order, we know that face coverings will be part of that future — and we want San Franciscans to become more comfortable with this new normal. We know it will take some time to get used to, but it will help save lives."
Wearing a face covering is not a substitute for staying home, staying six feet apart and frequent hand-washing, the release stated. These activities must be continued faithfully as part of the city's coronavirus response.
"My mask protects you, and your mask protects me," stated Colfax. "Covering your face is a great way to show you care for your neighbors, friends, and family. We are going to have to continue to work together to slow down the virus and reduce transmission. The virus is still out there, and we need to be vigilant."
Face coverings should cover the nose and mouth and fit securely. They can be a manufactured or homemade mask, a bandanna, scarf, towel, neck gaiter, or similar item, the release stated. Cloth face coverings should be cleaned frequently with soap and water.
Face coverings do not need to be N-95 or surgical masks to help prevent the spread of the virus to others, the release stated. In fact, the mayor and Colfax urged people not to buy hospital-grade masks so that those are available for health care workers and first responders.
Following the city's announcement, the worker-owners of Rainbow Grocery Cooperative issued an alert to their shoppers that as of Monday, April 20, the store will be requiring everyone who enters it to be wearing a face covering, including customers, Instacart shoppers, and all Rainbow workers. The coverings can be anything as long as they cover people's nose and mouth.
The store at 1745 Folsom Street had already announced last month that it was ending all sales of bulk items as part of its response to the pandemic. It also has set aside shopping times for seniors and others at greater risk to the virus.
"We will be unable to allow anyone without a face covering to enter the store and will require face covering to be worn for the duration of your visit," the cooperative stated in its email. "We would also like to strongly encourage customers in line outside of the store to wear a face covering."
Compliance with the city order is not anticipated to be an issue, as the vast majority of San Franciscans have been adhering to the stay home order and social distancing, the mayor's release stated. Many people already are wearing face coverings outside. However, the order does carry the force of law, and noncompliance is a misdemeanor punishable by fine, imprisonment, or both.
The order is similar to one issued April 17 in Marin and Contra Costa counties. San Mateo issued its order Friday evening and other Bay Area counties are expected to follow suit.
Sonoma County on Monday was the first to order face masks be worn in public. Its order took effect Friday, April 17.
The order is based on guidance from the Centers for Disease Control and Prevention,
which on April 3 recommended face masks be worn.
Drag artists to judge creative masks
To instill some levity into these difficult times, gay state Senator Scott Wiener (D-San Francisco) announced on Twitter April 17 that he's having a face mask contest that will be judged by local drag artists.
Referring to the health order, Wiener wrote, "Let's own it by having a mask contest to show our creativity."
Dubbed "Masks are Fierce," the face coverings will je judged virtually on Zoom by drag artists Sister Roma of the Sisters of Perpetual Indulgence, Peaches Christ, Bebe Sweetbriar, and Donna Sachet.
The deadline to enter is Monday, April 27. Photos of people's masks should be emailed to sfmaskcompetition@gmail.com or posted on Wiener's Twitter page at https://twitter.com/Scott_Wiener
Updated, 4/17/20: This article has been updated to include information about state Senator Scott Wiener's face mask contest.
Editor's note: If you liked this article, help out our freelancers and staff, and keep the B.A.R. going in these tough times. For info, visit our IndieGoGo campaign.
Comments on Facebook