Online Extra: Folsom Street ED gone after short tenure
Wednesday Apr 15, 2020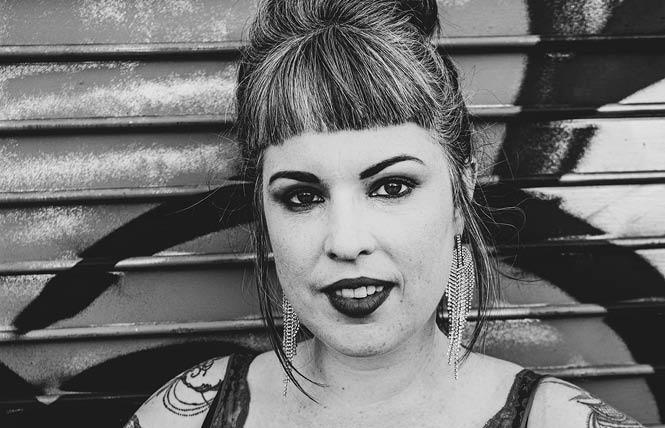 Folsom Street Events has another new leader, as former executive director Sarah Patterson is no longer with the organization, the Bay Area Reporter has learned.
The B.A.R. made the discovery Wednesday, after trying to contact Patterson, a leatherdyke who in January became the executive director of the nonprofit that puts on the Folsom Street Fair and the Up Your Alley fair.
The B.A.R. received an automated email response stating Patterson was "no longer with Folsom Street Events."
The new executive director was identified as Angel Adeyoha.
In a brief phone call to the B.A.R. April 15, Adeyoha, who identifies as queer and nonbinary, said that they are "a long-term part of the leatherdyke community."
Adeyoha authored two children's books in recent years: "The Zero Dads Club" and "47,000 Beads," which they co-authored with Koja Adeyoha.
"47,000 Beads" focuses on the two-spirit community and was the subject of a June 2018 B.A.R. article.
"Visibility of indigenous kids' characters is low to begin with," Adeyoha told the B.A.R. at the time. "As far as we know there hasn't been a book with a two-spirit kid — everyone deserves to see themselves in print."
Patterson could not be reached for comment. Folsom Street Events has not responded to multiple requests for comment.
The B.A.R. reached out to check on the current status of the street fairs — which bring thousands of leather and kink enthusiasts to San Francisco's South of Market neighborhood — following news of the cancellation of the city's LGBT Pride parade and Governor Gavin Newsom's pronouncement April 14 that large events in California are unlikely until the state establishes herd immunity to the novel coronavirus, or until a vaccine is widely disseminated.
According to a statement on its website from before the Newsom or SF Pride statements, Folsom Street Events is moving forward with its two marquee events.
"Folsom Street Events is monitoring the COVID-19 situation to determine whether our attendees can safely attend our events this year. As of 04/13/2020, we are moving forward with planning Up Your Alley (July 26, 2020) and Folsom Street Fair (September 27, 2020)," the statement reads. "We will continue to monitor and follow the recommendations of the City of San Francisco, the CDC, and California Department of Public Health. We will provide further information as the situation develops."
The B.A.R. will update this story as more information becomes available.
Editor's note: If you liked this article, help out our freelancers and staff, and keep the B.A.R. going in these tough times. For info, visit our IndieGoGo campaign.
Comments on Facebook