Newsom outlines 6 steps to reopen CA amid health crisis
Tuesday Apr 14, 2020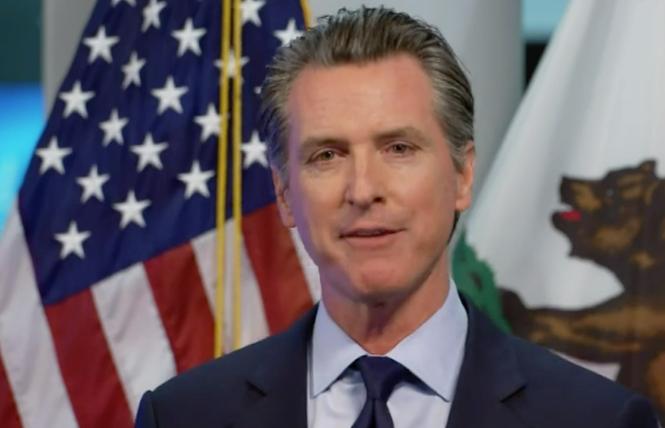 There are six criteria that the state government will look at when considering modifications to the stay-at-home order brought about by the coronavirus outbreak, California Governor Gavin Newsom said in an April 14 news conference.
Newsom did not unveil a specific timeline as to when his statewide stay-at-home order, which does not have an expiration date, will be lifted. The Bay Area's specific shelter-in-place order is set to expire in early May.
"We can't get ahead of ourselves," Newsom said. "Let's not make the mistake of pulling the plug too early."
The criteria are based on how well the state can do the following six things: monitoring COVID-19 cases through testing and contact tracing; preventing infections in people at greater risk for adverse outcomes; preventing surges in the hospital and health systems; developing therapeutics at a rate to meet demand in the absence of a vaccine; ensuring that schools, child care facilities, and businesses can support safe social distancing; and determining when some of the more restrictive orders can be re-introduced if the health systems are overwhelmed.
Newsom said that how well the state can meet these criteria will be re-evaluated in two weeks and he will make any further decisions about the stay-at-home order at that time.
The governor said these criteria were formed in conjunction with the states of Oregon and Washington, which announced a coordinated coronavirus response pact April 13. Seven northeastern states — including New York, which is experiencing the worst coronavirus outbreak in the U.S. — similarly announced plans to work together on reopening the economy there.
Newsom stressed that even after the easing of current orders life will still look very different than before the outbreak, which had killed more than 25,000 Americans at press time. In California, 758 had died at press time.
The governor said that reopening the economy would be more like the steady raising or lowering of a dimmer rather than like turning on a light switch.
"It's more like a dimmer — this toggling back and forth between more restrictive and less restrictive measures," he said.
When now-shuttered public spaces reopen, there will be changes from life before mid-March: restaurants will have less seating to allow for social distancing and schools may be more regularly sanitized and have smaller cohorts of students. Face masks may become ubiquitous.
Large gatherings such as sporting events or concerts are very unlikely until a vaccine is created, which realistically is not expected for 12 to 18 months.
"We are not out of the woods yet. We are not spiking the ball," Newsom said, referring to the fact that 71 COVID-19 deaths were reported in the state in the 24 hours prior to his announcement.
But Newsom wanted to assure the public that shelter-in-place is not "a permanent state of affairs" and that while residents are in "the most difficult and challenging phase of all," Californians have helped to flatten the curve.
California Public Health Officer Dr. Sonia Angell said that if all restrictions were lifted now, then the state's health systems would be overwhelmed.
"Because of all of you in California, we have started to bend the curve," Angell said. "But that does not mean we can let everyone back in the streets.
"The conversation right now is how to modify existing orders but protect our communities," she added.
Newsom said that science, and not politics, will guide his decision-making, but the six criteria he announced may put him on a collision course with President Donald Trump, who said (falsely, according to constitutional experts) that he has unilateral power to override gubernatorial orders.
Trump created a Reopening the Country Council in the White House, according to press reports, and will share guidelines this week on how to "reopen" America. Two of the people on the council are the president's family members: daughter Ivanka Trump and her husband, Jared Kushner.
Editor's note: If you liked this article, help out our freelancers and staff, and keep the B.A.R. going in these tough times. For info, visit our IndieGoGo campaign.
Comments on Facebook