Online Extra: CA, Nevada LGBT statewide groups endorse Biden
Friday Apr 10, 2020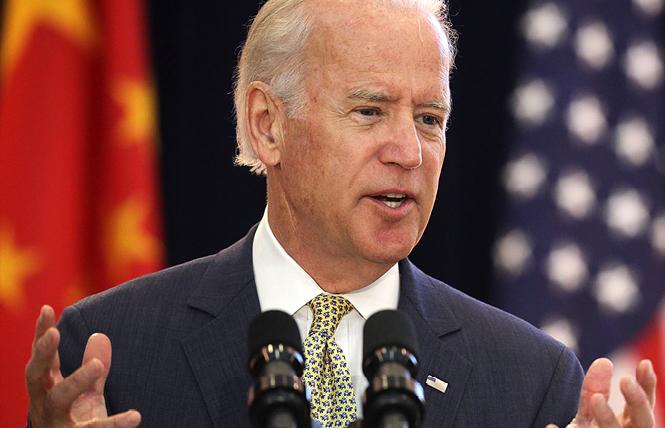 After initially endorsing gay former South Bend, Indiana mayor Pete Buttigieg in the 2020 presidential race, Equality California and its Nevada-based affiliate Silver State Equality Friday threw their support behind the presumptive Democratic Party nominee former vice president Joseph R. Biden Jr.
The two statewide LGBT advocacy groups are the first major LGBTQ+ civil rights organizations to do so, as most had also endorsed Buttigieg prior to the Iowa caucuses in February. Buttigieg was one of several moderate Democratic presidential contenders who dropped out of the race mere days ahead of Super Tuesday in March when Californians and voters in more than a dozen states headed to the polls.
It allowed Biden to take a commanding lead in the race over his main progressive opponent, independent Senator Bernie Sanders of Vermont. Sanders, who self-identifies as a democratic socialist, officially ended his campaign Wednesday, April 8. It opened the door to this morning's announcement from the California and Nevada LGBT groups.
"This will be the most important election in our lifetimes — and the stakes couldn't be higher. Joe Biden has taken on tough fights before, and we know he will take on Donald Trump, win back the White House and fight alongside us for LGBTQ+ civil rights and social justice," stated EQCA Executive Director Rick Chavez Zbur.
He added that as the country is facing an unprecedented crisis brought on by the novel coronavirus pandemic, Americans need a president they can trust and depend on.
"We need a president who has helped lead us out of a crisis before and is prepared on day one to do so again," stated Zbur. "We also need a leader with hope. A leader who believes in a world that is healthy, just, and fully equal for all LGBTQ+ people — and who is ready to create that world. We need a leader who knows that our best days still lie ahead.
"Joe Biden is that leader. He will be that president. And we couldn't be more excited to join his team," added Zbur.
Reggie Greer, the Biden campaign's LGBTQ+ vote director, responded on behalf of the candidate to say the campaign "is deeply honored to have Equality California and Silver State Equality's endorsement and partnership in this election."
He noted that Biden, who is credited with nudging former President Barack Obama to publicly state his support for marriage equality, has dedicated his life to advancing equality, justice, and acceptance for LGBTQ+ people in America and around the world.
"But this November, the hard-won progress LGBTQ+ people have achieved is on the ballot. For more than three years, Donald Trump and Mike Pence have systematically denied, stripped, and rolled back our community's rights, freedoms, and protections. That's why it is all the more reason we are grateful for today's endorsement," stated Greer.
The statement from the sister organizations noted that Biden's policy plan to achieve full, lived LGBTQ+ equality is more comprehensive and progressive than any major party nominee for president in the nation's history.
"Throughout Joe Biden's career, he's tackled the tough challenges our country has faced — from gun violence to affordable health care to violence against women and sexual assault," stated Zbur, who announced this week he is running to be Los Angeles' next city attorney in 2022. "He understands that LGBTQ+ people belong to every community and face diverse challenges far beyond a need for basic civil rights protections. And he has a bold, progressive plan to achieve full, lived equality for all LGBTQ+ people — and for the diverse communities to which we belong."
EQCA did not release its questionnaires it received from presidential candidates ahead of making its first endorsement in the race. But the national LGBT rights group the Human Rights Campaign did release its questionnaires from the candidates, and Biden's can be read here.
Among his priorities as president is passing and signing into law the Equality Act, a sweeping federal LGBT rights bill, and ending the country's HIV epidemic by 2025. EQCA also noted that Biden is committed to nominating pro-equality cabinet members and pro-equality justices to the U.S. Supreme Court should there be a vacancy.
HRC remained neutral in the Democratic primary race, and a spokesman for the organization did not immediately respond to the Bay Area Reporter Friday on if it will now endorse Biden. It is highly likely it will, as like EQCA and most other LGBT groups, HRC has been a fierce critic of the Trump administration.
The LGBTQ Victory Fund, which aims to elect LGBTQ people to public office across the country, last year had endorsed Buttigieg. Spokesman Elliot Imse told the B.A.R. Friday it is not likely to endorse in the general election.
"Victory Fund only endorses LGBTQ candidates so as of now we will not be endorsing again in the presidential race. If he were to select an LGBTQ running mate, however, that could change," wrote Imse in an emailed reply.
Among those mentioned as possible vice presidential picks is lesbian Senator Tammy Baldwin (D-Wisconsin).
Among the LGBTQ+ leaders who have endorsed Biden are gay Long Beach Mayor Robert Garcia, bisexual Senator Kyrsten Sinema (D-Arizona), gay Congressman Sean Patrick Maloney (D-New York), and Jim Obergefell, a gay man who was the lead plaintiff in the landmark marriage equality Supreme Court case Obergefell v. Hodges.
Also Friday, lesbian Kansas Congresswoman Sharice Davids, one of the first two Native American women elected to Congress, endorsed Biden. Her counterpart, New Mexico Congresswoman Deb Haaland, had already announced her support for the former vice president.
"During these difficult and uncertain times, we're reminded of why it's so important to have a trusted leader in the White House," stated Davids. "Vice President Biden has been a dedicated public servant and a steadfast advocate for families and workers for decades. His commitment to lowering the cost of healthcare and prescription drugs and making the government work for the people, not special interests, is sorely needed right now."
Editor's note: If you liked this article, help out our freelancers and staff, and keep the B.A.R. going in these tough times. For info, visit our IndieGoGo campaign.
Comments on Facebook