Online Extra: In coronavirus phone town hall, Pelosi sounds note of optimism
Thursday Mar 19, 2020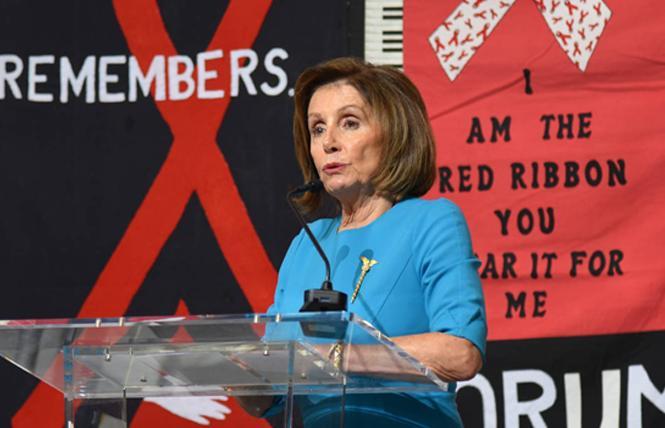 In an hourlong phone town hall with thousands of her constituents Thursday evening, House Speaker Nancy Pelosi (D-San Francisco) sounded an optimistic note that a cure for the novel coronavirus will be found.
Pelosi, noting her own granddaughter was home from her public school, said she was "optimistic" there will soon be success in the search for both a vaccine to protect people from contracting the coronavirus and a cure for COVID-19, the respiratory disease the virus causes that can be fatal in the elderly and those with underlying medical conditions.
"We just have to find a cure and the light at the end of the tunnel. I am optimistic we will have success soon," said Pelosi, who has been at the forefront of putting together Congress' legislative response to deal with the pandemic. "We have to maintain hope and stay united."
A practicing Catholic, she noted that she had held a moment of prayer earlier in the day with her Democratic House colleagues in response to the pope's call people to pray Thursday.
"By God's grace, we will find a cure," said Pelosi.
In terms of how money will be disbursed to American households, Pelosi said she doesn't think giving every American a $1,000 check is the right way to go. She prefers seeing the cash infusions be targeted to families and individuals that are truly hurting economically and not to those with solid fiscal means, though she acknowledged there are differing views on that even within her own House Democratic caucus.
"It will make a difference for people living paycheck to paycheck," she said. "Not everybody needs $1,000 checks. People have big needs; we want it to go where it is needed most."
Pelosi was joined on the call by her local chief of staff, Dan Bernal, a gay man who is also president of San Francisco's health commission, and Dr. Grant Colfax, a gay man and HIV prevention expert who is San Francisco's director of health. Colfax provided an update to the number of cases in the city, now at 70, and asked people to heed the various public health edicts that have been announced. There have been no deaths to date.
In particular, Colfax stressed how important it is for people to remain at home as much as possible, and not to invite friends or family over for social gatherings while they stay in place in their homes and apartments.
"San Francisco is moving very aggressively to slow the spread of the coronavirus. Every hour truly counts," said Colfax. "We need and are asking everyone to take collective action to protect our community, in particular our most vulnerable populations."
A half hour after the town hall ended, California Governor Gavin Newsom issued a statewide order for people to stay at home that goes into effect this evening. Already 21.3 million Californians were under such an order.
Colfax said the drastic measures being taken are meant to limit the number of cases in San Francisco with the hope that transmission will drastically fall off later this spring or summer when similar viruses "are not as efficient at transmitting in warmer weather."
Also on the call were Rudy Gonzalez, executive director of the San Francisco Labor Council, and Susan Solomon, the United Educators of San Francisco union president. According to a poll of the call participants, 78% said they had children home from school living with them.
"This is going to be a long haul," said Gonzalez, adding that "economic stimulus has to provide relief directly to people."
In talking about the legislation Congress has passed and sent to President Donald Trump to sign, Pelosi stressed their approach is to put families first and enact measures and policies that stimulate the economy. The billions of dollars included in the bills are meant to help find a vaccine and effective care for those infected with the virus, expand paid sick and family leave for workers, funds local and tribal health care services, and provides relief to small business owners.
"House and Senate Democrats are united in using all the tools available to fight the coronavirus outbreak like the health crisis it truly is," said Pelosi. "We are taking bold action to help workers and small businesses first."
And she added, "We are putting money directly into the hands of those who need it most."
Comments on Facebook