Online Extra: Castro-Mission Health Center offers referral-only coronavirus tests, DPH says
Thursday Mar 12, 2020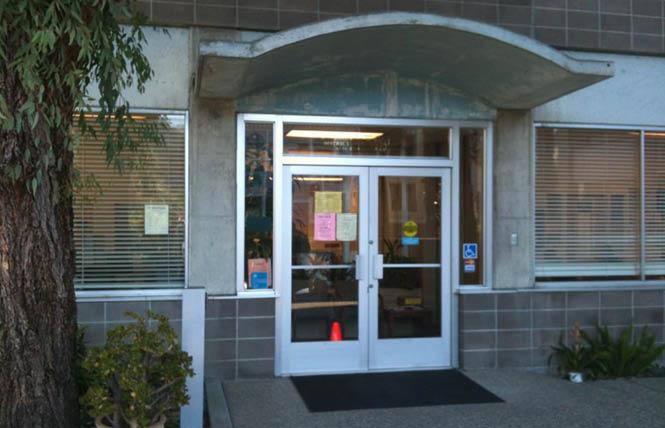 The Castro-Mission Health Center is being used to test people for exposure to the novel coronavirus, according to the San Francisco Department of Public Health.
The location has been providing coronavirus tests since March 6, but is referral-only and only for San Francisco residents, according to a March 10 health department news release.
As the Bay Area Reporter previously reported, the center, located at 3850 17th Street (between Sanchez and Noe streets), shut down in July 2019 and its operations were temporarily relocated to 995 Potrero Avenue Building 80, part of Zuckerberg San Francisco General Hospital, in anticipation of a construction project slated to begin in July.
When asked how many coronavirus tests have been given at the location, Maricella Miranda, a spokeswoman for the health department, said in a March 12 phone call with the B.A.R. that as of that morning she was not allowed to disclose that information.
But Miranda did say that "a few people" have been tested each day that the Castro-Mission Health Center has been opened for that purpose. The health clinic's temporary SFGH location continues to see clients as part of the San Francisco Health Network.
The site is far from the only location in San Francisco or the Bay Area testing for coronavirus, according to Anna Robert, RN, a primary care director with DPH.
"All primary care sites have the ability to test for COVID-19," she said. (COVID-19 is the respiratory disease caused by the novel coronavirus.) "Other medical facilities, as well. Kaiser has a drive-by location" that is by appointment only for the HMO's patients.
Robert said that the city's shuttered health center was chosen because it was vacant and centrally located.
"What's unique about Castro-Mission is that we wanted a location that uniquely supported community screening and that's in a central place," Robert said. "All referrals have come from high-priority people so we can quickly test and quarantine people as needed."
Coronavirus test results are "generally ready within 48 hours" of the test, Robert said.
Robert said that there are safety precautions in place to protect the staff, other patients, and the wider community as the facility is located in a residential section of the city's LGBT Castro district.
"When people enter they are asked to put on a mask and sanitize hands," Robert said. "Staff are trained and fitted with personal protective equipment. We have very strict guidelines to limit the amount of time we spend with the patient and we allow time for air circulation in the room after a patient leaves."
Added Miranda: "There is no heightened danger of exposure for the neighborhood."
Robert said she doesn't know the exact number of coronavirus tests that the DPH has access to, but said that DPH "just finished contracts with outside commercial testing, so we will be able to test a lot of people in a matter of weeks."
When asked if DPH construction would be delayed by the coronavirus outbreak, Robert said "I hope we're not."
Miranda said that at this time, there is no plan to delay the construction in July, but that "the situation is evolving."
Since the first diagnosed case of coronavirus in San Francisco March 5, the total number of cases has climbed to 18, according to DPH numbers released March 12.
As the B.A.R. previously reported San Francisco supervisors announced a legislative package March 10 intended to help local businesses, workers, tenants and homeowners who will be financially impacted by the COVID-19 pandemic. These are planned to be introduced to the Board of Supervisors next week.
The following day, San Francisco officials banned gatherings of 1,000 or more people, and Mayor London Breed announced a series of measures allowing some small businesses to defer paying taxes this quarter.
Major Bay Area universities have halted in-person classes, Catholic schools are closed, and San Francisco Unified School District officials announced Thursday that city public schools would be closed for three weeks beginning Monday, March 16 through Friday, April 3.
To avoid COVID-19, DPH is advising people to wash their hands with soap and water for at least 20 seconds, avoid touching their faces, cover their coughs and sneezes, try alternatives to the handshake, and stay home if they are sick.
It is not recommended people wear face masks if they are not sick. The greatest risk is from droplets containing the coronavirus on surfaces.
People over 60, those with chronic medical conditions, and those with weakened immune systems are at particular risk if they contract the coronavirus. According to the Centers for Disease Control and Prevention, symptoms of COVID-19 include a fever, cough, and shortness of breath. More serious cases result in pneumonia.
Comments on Facebook